Rexahn Pharmaceuticals (NYSEMKT:RNN) is a small cap cancer biotech that has seen its stock price decline in recent weeks to attractive levels . Its profile gives an idea of the key sectors it is involved in; Rexahn Pharmaceuticals, Inc., a development stage biopharmaceutical company, engages in the discovery and development of treatments for cancer and other disorders of central nervous system. The company's product candidates include Archexin that is in Phase II clinical trials for the treatment of renal cell carcinoma, glioblastoma, ovarian cancer, stomach cancer, and pancreatic cancer; Serdaxin, which has completed Phase IIb clinical trial for the treatment of depression and Parkinson's disease.
The stock is down 50% over the last month on the heels of financing that was priced at 33c, raising $6m in proceeds and putting added selling pressure on the stock in an active tax selling season. However, at its current stock price of 29c for the patient investor some very nice upside can be seen in the coming months.
In recent days we have started to a witness another buying frenzy again in small cap biotech stocks. Today YMI Biosciences (YMI) was bought out by Gilead (NASDAQ:GILD) and yesterday we saw Somaxon Pharmaceuticals bought out for double on its stock price, something we mentioned in our previous article last month, Why Somaxon Pharmacueticals Should Be A Double From Here. The same double potential clearly exists here too for Rexahn.
Just last month Rexahn was trading in the 45-50c area and announced another financing deal with Teva Pharmaceuticals. Per the deal Teva will invest $750,000 to purchase Rexahn's common stock at 120% of closing price of common stock on the last trading day preceding the closing. This will complete the third closing agreed to by the parties in the Securities Purchase Agreement.
Teva has agreed to commit additional research funding for development of RX-3117. Under a new amendment to the Research and Exclusive License Option Agreement, Teva will have the right to file the IND for RX-3117 with the FDA. Teva is funding research of RX-3117 AND will be responsible for filing with the FDA. That should give potential buyers in the stock some positive views.
A quick look at the chart below shows that merely bouncing to last month's price level is a double. A bounce to the 200 day moving average at 45c would give a 50% move. Both of these are attainable in this market environment.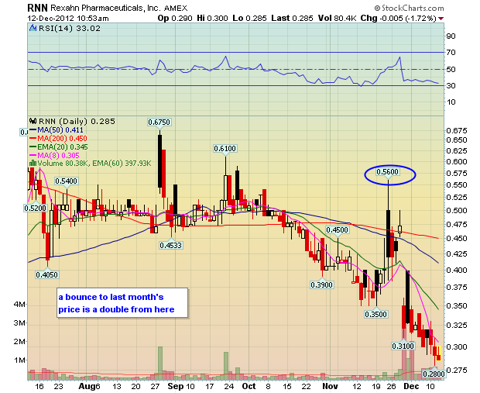 We could go more into the Rexahn pipeline but the thing investors should look at it is this; Teva believes in Rexahn and is funding their drug research. Pay attention when large caps sniff around small cap biotechs. This is how YMI was bought out today.
With eight drugs in its pipeline and a recent financing complete, Rexahn should be set up for a nice rebound into 2013. A mere 50% rebound in the stock price would take Rexahn back to the level it was at last month. A double, from these prices, with small cap biotech stocks being bought out lately, is not a stretch. Biotech stocks that trade under $1 carry high risk but with that risk comes high rewards. All it takes is one success with a drug indication, or a buyout to send these stocks soaring. Teva appears to be committed to Rexahn and at 29c that makes this a value play investors should look closely at. In recent days we have seen many small cap biotech stocks explode in price such as ABIO BioPharma (NASDAQ:ABIO) up 60% this week, and Cardiome Pharma (CRME) up 40% this week. These are two small cap biotech stocks to whet the appetite for the potential in this price range. Like all small cap biotech stocks Rexahn has risks but at a price of 29c with financing complete the upside rewards are very attractive!
Disclosure: I am long RNN. I wrote this article myself, and it expresses my own opinions. I am not receiving compensation for it (other than from Seeking Alpha). I have no business relationship with any company whose stock is mentioned in this article.