Today, on April, 30, after opening it only two trade days back, our paired trade on
259 shares LLTC (Linear Technology) long and
short 200 shares of XLNX (Xilinx)
has turned into a good profit as shown by the picture below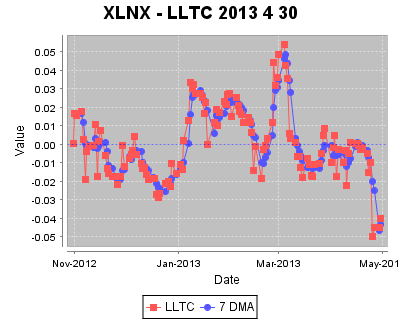 Continue to hold this pair. Based on statistical analysis, you should realize a profit of about 5% within a week more, with risk of holding cash (ie about 1%) on the amount of brokerge margin amount you use to create this paired trade.
We expect to close this pair out when the value metric does a zero-crossing, or reaches 0 in the picture above
If you are interested in being on my mailing list for free paired trades I generate every trade day, please email me directly at info@beatindex.biz. The reward-risk benefit of my trade ideas is much better than other ideas you see thrown around on this website. (examples: buy AAPL because xyz, or buy GLD because it has gone down :) !
Disclosure: I am long LLTC.
Additional disclosure: income generation, long-short, short XLNX