Here is a specific quantitative investment long-short trade idea to generate low-risk income for the individual investor.
The buy and sell short signals for the matched paired trades on Aug 5, 2013 are generated from my quantitative investment system. Expected return is 3% to 5% in one to two weeks, with a low risk of about 1% - 2% on margin deployed.
These pairs have been very strongly related in a historical sense
Go long IHE iShares U.S. Pharmaceutical ETF
and short IHF iShares U.S. Health Care Provid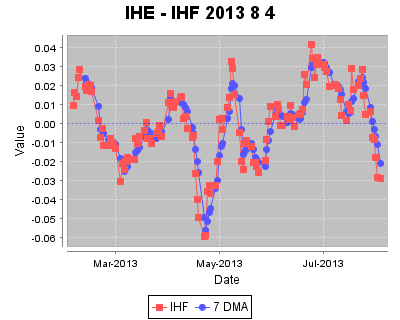 Disclosure: I have no positions in any stocks mentioned, and no plans to initiate any positions within the next 72 hours. I wrote this article myself, and it expresses my own opinions. I am not receiving compensation for it (other than from Seeking Alpha). I have no business relationship with any company whose stock is mentioned in this article.