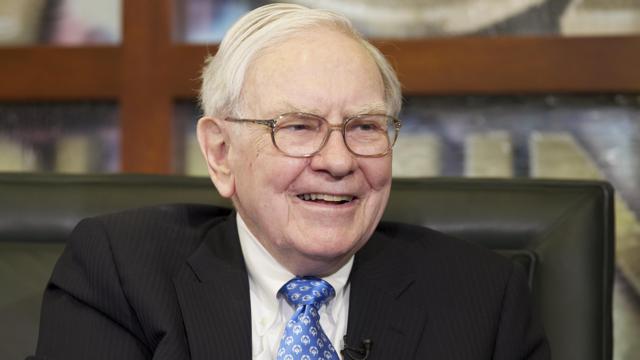 When Warren Buffett shows interest in your company, ask for stock in Berkshire Hathaway , not cash. That's how some of the richest families in America made their multi-billion dollar fortunes.
In total, at least six of the billion-dollar families, worth a combined $165.1 billion, have ties to Berkshire Hathaway.
Buffett acquired Berkshire Hathaway in 1964 and turned it into his main investment vehicle. Over the past 15 years, average annual return for Berkshire Class A shares was about 7% a year , compared to 4.3% for the S&P 500. It has been buttressed in recent years by investments in iconic brands including H. J. Heinz and Exxon Mobil
Two of the families on the new Forbes list, the Alfonds and the Ueltschis, sold their businesses to Berkshire Hathaway and watched their net worths rise along with Berkshire's stock. Another family, the Booths, cashed out of a real estate deal and put $1 million in profits into Berkshire Hathaway stock. For all three, it was likely much better getting the stock than cash, because instead of putting their lump sums in a family office or a somewhat successful investment fund, they've had the Oracle of Omaha guiding their family fortunes for decades.
Other Buffett-led investments that boosted families on Forbes new list of America's Richest Families include the Battens of Norfolk, Va., who sold two newspapers to Berkshire Hathaway's media arm last year. The D.C.-based Grahams were also bumped up. Their Graham Media Holdings, formerly called the Washington Post Company, owned about 3,000 shares in Berkshire Hathaway before selling them back in a deal last week. (Berkshire Hathaway had owned about 23% of the company, but in exchange for that stake, the firm now wholly owns a subsidiary that includes a Miami ABC affiliate). The Waltons' retail conglomerate Wal-Mart also calls Berkshire Hathaway an investor; it owns just under 2% of Wal-Mart shares.
Here's how those three most fortunate Buffett-beholden families attained shares in Berkshire Hathaway at the right time:
Alfond Family, No. 64
Harold Alfond traded his Dexter Shoe Company to Warren Buffett in 1993 for what was then about $300 million worth of stock. Alfond never went to college, but he died a billionaire in 2007. His family is now worth about $4.2 billion, due largely to the soaring value of Berkshire Hathaway stock.
How many shares: After the Dexter Shoe acquisition, the family became the second-largest Berkshire Hathaway shareholder at the time with about 25,000 shares.
Return on Investment: 1,275%
Booth Family, No. 81
Franklin Otis Booth Jr. met Warren Buffett in 1963 and poured $1 million of profits from a small Los Angeles real estate deal into the now-revered investment firm of Berkshire Hathaway. His shares topped $2 billion in value when he died in 2008. His roughly 30 descendants are now worth about $2.9 billion combined.
How many shares: When Franklin died, his six children divvied up about 15,000 shares. About 1,500 shares were donated to the charitable Otis Booth Foundation.
Return on Investment: 277,700%
Ueltschi Family, No. 81
Warren Buffett snatched up aviation training company FlightSafety International in 1996 in exchange for stock worth about $1.5 billion at the time. Founder Albert Ueltschi, a former Pan Am pilot, died in 2012, but the family held onto the Berkshire Hathaway shares, now worth an estimated $2.9 billion.