Despite the news that China's stock market and real estate market have collapsed, the economic powerhouse still remains a dominant force when it comes to property developments. Everything from theme parks to business incubators, China continues to establish enormous and lucrative property developments that could very well have an enormous impact on the country's economy.
VR Amusement Parks Popping Up
The world's very first virtual reality amusement park could come to fruition within the next three years. Landmark Entertainment Group has developed an initiative to establish the Landmark Interactive Virtual Experience, otherwise known as LIVE. This endeavor will coalesce virtual reality and augmented reality into something called "mixed reality."
Landmark, which has developed such Universal Studios attractions like Terminator 2 3D and The Amazing Adventures of Spider-Man 5D, plans to launch the very first VR theme park in China by the year 2018.
Speaking in an interview with Fortune Magazine, Tony Christopher, the Landmark CEO, explained the amusement park would have a wide range of attractions, including a virtual zoo and aquarium, a digital art gallery, an interactive museum, a themed retail experience and an immersive movie theater.
"With virtual reality we can put you in the African savannah or fly you into outer space," Christopher said. "This completely changes the idea of an old-fashioned museum by allowing kids to experience prehistoric dinosaurs or legendary creatures as we develop new experiences that keep them coming back for more,"
He added: "We'll combine education and entertainment into one destination that's always evolving."
Landmark isn't the only firm to delve into the world of VR. Virtual Entertainment Centers (VECs) are becoming the next big thing in interactive entertainment. THE VOID will soon open its doors and allow customers to transport their minds and bodies into different universes. Essentially, virtual reality becomes reality for paying customers.
For those who are technology aficionados, THE VOID would utilize these specifications (courtesy of PSFK):
Dual High-Density Curved OLED Displays (1080p per-eye, initially)
Quantum Dots (nearly doubling perceived resolution color range)
Custom Optics (proprietary lens-in-lens design)
High-Quality THX Headphones (featuring in-game binaural sound design)
Super-Gain Inline Microphones (for in-game communications)
Proprietary Global Head Tracking Sensors (running at 120Hz)
China still remains the home of gigantic property developments
Skyocean International Holdings recently developed COMB+, a center that combines business, technology and culture. Skyocean estimates "to attract over 1,000 technology and cultural enterprises creating the most influential technology and culture industrial cluster in the country."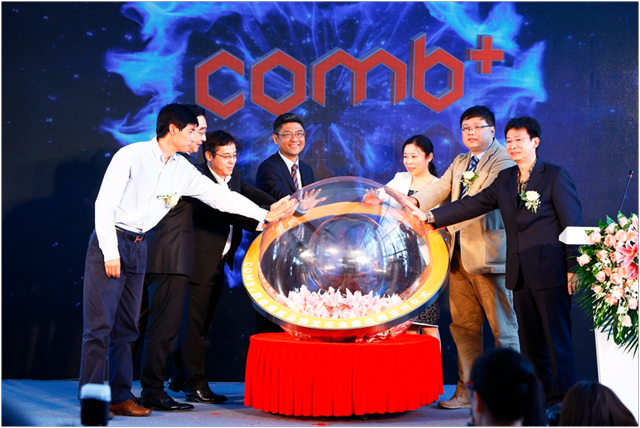 Entrepreneurs, startups and medium-cap companies can benefit from a whole range of services at the COMB+ facilities. Entrepreneurs who want to produce an atmosphere that combines professionals' working and leisure needs would easily take advantage of COMB+. Essentially, you don't have to worry about your home as you pour hours and hours into your work.
In addition, the incubator maintains a "national culture and the integration of science and technology demonstration base." This policy boosted entrepreneurship and innovation levels in the month of June, which also led to greater foreign investment and overseas businesses creating a presence in the world's biggest economy.
Described as an online Silicon Valley, COMB+ has already brought in a number of businesses, not just from China but from across the United States. For example, Firefly Games and Mobia Games are American companies that will soon create a presence on the COMB+ premises as they look to embark upon the Shanghai marketplace.
It's a place where entrepreneurial dreams are made of. Innovation, entrepreneurs and business-minded professionals can collaborate and cultivate their new concepts and help change the world. COMB+ helps create this opportunity.
Final Thoughts
What other property developments will Skyocean develop? Time will tell, but China's real estate market is huge, even if it's in a massive bubble that is amount to burst.
In most cases, amusement parks are a sign of a region's vast wealth. With companies looking to place their newest theme parks in China or the region rather than the United States or the United Kingdom suggests a growing shift in priorities for private firms.
As Fox News writes: "But China is ideally just the start for these revolutionary entertainment complex. Christopher told Fortune that he wants to establish 20 to 30 L.I.V.E. Centres around the globe and expects that each could attract up to 5 million visitors a year."