The Chinese marketplace is a very diverse one. With the rise of the Chinese economy - despite the country in the bust phase of the business cycle - millions of citizens have entered the middle class. This is something that was an alien idea just 20 years ago. Today, however, Chinese consumers are very powerful as they have the dollars (or yuan) to influence supply and demand.
The Rise of Non-Screen TV
Consumers all over the world are consuming television shows and movies on things other than their televisions. They're watching "Breaking Bad" on their smartphones, they're viewing "Mr. Robot" on their tablets and they're enjoying "WrestleMania" on their laptops.
In addition, on-demand video and recording technologies are further adding to the non-traditional consumption of media, particularly from the television. It's true that a large bulk of real-time, linear programming on television sets will take place in the coming years. But it won't last.
With that being said, media users still want high-quality viewing experiences. They don't want to always squint their eyes to look at a five-inch mobile screen. This is why it may be imperative for tech firms to develop compact devices that can emit the show or film being played on the smartphone to a larger screen.
Wait, doesn't this sound like a projector? Yes, it does. With Wi-Fi and Bluetooth dominating consumer habits and tech developments, a projector that integrates this would be beneficial for consumers everywhere.
(XGiMi Z4 Aurora-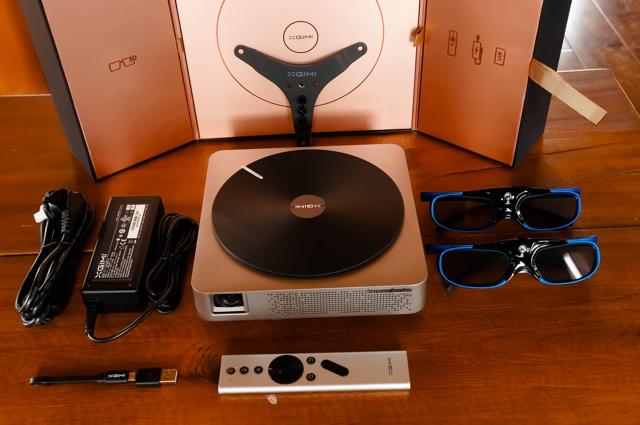 For instance, if you're watching an NBA game on your tablet and want to enjoy it with your friends but none of you want to crowd around your eight-inch device. The solution is to pull out a small but powerful projector that connects with your mobile device. The projector then emits the screen on the wall. Problem solved.
Well, there is such a projector available right now.
A long time ago, Chinese consumers would scoff at the notion of purchasing once-thought frivolous products. One of these, for example, would be projectors, especially at the dawn of China's embrace of capitalism and markets. Projectors, even 10 years ago, were clunky, expensive and impractical, unless you wanted to construct a movie theater in your home, which many citizens didn't.
Much like the adoration and acceptance of smartphones, motion pictures and stylish apparel, projectors are becoming quite popular in China because tech firms are improving the product itself. Everything from the size to the price-tag, technology startups are enhancing the power of the projector.
One of these firms is XGIMI, which is set to release the Z4 Aurora projector. This is a projector that's light (just 2.65 lbs), chic, powerful and affordable - you can get it for $449 when making a pledge on the company's IndieGoGo page or $699 upon release.
The Z4 Aurora is a smart WXGA (1280x800) LED projector with 802.11ac Wi-Fi, which allows users to control the project with a mobile application, a Bluetoothremoteor a keyboard/mouse of your choosing. Working on an Android operating system, you can download apps directly to your storage or you can use any of the pre-installed applications. With a projection of 700 ANSI lumens, it supports an array of software, like AirPlay and Miracast. It can be placed anywhere in the home without the hassle of drills, screwdrivers and holes in the wall or ceiling. You can request a tripod mounting kit or you could flip it upside down and install it into your ceiling.
XGIMI may not have the brand awareness or recognition from other projector developers, such as Sony or Epson, but this smart LED projector can allow the firm to compete with some of the biggest brands in China and in international markets. One thing that XGIMI has in its favor is positive reviews and inquiries from its audience, which is shared from the firm's Aaron Liao and Ivy Wu in this video. Simply put: XGIMI is benefitting from grassroots and social proofing.
The Chinese consumer is the most influential demographic today, akin to the American consumer. This is why so much of what you see on television or in films today usually portray China in a positive light. China has essentially become like this: when it coughs, the whole world catches a cold. And this is because the marketplace in Beijing, Shenzhen and Shanghai are as powerful as New York City, Boston and Los Angeles. The money flows in and out.
Why is this important to outline? Because if something becomes big in any of these cities then it will likely migrate to other places around the world. This is what XGIMI's Z4 Aurora must take advantage of if it wishes to remain competitive both domestic and globally.
An array of Chinese-based firms may be unknown to someone living in Biloxi, Mississippi or Vancouver, British Columbia. Just a couple of years ago, most people had no idea what Alibaba was. Today, however, it's one of the most valuable companies in the world. Why? Because it had a product or service everyone wanted. The company satisfied the consumer.
Final Thoughts
Since the Chinese consumer is quickly becoming the biggest movie lover or moviegoer on the planet, they'll develop habits like us. Essentially, they'll wish to view their favorite films, television shows or video games on the big screen, and not at a movie theater but at home.
The Verge recently rana headline profiling the Z4 Aurora: "First Click: I hate myself for wanting this tiny Android-powered projector from Indiegogo." Well, that one American writer will soon convey the feelings of the rest of the consumers in China, the region and developed markets.
Brands understand today that consumers want something small but powerful, strong but affordable. And brands are giving it to them. XGIMI has embraced this idea and now it has a projector that can very well take on Sony and Epson. It very well could, too, through digital word-of-mouth marketing and glowing reviews. What's interesting is that this is the firm's branding strategy.
And, you know what? It's working out very well.
Projectors may not seem to have any use today because of how spectacular televisions have become. Whether it's HD or 4K Ultra, it's a wonder why people still go to the pictures every week. Well, if a projector can emit 1080p with your Apple TV or can showcase your Microsoft Office documents at an office or can enhance the video game playing experience then why can't projectors make a comeback? They can, and that is what XGIMI is banking on.
Disclosure: I/we have no positions in any stocks mentioned, and no plans to initiate any positions within the next 72 hours.