Cannabis Industry Report 2020: Downturn Temporary
Please Note: Blog posts are not selected, edited or screened by Seeking Alpha editors.
In late 2019 - early 2020 I edited Seeking Alpha's (first) industry report on the cannabis industry for Premium and Pro subscribers. Partnering with two of our best cannabis authors, Marketplace author Jonathan Cooper and Gary Bourgeault, I'm very proud of this report. With the benefit of time, and maturation of the industry, much of what was discussed in this report has come to pass or be more deeply understood by investors.
As the marketplace becomes ever more excited and intrigued by what's happening in the cannabis space and as that excitement extends from North America across the globe, I thought it worth highlighting some points made and make the report available for all - while over a year old, much of this insight and information is as relevant as ever for those interested in the cannabis industry.
On Mexico legalizing cannabis, which inches ever closer to the finish line:
Mexico is one of the few countries that are expected to legalize cannabis at all levels very soon. If/when it does so, the above number will be much higher. With a population of over three times that of Canada, and assuming a similar usage rate of one in six adults, it would make Mexico the largest cannabis market in the world, with a population of about 132 million. That would be far larger than even California, which is the current cannabis global leader.
On multi-state operators (or MSOs), who have seen tremendous growth - and a real separation from the leaders of the pack - this past year, but were languishing when this was written: 
It's difficult for the MSOs to provide a path to profitability when they're still acquiring strategic assets, but some have already done so. The multi-state operators are in the same place now that Canadian growers were about a year ago. They're going all out to position themselves as market leaders in order to enjoy the benefits of scaling operations. For that reason, most of their balance sheets are going to take time to improve. To succeed, they must scale and spend responsibly. MSOs firmly believe though that as the U.S. continues to legalize and especially if it goes federally legal, they'll already be established as industry leaders. For the best of breed MSOs - more on that below - we agree.
And our picks to outperform?
Aphria (APHA):
The Canadian cannabis market has seen some heavy losses and its share of bad news this year. We debated not having any Canadian stocks on our outperform list, especially after seeing the somewhat surprising and rapid fall at Aurora. However, due to its experienced management, with its focus on responsible and measured growth, we think Aphria has earned its place as an outperform pick.

Most LPs are still incurring huge losses and have an elusive path to profitability, whereas Aphria's positive EBITDA - while small - is a key competitive advantage as a result of its efficient operation and large scale. We expect this gap to widen in the coming quarters as Aphria reaches full production while others slow capacity due to limited liquidity and canceled transactions.

Aphria is also nearing the completion of its Extraction Centre of Excellence. As a result, we think Aphria has one of the most mature operational profiles in Canada and should incur limited amounts of capital expenditures in the future. Aphria's ability to complete most of its facilities last year provided a greater degree of flexibility for the company in 2020. It has also invested heavily in automation and is moving towards one of the lowest cost structures in the sector.

Khiron Life Sciences (OTCQB:KHRNF):
Khiron already has people and infrastructure on the ground in Mexico, Peru, Chile and is ready for production and distribution when legalization in some form - either medical or adult use or both - happens in those countries, which is expected in the near term. Mexico is going to be a massive market, and a huge opportunity for Khiron. With around 124 million people (about 3.5 times more than Canada), it would be the largest federally legal market in the world. Khiron also received approval to commercialise its Kuida line of CBD cosmeceutical products in Peru last year.

In June 2019, Khiron completed the acquisition of NettaGrowth and its wholly owned subsidiary CannaPur, a Uruguayan company which obtained the first license to produce and export medical THC cannabis for commercialisation in Uruguay, the first country in the world to legalise cannabis for both recreational and medical use.

Through these acquisitions, Khiron entered its third cultivation jurisdiction; entering Uruguay also allows them access to an export market of Southern Brazil as Uruguayan regulations permit the international distribution of cannabis flower, and Brazil is projected to be the biggest cannabis market in Latin America.

One of Khiron's main assets is actually one of its board members, Vicente Fox, former President of Mexico and one of the earliest and most influential advocates for legalisation of cannabis. Fox also used to be President of Coca-Cola where he turned Coke into the #1 brand over Pepsi and so brings not only major legislative and governance experience but can also expertly advise on matters of retail and marketing. Khiron's VP of Compliance is the former Chief of Pharmaceutical Investigations for the DEA and has background in the regulatory and legal elements that will benefit a cannabis company seeking to export and set up shop in many different countries and jurisdictions. Khiron is in fact the only company of its peers to use DEA standards.

And of course, anyone that listens to our podcast knows how much we love MSO trailblazer Trulieve (OTCQX:TCNNF):
There are other possible plays in the space that we like - for instance, Cresco Labs (OTCQX:CRLBF) and Green Thumb Industries (OTCQX:GTBIF) for their foothold on the recently legalized Illinois market. There are others that also may benefit from new states going legal, and still others that may benefit from a federal descheduling of cannabis. However, despite the other bullish scenarios, we still like Trulieve best of all MSO players. For one, it is one of the few profitable players in the space.

Especially in the wake of so many companies or their leadership going under due to excessive and reckless spending, Rivers' focus on financial discipline is one encouraging example... Its continued expansion into key markets and areas should also be a source of growth in coming quarters... Trulieve is well positioned in the landscape and is safeguarding against these industry unknowns.

Hope you enjoy the report and I'd love to hear what your favorite investments in cannabis have been this past year!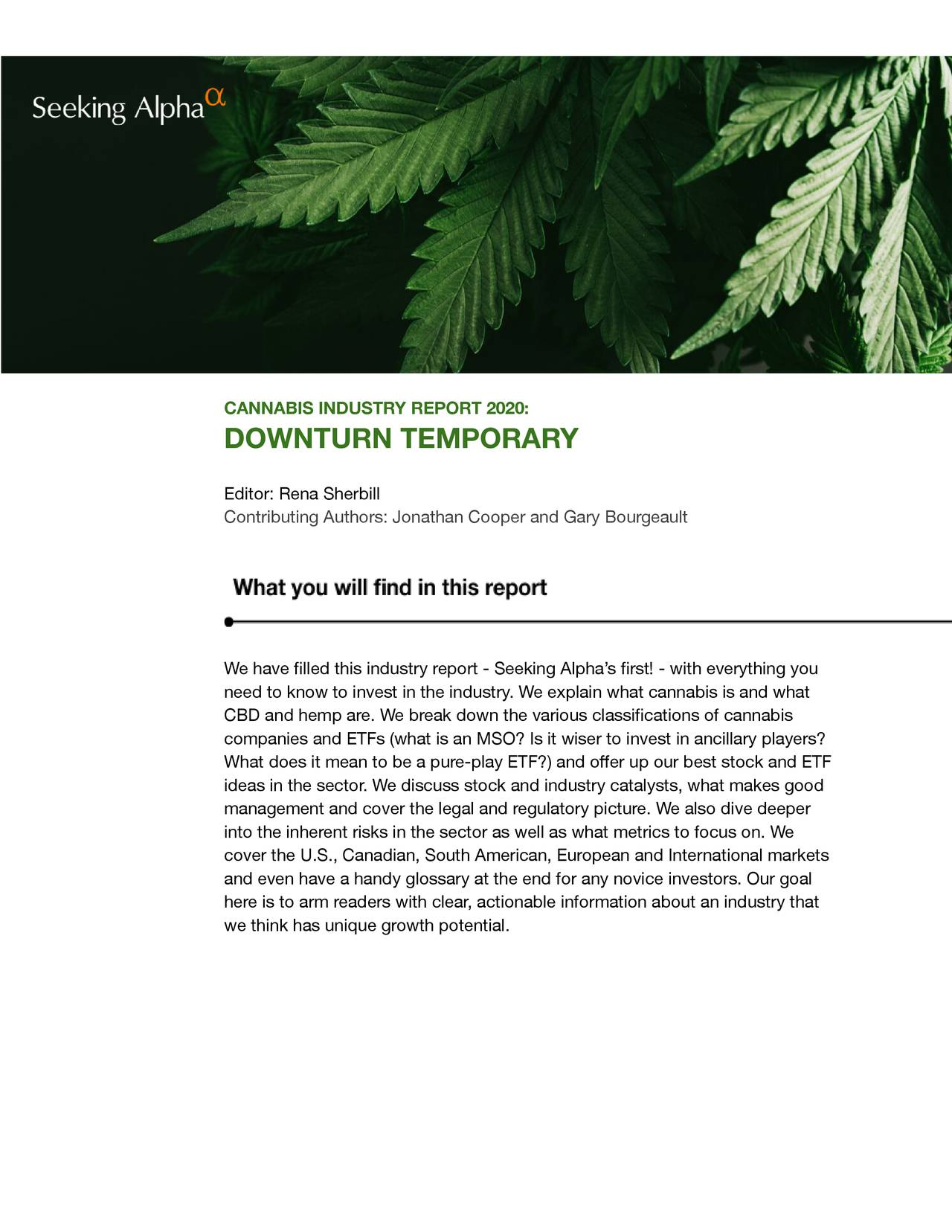 Analyst's Disclosure: I am/we are long TCNNF, KHRNF, ISCNF, MSOS, AYRWF.
Disclosure information is for Rena Sherbill only and is not meant as investment advice.
Seeking Alpha's Disclosure: Past performance is no guarantee of future results. No recommendation or advice is being given that any particular security, portfolio, transaction or investment strategy is suitable for any specific person. The author is not advising you personally concerning the nature, potential, value or suitability of any particular security or other matter. You alone are solely responsible for determining whether any investment, security or strategy, or any product or service, is appropriate or suitable for you based on your investment objectives and personal and financial situation. The author is an employee of Seeking Alpha. Any views or opinions expressed herein may not reflect those of Seeking Alpha as a whole. Seeking Alpha is not a licensed securities dealer, broker or US investment adviser or investment bank.