It's Not About Apple; It's About the Cloud
The recent move upward by Apple has caused heavy commentary on Apple. As Alan Kay, noted Xerox Parc computer scientist once said, "Context is worth 80 IQ points." The context is essentially about:
Rotating portfolio investment away from the cloud and into value
The cloud has been important for several years, but the component that represents profitless prosperity is tanking
The cloud component of SAAS is still growing
Apple's sell off was about a massive decline in gross profit margins and the erroneous argument that the Apple brand had lost its way.
Let's look at the performance of companies investing heavily in the cloud and how the market is reacting to them versus how the market is reacting to Apple's modest upside surprise over the last month:

Disclosure, I am long Apple(aapl).
Google has started another price war, Amazon followed and Rackspace and VMware are collateral damage. The story is not that the market likes Apple again as a growth story, but it does like beating estimates, it does like an increase in gross margins of 1.8% points year over year, and it is saying "I'd like to be invested in mobile and the worlds best brand when all hell is breaking loose on the last big thing-the cloud." Apple can benefit from a solid revenue and margin quarter by appealing to shareholders of over priced cloud stocks who face margin pressure in that segment.
Yes, Google is strong in search, and revenues are up 17% year over year, but where is their CAPEX going? It's going to the cloud and Amazon can't let them take away customers, existing or new since there is a strong stickiness quotient to the cloud. It's hard to get your data out and once there moving out is considered make work by Corporations. Google wants it and appears to be willing to gain share without profits.
Oh, and Google's future suddenly doesn't look like so much of a lock as it once did. The next big thing for Google was thought to be mobile advertising and that has suddenly taken off after so many years of talk of reducing other advertising and shifting into mobile. That isn't easy to do and Google and Facebook have done a great job of complementing big advertising on the Internet with a new revenue stream in mobile: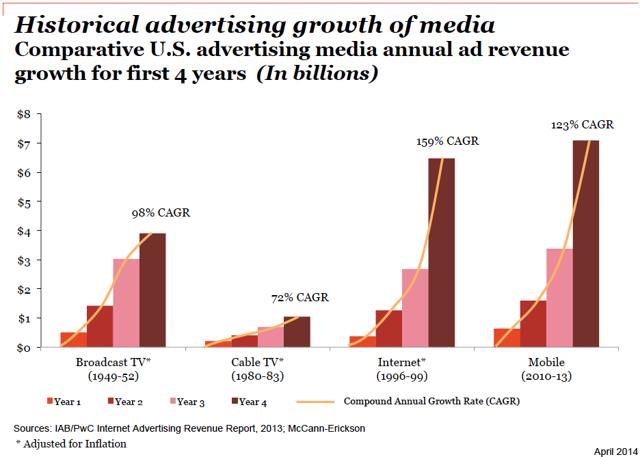 Aggregate paid clicks improved 26% year over year, but cost per click decreased 9% compared to the same quarter last year.
Aggregate paid clicks improved 26% year over year, but cost per click decreased 9% compared to the same quarter last year.
I can't help but wonder if this rotation out of pure cloud plays into value plays like Apple will have legs with more old tech like Oracle, IBM and Microsoft…all of which have had challenges generating top line revenue growth for years now…and selling high priced software when corporate buyers have alternatives like SAAS will become harder to defend in the C-suite.
Example: A friend of mine told me his experience with Oracle. They had Oracle's entire suite of modules in ERP, including HR. Their sales rep from Oracle was telling them that the version they were running on would no longer be supported …and they faced a big one-time fee to upgrade. How much, you are thinking? The surprising number for the HR module alone was $15 million plus the 22% annual maintenance fee. They decided to buy Workday for less than the maintenance fee for the upgraded module. That felt pretty good so they replaced several other modules, each time saving, in round numbers, ten million dollars.
IBM has been shedding it's commodity hardware for years now, and buying quality enterprise software firms. They have raised gross profit margins over the last ten years or so years by 10-12 percentage points…and as we all know that is a massive shift. They have announced their desires to be a cloud player.
Is it just a matter of time before they too get swept up in the rotation out of old tech to new tech, especially new tech without risks of gross margin pressure?
Disclosure: I am long AAPL.