eBay is falling from grace after losing it's trust and community values that made it a popular household brand name. Many of us could see the trust fading back in the mid 2000's and we (motors forum participants) offered suggestions that were ignored. One was this arbitration panel I thought of. eBay Motors Arbitration Panel For Vehicle Sale Complaints
The rash of new car seller scams in 2013 that were offering late model high-line automobiles at unreasonably low prices. That archive is here: New Seller eBay Car Scams | Doc's Quality Cars
Those scams phished buyers out of large payments by bank wire transfer using eBay agents. Fraudsters had the run of the house for several months. They stole prospective eBay car shoppers money - and also phished shoppers identity with a fake toll free support line to verify the transactions. Daily i created narrated screen videos running the vehicles vin numbers often showing the cars real owner. One of those videos is here.
It was during that rash of high-line car scams scams the smear campaign against me started, that's been going on for over 6 years. The guy running the alleged black op tied this guy Brian Burke eBay Community Development Director into the attacks last week. This is criminal racketeering by using trolls to discredit public opinion of a security at a minimum. Another victim of eBay smearing produced this video: eBay Inc Antitrust Investigation Into Doxing Former Sellers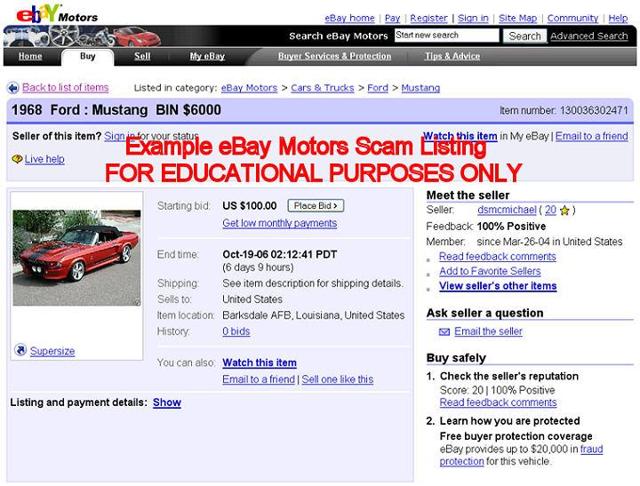 Someones trying to SQL inject my blog. This is federal computer crime. It's also racketeering by eBay who is trying to manipulate their stock value. Their trying to discredit my 15 year documentation of their bad business dealings.
I'm not the bad guy. I've saved countless consumers from falling victim to eBay car scams over the years. Having my stellar feedback smeared all over the net is the thanks i got for protecting consumers. No i did not sell stolen cars or roll back odometers as trolls have said! My feedback speaks volumes toward my credibility selling quality used cars on eBay Motors.