I hope to write an article shortly after I have clarified some Indian issues, which are in rapid flux due to UPI, Jio and Aandhaar.
Meanwhile, I'm working on some ratios on valuations of Indian Unicorns and Listed Indian Companies. I would posit Ebix India/Cash is worth $3-5bn, as a CONSERVATIVE ESTIMATE.
NB. NONE are profitable (unlike Ebix) and so main val metric is Price/Sales ratio vs growth rate.
So say $4bn for Ebix India/Cash + $1bn for Ebix Original (US)
=$5bn.
And enterprise value of Ebix is 2.1bn +300m for Yatra = $2.4bn
IN BRIEF EBIX HAS A +100%! UPSIDE IN 1YR, WHEN EBIX INDIA BECOMES MORE TRANSPARENT THROUGH THE IPO.
Where else does the market offers such upside with negligible downside risk?
PS: my top 2 holding.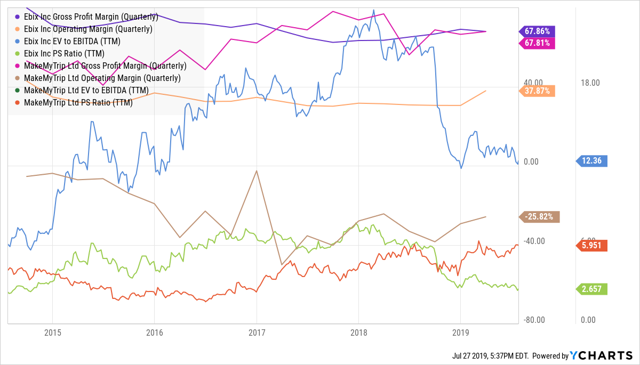 Disclosure: I am/we are long EBIX.