Biotech investors have seen great returns over the past 3 years investing in biotech stocks. While some biotech stock valuations are overvalued, Calithera Sciences seems to be one that is truly undervalued. With two big institutions who have taken substantial positions it seems like they also believe the company is undervalued. Over the last year, the share price of Calithera Biosciences (NASDAQ:CALA) has been decimated by short interest despite the positive fundamental development with research. The 52 week high of $33.48 was reached in December with the 52 week low taking place in August when the market had a sell off due to China volatility. Even with the Biotech Index (NASDAQ:IBB) recently entering a bear market, Calithera Biosciences has been able to weather the storm and continue to move up. CALA has made a run up over the past two months due to shorts covering before the combination data comes out and with the help of recent insider purchases which I will detail now.
Insider Holders
When choosing a biotech stock, it is always important to look at what institutions are holding the stock. Yahoo Finance and NASDAQ are two reputable sources for looking up insider transactions. When researching Calithera Biosciences I noticed two very familiar institutional holders. One was Fidelity Investments and the other being Adage Capital Partners. Adage Capital Partners has been recently, for the past two months, buying at the dip near 52 week lows and now owns over 17% of the float. Adage Capital Partners is known as one of the best biotech hedge funds out there. If one needs proof, they were and still are a big shareholder in Puma Biotechnology (NYSE:PBYI) when the stock jumped from nearly $60 to $250 in a reasonably short time frame. Fidelity Investments Biotechnology Fund's (MUTF:FBIOX) track record speaks for itself. See below chart.
| | | | | | |
| --- | --- | --- | --- | --- | --- |
|   | 2011 | 2012 | 2013 | 2014 | 2015 |
| | 18.18% | 36.59% | 65.66% | 35.05% | 0.76% |
| | 2.11% | 16.00% | 32.39% | 13.69% | -5.29% |
Chart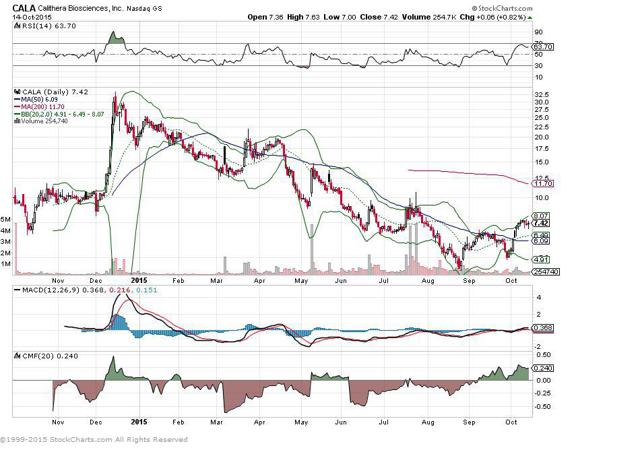 Looking at the chart above you can see the stock has made a recent run from its lows. The stock has hit the upper band of the Bollinger Bands and has been due for a tiny pullback. If biotech stocks are able to get out of this bear market Calithera Sciences should be able to make a serious move into the $10 mark. The stock should experience some resistance at $9.00, but if the volume starts to kick in it should blow through the level. With such a short float and nearly 50% short, any move up could lead to some serious upward velocity. I believe the downside from the current levels is minimal with massive upside potential. Lastly, the company has a market cap only at $133 million with nearly $77 million in cash.
Upcoming Data
Like every stock, a significant catalyst can always help increase the stock price. The company has promising leads in the fields of tumor metabolism and tumor immunology. The main catalyst would be the CB-839 which is the company's lead product candidate. CB-839 is currently the only targeted allosteric inhibitor of glutamine to reach the human testing stage of clinical development. CB-839 seeks to halt growth or kill cancer cells by depriving tumors of glutamine. Right now the company is currently recruiting new cohorts to continue the testing. Additional Phase I data is expected later this year possibly early next month, November 5-9th at a conference in Boston. Combination data is expected to be published in mid-2016. This conference will be a significant value driver for the company. Another factor to watch is the company's arginase inhibitor CB-1158 data. The company plans to submit an Investigational New Drug Application to the FDA for the treatment in early 2016.
Conclusion
With significant insider buying by Adage Capital Partners alongside a significant stake by the Fidelity Biotechnology Fund, Calithera may represent an interesting speculative investment for biotech investors. With data coming out in November and December this year a great catalyst may be coming to squeeze the shorts. Investors should continue to watch the upcoming data closely to see if Adage Capital Partners continues to buy shares. I believe the stock right now is worth $10 and if the data comes out in November and December positively like Adage Capital Partners and Fidelity Investments are suggesting, then I think we could see $20+.
Disclosure: I/we have no positions in any stocks mentioned, but may initiate a long position in CALA over the next 72 hours.
I wrote this article myself, and it expresses my own opinions. I am not receiving compensation for it. I have no business relationship with any company whose stock is mentioned in this article.