10-Year Total Returns for Wal-Mart (NYSE:WMT) vs. TJX Companies (NYSE:TJX)
Income investors focused on low-beta stocks with a higher dividend yield often overlook opportunities for superior total returns (dividends + capital gains growth). For example, although WMT has a low beta of 0.45 and a current yield of 2.56%, TJX companies also has a low beta (0.65) but only has a dividend yield of 1.20%. Yet, TJX has had total returns of 567.2% compared to WMT's total returns of 99.36% over the same 10-year period (see chart below).
What's more, although WMT has the higher dividend yield, TJX has a much higher dividend growth rate. From Q4 of 2005 to present, WMT has increased its dividend 227% while TJX has increased its dividend 933%.
For a more in-depth look at TJX, see my previous article here.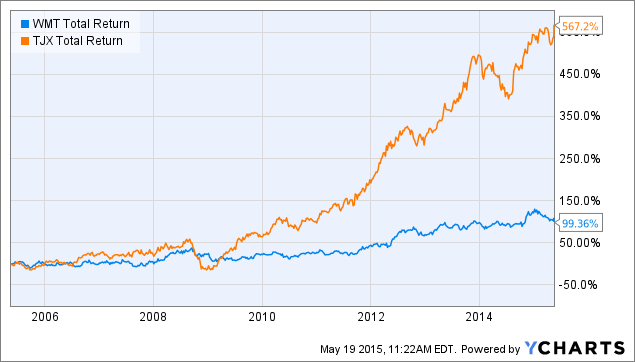 WMT Total Return Price data by YCharts
Disclosure: The author is long TJX.