Summary
Merger talks have fallen apart.
Continuation of talks in the future is possible.
Rumored that ABX would have paid around a 13% premium for NEM.
6.41% Increase in NEM at this point is premature.
It was recently reported that the merger talks between gold miners Barrick Gold and Newmont Mining Corp have fallen apart. There was said to be disagreements over which assets would sold off in the event of the merger. Despite the news that the talks have been aborted, the idea of the merger alone priced into the stocks today sending Newmont up 6.41% and Barrick down 3.94%. In this period of low gold prices, miners have struggled to produce profits. According to Citigroup the industry's all in cost of mining gold sits above $1,400 while gold prices have dropped below $1,300. It is said the mergers could bring about almost 6.5 billion worth of synergies for the combined company. Barrick and Newmont operate in very similar spaces and many redundancies could be eliminated.
So the question arises. How does the news that mergers talk have fallen apart trigger the price movements seen today? Apparently for investors the fact that merger talks have been brought to the table is enough. The fact is that this merger would be great for both companies and investors believe that management will eventually act on that. While the process may take some time and have bumps along the way the consensus is that there is a good chance that the merger will come into fruition.
As the larger company, Barrick was said to have been planning to pay a 13% premium to Newmont's average share price before the deal. The possibility that Barrick will pay a similar premium if the deal is completed has sent the stock down nearly 4% and Newmont's stock up 6.41%. The premium of more than 6% given to Newmont at this point seems premature. Talks have just fallen apart and although the possibility that talks will resume exists, it is by no means set in stone. Also, no one has any idea when talks will resume, and as time goes on, the premium valuation for Newmont will likely dissipate. If talks do resume the premium offered to Newmont could disappoint investors. Because of these factors it would be prudent to stay away from the stock unless it retreats significantly closer to pre-talk levels (In the case that no further negative information has been released).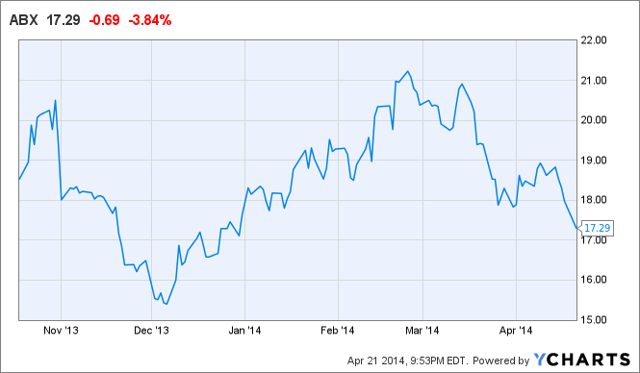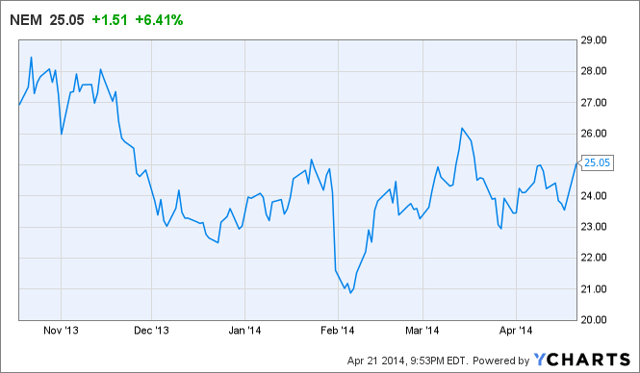 Disclosure: I have no positions in any stocks mentioned, and no plans to initiate any positions within the next 72 hours.