SolarCity Corporation is in the business of solar power system leasing. They offer both residential and commercial customers a low cost energy alternative. SolarCity has yet to report a yearly profit but the rapidly growing demand as well as their typical lease structures are pushing the stock up. The company engages in long term leases typically ranging from 10 to 20 years. This turns their customers into quality assets providing steady yields.
In the face of rapid industry growth SolarCity stock price has been pushed near record highs. While SolarCity is well postioned to take advantage of this growth, their high valuation will increase their sensitivity to several existing risk factors that could hamper demand for the systems.
Net Metering
One of the advantages to using one of SolarCity's systems is the ability to partake in Net Metering. Net metering allows residential and commercial customers who generate their own electricity form solar power to feed the electricity they do not use back into the grid. At the end of the billing period the customer will only have to pay for their net energy usage (energy used - energy fed back into the grid). Utilities see Net Metering as lost revenue opportunity, and are aggressively pushing against the policy. Some utilties are considering paying less for excess solar energy than what they charge residential customers who purchase energy from them. Net Metering is one of the major factors pushing residential and commercial growth and any developments reducing the policy's effective could significantly hamper growth.
Grants and Tax Benefits
The Government currently offers a 30% investment tax credit for the installation of certain solar power facilities until Dec, 2016. After that point the credit will reduce to 10%. This represents a broad theme across the industry as the government seeks to reduce subsidies and tax credits as demand for solar energy increases. Unless the tax credits are renewed at current rates, this policy clouds the long term future of the solar energy business.
Conclusion
While SCTY is in a great position to take advantage of the potential growth in the solar energy market, there already high valuation leads me to advise caution until these risk factors are cleared up.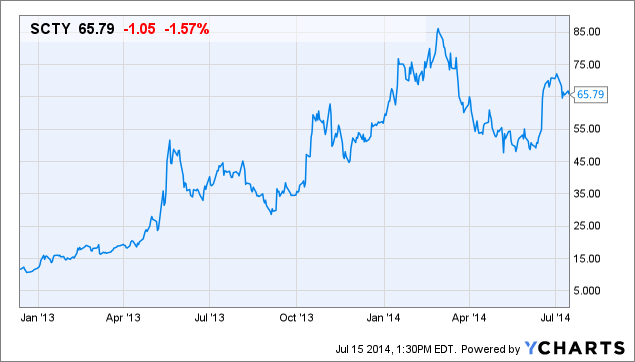 Disclosure: The author has no positions in any stocks mentioned, and no plans to initiate any positions within the next 72 hours.