As I mentioned yesterday, the rally in equities was probably one of the most predictable advances we've had in quite a while. Just about every technical indicator was calling for an oversold rally and that's exactly what we got. With that, we saw traders head for the exits in the option pits, selling their puts and/or buying calls.
While the strength of this rally is debatable, there's little question in the shift in sentiment towards the bullish camp. Below is a chart of the S&P 500 in the top panel with three option put/call ratios in the following panels. As the chart shows, there was a massive shift out of puts and into calls in index options, equity options, and all options in general yesterday.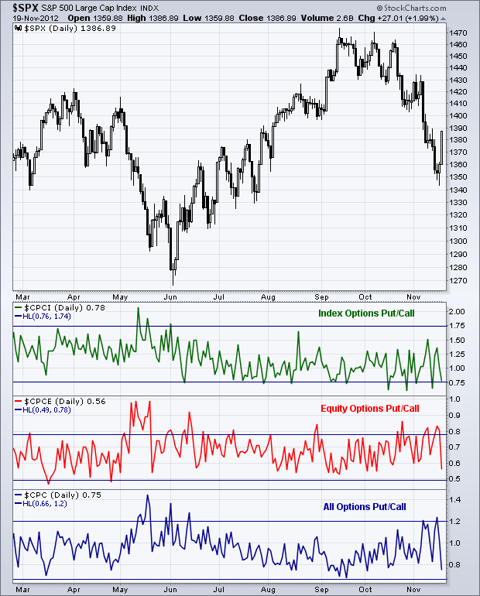 It's amazing how quickly sentiment shifted from overly bearish to overly bullish in the matter of a day with traders making such a large move in the options market. These types of moves don't dictate immediate price action but they do shed some light on how traders positioned themselves going forward.
Read more of my analysis at: www.athrasher.com
Disclosure: I have no positions in any stocks mentioned, and no plans to initiate any positions within the next 72 hours.
Additional disclosure: Do not construe anything written in this post or this blog in its entirety as a recommendation, research, or an offer to buy or sell any securities. Everything in this post is meant for educational and entertainment purposes only. I or my affiliates may hold positions in securities mentioned in the blog. Please see my Disclosure page for full disclaimer.