Have We Entered The "Golden Age" Of Gold Mining?
Subscribers of The Gold Bull Portfolio continue to benefit from the recent rally in metals prices and my stock recommendations. But I believe the rally in gold and gold miners is just beginning. 
Not only that, I feel that gold miners are deeply undervalued when compared to the price of gold, and I think the market is going to be surprised to see just how strong upcoming earnings will be.
Most miners are producing gold at all-in sustaining costs of <$900/oz, and gold has been trading north of $1,500, leading to juicy margins for producers. I think we're going to see really strong financial results in the coming quarter.
Why are Gold Prices Rising?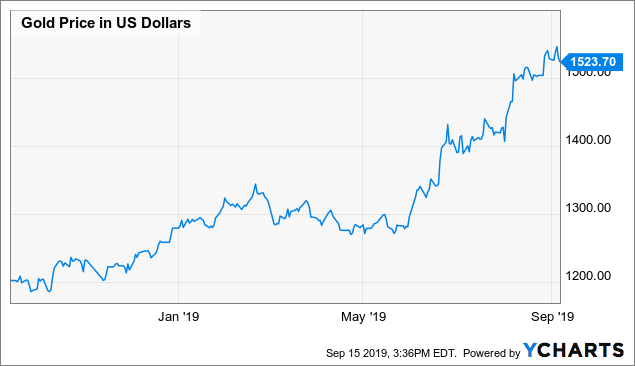 (Gold prices as of last week).
Investors are pulling money out of stocks and seeking safe havens, including gold, due to the various uncertainties in the market and the possibility that we've reached a top in the stock market.
US-China trade war and recession fears: The tariff-driven trade war between the world's two largest economies continues to spook the markets. I believe the uncertainty regarding the outcome of the trade war has been influencing gold prices, and will likely continue to do so.
Meanwhile, the inverted yield curve (when short-term bond rates are higher than rates paid on long-term bonds, a recession warning sign) has many economists sounding the alarm on a recession. From Larry Summers, via the Wall Street Journal: "I haven't been this alarmed since the financial crisis."
Worldwide central bank rate-cutting: The U.S. has joined other world economies and the Fed is widely expected to cut rates again next week by a quarter of a percentage point.
Accommodative monetary policy (rate-cutting and quantitative easing) has been good for gold in the past, and should be good for gold in the future.
Central bank gold buying: Central banks across the world continue to buy gold, making record purchases of $15.7 billion in the first six months of the year. China bought gold for the 8th straight month in August, according to Business Insider. 
"China bought nearly 10 tons of gold in July, adding to its eight-month buying streak and bringing its reserves to 62.26 million ounces — about 1,945 tons...The purchase is another signal from China that it's prepping for a prolonged and escalated trade war with the US." 
Why are Miners a Better Bet Than Gold?
Gold miners continue to trade at a low valuation when compared to physical gap, but I expect the valuation gap to close - perhaps once the market sees how higher gold prices positively impact miner's earnings.
The HUI to GOLD price ratio is a good ratio to evaluate and watch. This values gold mining equities (the HUI gold bugs index, which is an equal dollar weighted index of companies involved in gold mining) in relation to the physical gold price.
Dividing the HUI index by gold has typically lead to a ratio above .30, as you'll see below. The ratio is currently .1361.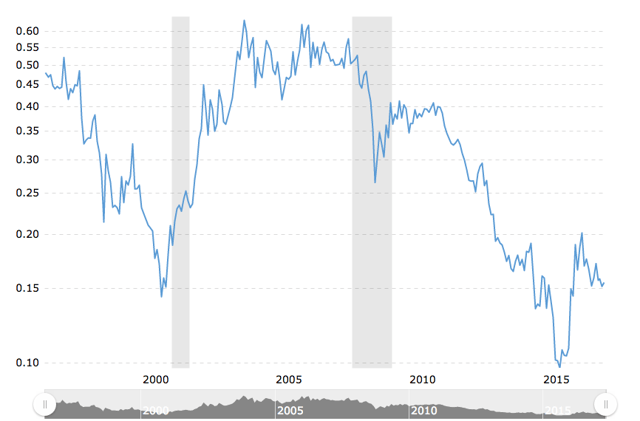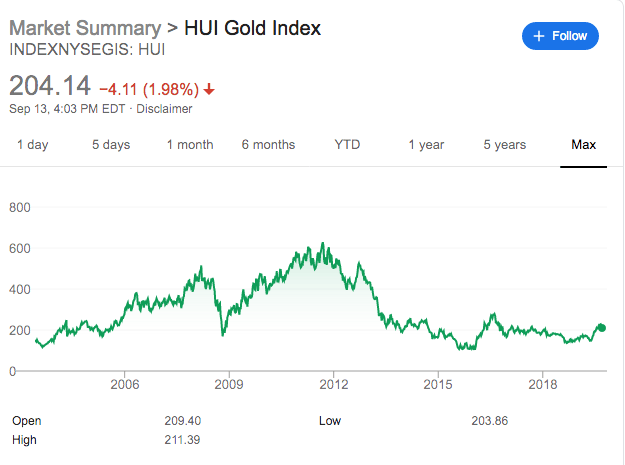 (Credit: MacroTrends and Yahoo Finance)
The HUI is worth $204.14 per share as of writing. For the ratio to revert to the average of .30X, each HUI share would have to be worth $446, more than double its current price. This means most gold stocks would be more than 100% above current stock prices, if it traded at a normal ratio.
The bottom line: Gold miners remain deeply undervalued compared to gold and will likely rally at some point over the next few years, and perhaps sooner rather than later.
How Can I Make Money In This Bull Market?
Gold Mining Bull's marketplace service is creating value for investors looking to beat the performance of the typical gold stock.
I actively search for money-making opportunities in the sector. My picks are carefully vetted and selected - I've only released BUY calls on about 30 mining stocks out of 1,000+.
Here are some examples of how my marketplace service has created value for subscribers every month:
9/8/19 BUY call and coverage on a core gold stock holding in my real-life portfolio. The stock traded at US$.275 at the time of coverage, and now trades at US$.29, a 5.4% gain in just one week!
9/3/19 BUY call and coverage on a gold royalty company at US$.29 per share. That stock now trades at US$.38, representing a 31% gain in under two weeks!
8/8/19 BUY call and coverage on a top silver stock pick at US$3.58 per share. That silver stock now trades $4.03, a gain of 12.5% in just over 1 month. Since my top silver stock call on Jan. 21, 2019 (released only to subscribers, the stock has risen from $2.00 to $3.58, a massive 79% gain.
7/11/19 BUY call and rating on Yamana Gold (AUY) at US$2.615 per share; Yamana's stock now trades at $3.24, representing a 23.9% gain in just a few months.
An earlier buy call on Yamana was made on May 1, 2019, at US$2.16; I stated " I believe shares are a good buy here; My plan is to monitor the share price and average down my position if it falls below $2.10." Investors who pulled the trigger on a purchase then have realized gains of 54%.
6/5/19 STRONG BUY call and rating on a junior gold miner at US$2.73 per share. That gold stock now trades at US$3.53 per share, a 29% gain in just 3 months!
Excellent performance on my top gold stock and top silver stock lists (available only to subscribers. On 1/24/19, I listed my top silver stocks for 2019 and it included SilverCrest Metals (SILV), which traded at $3.03 at the time of publication; that stock now trades at $5.41, a gain of 78.5%!
Then you also have my personal best call of all-time, a TOP PICK rating on Kirkland Lake Gold (KL) back in 2017, which has returned 400%+ since publication (a five-bagger!).
(KL original BUY call under US$8.00 per share).
(KL another BUY call at US$13.28 per share).
These are just a few gold stock picks that have helped my subscribers. While not all of my picks are winners, the majority of my past & recent picks have outperformed.  
NOW is the perfect time to join, with gold prices set to rally on the news of further rate-cutting by the U.S. Federal Reserve. I believe the rally in gold & silver mining stocks is just beginning.
*Join today and get immediate access to BUY / HOLD / SELL rating spreadsheet with 80+ gold and silver stocks rated (explanation of my ratings below).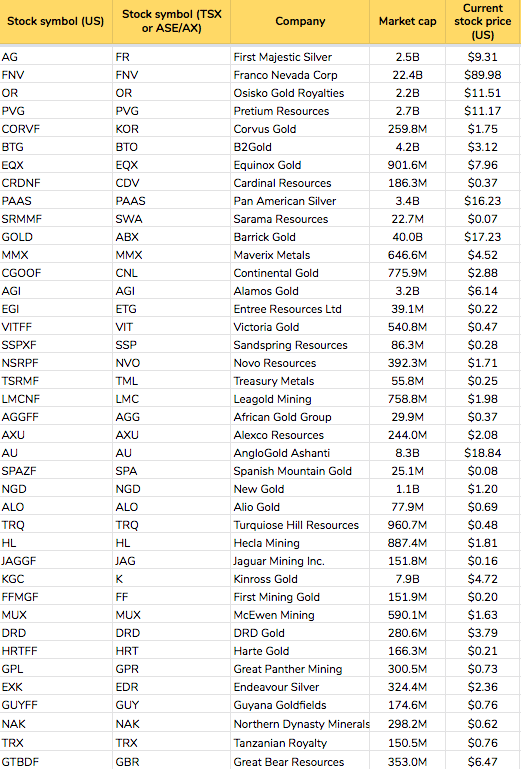 These are just a portion of the stocks I've rated above (Note: Ratings, ideal buy price range, and my comments are not included here, and are only available to subscribers).
*Subscribers also receive access to my real-life gold/silver stock holdings, which have consistently outperformed the gold market compared to the VanEck gold miners index (GDX) and other index.
These are my top 7 holdings above, all in the green, sorted by total $ value.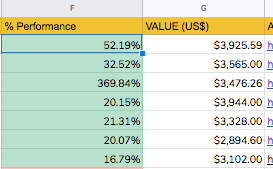 *Exclusive access to my top gold stock and top silver stock lists for 2020.
*You'll also get frequent updates on junior mining stocks, insider buying/selling research, and earnings analysis, and M&A coverage.
*Join our community of like-minded gold investors. Ask me about any stock you want, or share your portfolio holdings.
Still not convinced?
Try out my service for free for a few weeks, and cancel for a full refund if you are not happy. Again, a full refund is granted if you cancel before the 2 week trial ends. If you want to continue, you just stay on board. You can cancel at any time if not completely satisfied.
This free trial offer is only temporary (I plan on removing the offer in October) so I urge you to take advantage of this offer soon.