Gold Falls, While Gold Mining Stock Sentiment Hits New Lows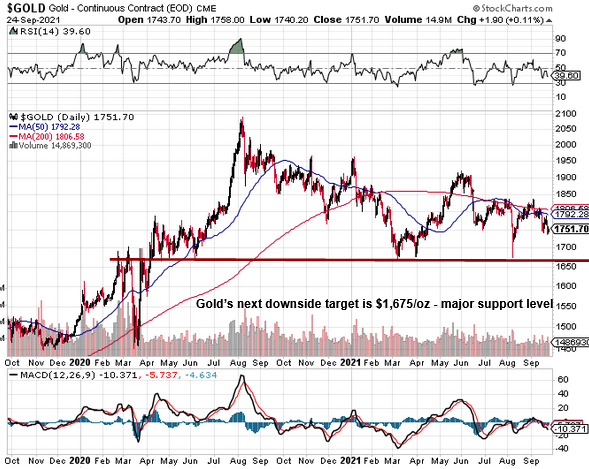 Dear Seeking Alpha followers,
Gold is in free-fall this week due to a firmer U.S. dollar and rising Treasury yields. On Wednesday afternoon, gold was down .76% to $1,722/oz, with silver fell 4.37% to $21.45/oz.
I believe further downside remains a possibility for gold & silver at this point in time due to negative momentum, rising yields, and lack of a clear catalyst this coming week. It is looking more and more like we could break the August low of $1,682/oz, which would set up a fall to the March low of $1,675/oz, the level were a "triple-bottom" was completed. A fall to $1,675/oz would likely take the gold miners index (GDX) down to $25 or further.
However, this has set up some excellent buying opportunities in the gold & silver sectors, as the decline in the metals has caused a lot of retail investors to throw in the towel. Lots of solid companies are being dragged down in the sector; the baby is getting thrown out with the bathwater, so to speak.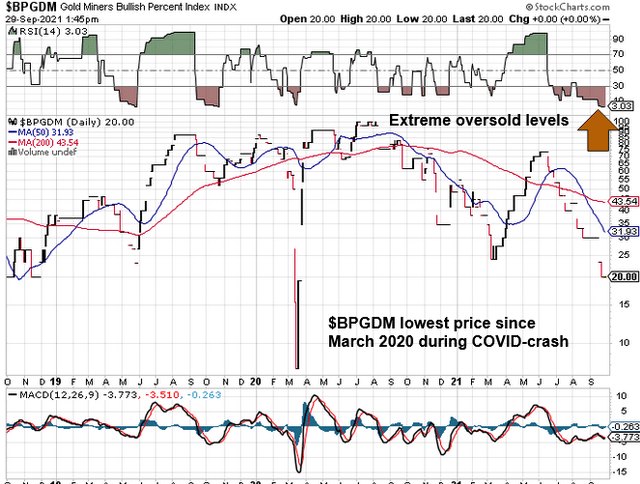 One index I use regularly to track investor sentiment is The Gold Miners Bullish Percent Index ($BPGDM). This index also measures overbought and oversold conditions in the gold mining sector, measuring the VanEck gold miners index (GDX).
When looking at RSI readings, below 30 suggests oversold conditions, while readings above 70 indicate an overbought situation. It's generally a good time to sell gold miners when the index reaches overbought conditions, and to buy when oversold.
You'll see above that gold mining stock sentiment is at 3.03, the most extreme oversold conditions we've seen since March 2020, when gold briefly dipped below $1,500/oz! Gold now trades at $1,722/oz, and gold miner's profit margins are still excellent, as the industry average for all-in sustaining costs hovers between the $1,000/oz - $1,100 mark.
If gold dips to $1,675/oz we are likely to see even more extreme oversold conditions. But my point is that the latest reading indicates that gold miners are very unloved at the moment, and these periods of extreme negative sentiment have historically provided the best buying opportunities.
It may also be helpful to keep the recent dip in gold in perspective by viewing this 20-year chart of the metal.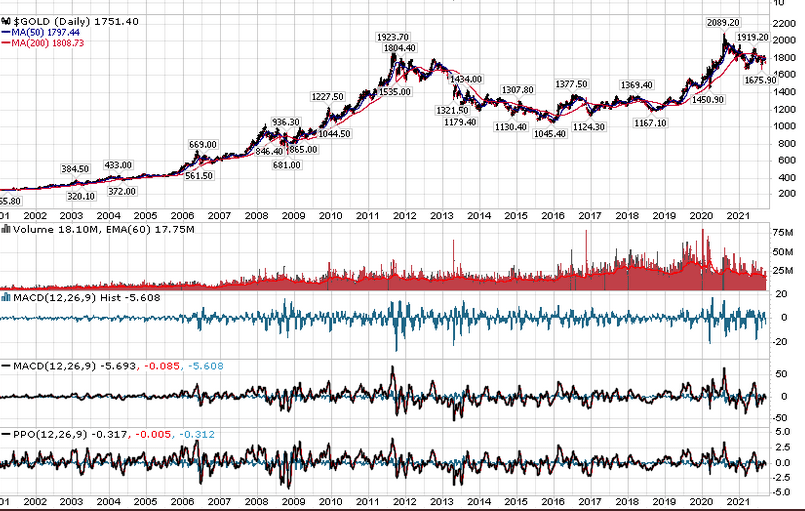 Here are two more charts to show you how unloved gold miners are compared to gold, and stocks (the S&P 500.) The first chart shows the HUI gold bugs index compared to the price of gold, the second chart shows the HUI compared to the S&P 500.
What's really astonishing in the second chart is the fact that gold miners compared to S&P 500 hasn't been this undervalued since before the turn of the century and the start of the bull market in gold!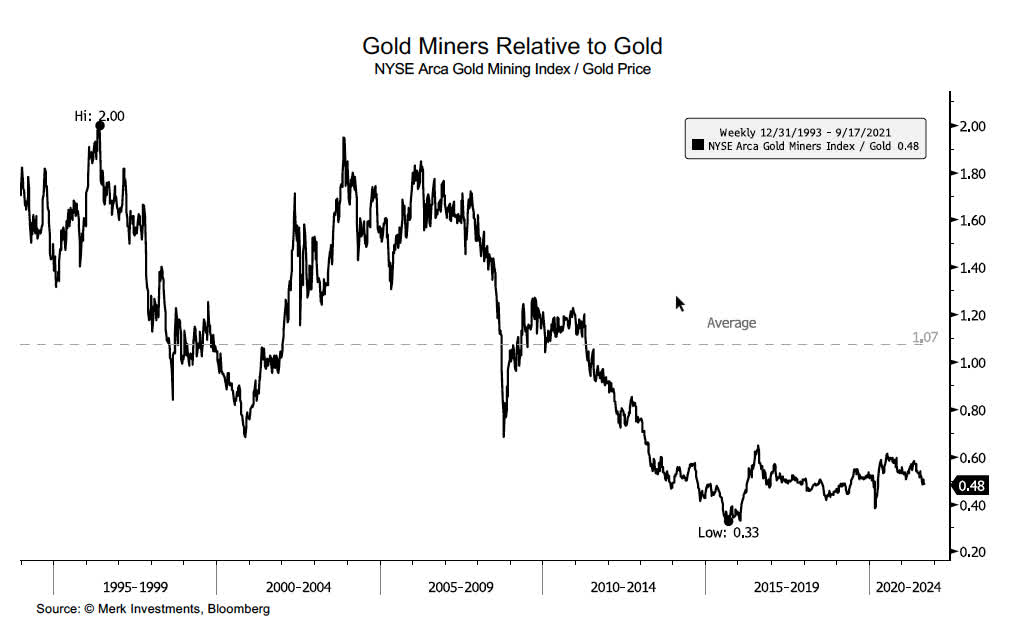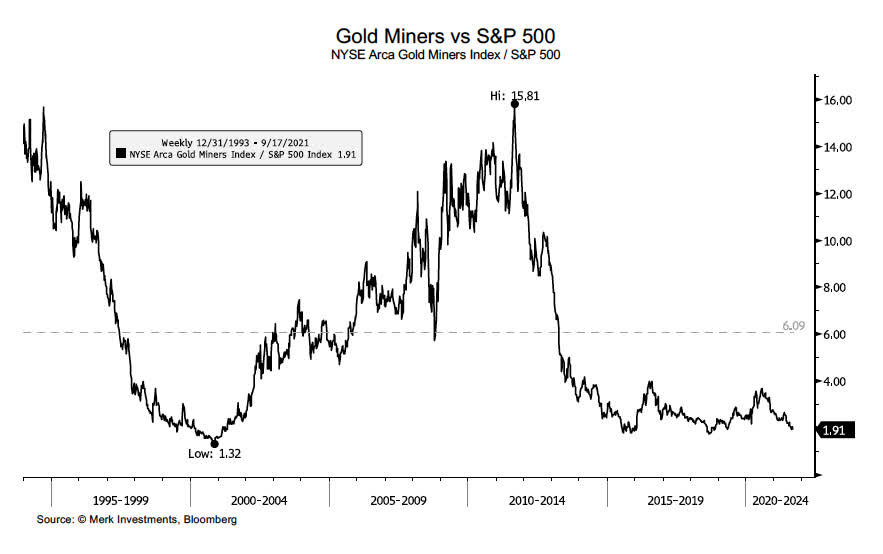 (Charts courtesy Merk Investments.)
With a potential U.S. debt crisis and default coming as soon as next month and national debt soaring to $28.8 trillion, the reasons for owning gold miners here are stronger than ever.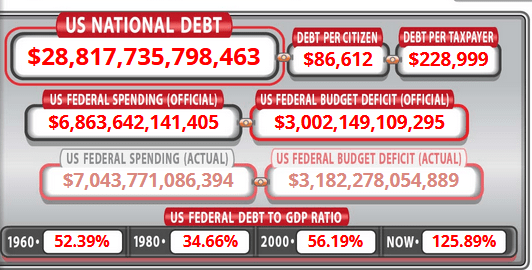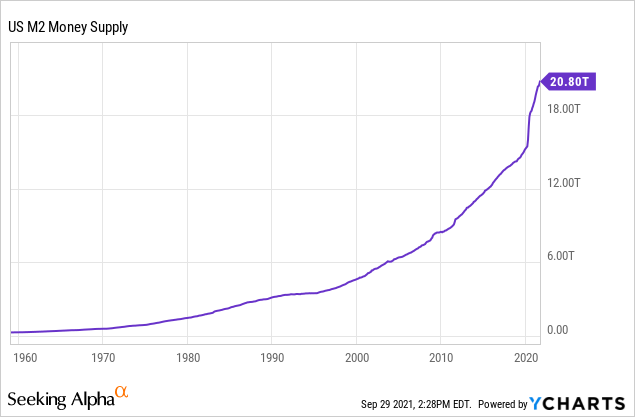 The Fed is trapped because it can't raise interest rates or taper to quell rising inflation, due to the massive U.S. debts. The current national debt is now $28.77 trillion and rising, with the debt-to-GDP ratio at 125.89%. The U.S. is currently adding more than $3 trillion to the debt every year (our federal budget deficit) - and that's before Biden's $3.5 trillion spending bill is voted on!
When things turn around for gold & silver, I believe they will turn around in a big way and overshoot to the upside. It's a great time to re-position your portfolio for a rebound in the metals.
If you are a contrarian investor like myself and looking to buy gold and silver miners before the next leg up, I encourage you to try out my marketplace service. I provide my personal gold & silver portfolio holdings, with regular buy/sell updates, as well as regular weekly updates. We have a strong community of like-minded precious metals investors who actively discuss the gold & silver market in the live chat feature on the website.
You can SIGN UP HERE to try the service and for a limited time only, new subscribers will qualify for a 10% discount!
Thank you for reading and best of luck investing!
Sincerely,
Steve Thomas "Gold Mining Bull"