Breast cancer treatment has become a niche for microcap Israeli biomed companies. Due, in part, to a prevalence of breast cancer among women of Ashkenazi (Eastern European) Jewish descent, local academic research has led to the launch of more than a dozen companies pursuing therapeutic and intervention approaches.
I have been researching the niche as part of my wider analysis on undercovered, under-the-radar Israeli stocks. One of note is IceCure (OTC:ICURF), which develops and markets minimally invasive cryoablation (low-temperature freezing) therapies for small breast tumors (<1.5cm diameter). As of March 31, its largest holder is Isis EP, which manages the UK-based closed-end fund Baronsmead VCT 3, which typically takes lead investor positions in technology-enabled and large unquoted companies.
Earlier this week, I caught up with Chief Executive Officer Hezi Himelfarb to discuss recent program developments and to get a better understanding of how changes in health insurance reimbursement codes and deductibles, brought on by the Affordable Healthcare Act, could impact IceCure's business.
The company's technology uses liquid nitrogen to surround, freeze and ultimately eliminate a breast tumor. Among the advantages in the process is that it requires a small, 3mm incision in the patient and the actual treatment time is relative short. IceCure's technology allows for targeted cryoablation, minimizing -- by as much as 75% -- the destruction or ablation of the surrounding healthy breast tissue.
The procedure has been used to eliminate benign breast tumors in about 400 women in the U.S. Using local anesthesia, a needle is inserted into the tumor, called breast fibroadenomas, at minus 170 degrees Celsius, creating an ice ball that surrounds and kills the mass. The dead tissue is absorbed by the immune system. Its latest technology can kill a 3mm tumor in about six minutes.
Himelfarb said that because procedure reimbursements favor less-, or minimally, invasive procedures that are done outside of an operating room, the company's surgery alternative can be less expensive for payors and can be done in a doctor's office. As evidence, he pointed to a reduction in the reimbursement for a vacuum-assisted biopsy to a level near or equal to fine-needle aspiration biopsy. The change has resulted in a decrease in radiologists income and left them looking for new revenue streams, which IceCure addressed by targeting radiology centers in addition to tradition breast surgeons.
Using IceCure's technology, the procedure costs $2,500, about half of comparable surgery, United Healthcare is among payors covering it. The company estimates the U.S. market for fibroadenomas is worth $800m a year.
Average U.S. Commercial Reimbursement for Treatment of
Fibroadenoma Across Multiple Payers and Markets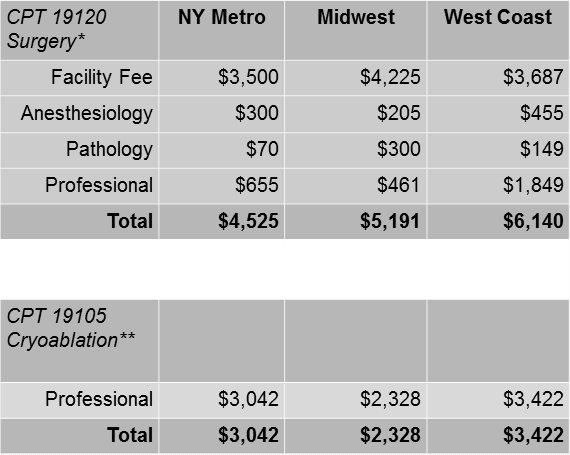 * Excisional breast surgery includes certain biopsy procedures
** Cryosurgical ablation of a fibroadenoma
Source: Breast Health Options
Earlier this year, IceCure published the results of trial which show success in using cryoablation to destroy small breast cancers tumors (<1 cm diameter). It is expanding on that study now with treatments of tumors up to 1.5 cm without requiring surgical excision or mastectomy. It now has clinical trials going on in 20 U.S. hospitals, most of which are funding the study costs.
The principal investigator in the study, Susan Boolbol, MD, Chief of Division of Breast Surgery Beth Israel New York, said in May that cryoablation could "change the paradigm of treatments available to women with breast cancer and present new horizons of treatment options that are tailored for the specific patient." The study participants include the Cleveland Clinic and Indiana University and Yale University Medical Centers.
A change in operations, shifting to selling its systems rather than lending them out at no charge, boosted sales in the second quarter to $350,000, similar to full-year 2013 sales. For the previous two years, it only charged for the needles used in the procedure.
Disclosure: The author has no positions in any stocks mentioned, and no plans to initiate any positions within the next 72 hours.