ECONOMIC CALENDAR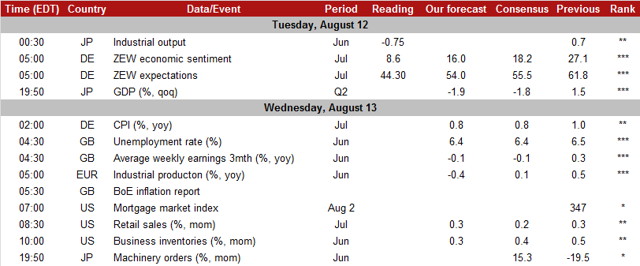 EUR/USD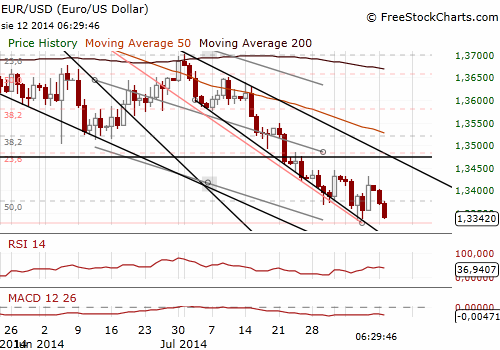 ZEW's monthly survey of economic sentiment fell for an eighth consecutive month to 8.6 in August (long-term average: 24.6). The current decline is the strongest since June 2012. The assessment of the current economic situation in Germany has decreased as well. The respective indicator has lost 17.5 and now stands at 44.3. The decline in economic sentiment is likely connected to the ongoing geopolitical tensions. This deterioration mirrors the recent decline in other indicators of business activity such as the German PMI, Ifo surveys and OECD Composite Leading Indicator.
The German Statistical Office will publish a flash estimate on second quarter GDP growth on August 14. Market consensus assumes a stagnating level of economic activity but we see a decline by 0.2% qoq. The charts below show that German economy is losing momentum. A renewed expansion seems likely in Q3 and beyond, however, there is still risk of further EU sanctions on Russia. In the first quarter GDP increased by 0.8%, driven by higher consumption and investment.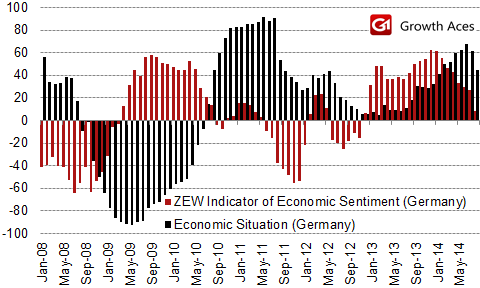 Ifo Business-Cycle Clock shows that German economy is still in the phase of boom but growth is decelerating. In line with business-cycle clock built basing on OECD CLIs, German economy is on the edge of recession.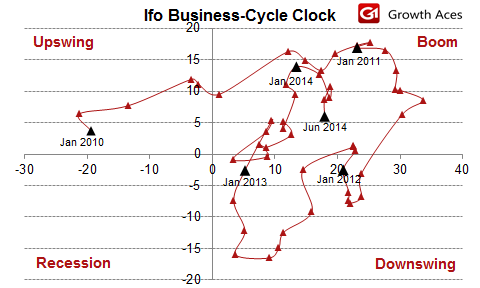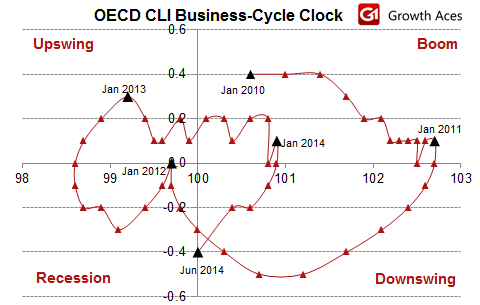 The EUR fell to the support line at 1.3337 today after weaker-than-expected German data. In our opinion the outlook for the EUR/USD is bearish. We are looking to go short on the EUR/USD in case of recovery of the rate near 1.3380.
Significant technical levels:
Resistance: 1.3386 (high Aug 12), 1.3410 (high Aug 11), 1.433 (high Aug 7)
Support: 1.3337 (low Aug 7), 1.3333 (low Aug 6), 1.3318 (low Nov 8)
USD/CAD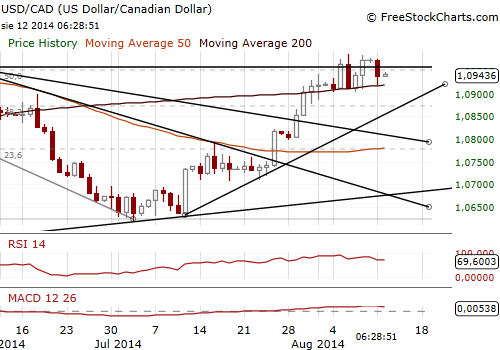 The CAD firmed against the USD on Monday after the housing starts rose to 200,098 last month, above forecasts for 193,000, from a upwardly revised 198,665 in June. The rise was driven by a 4.7% increase in single-unit starts, while multiple units, typically condominiums, dipped 2.0%. The USD/CAD stopped at the 200-hma support at 1.0928. Last-weeks lows near 1.0900 were not threatened.
Our trading strategy for the USD/CAD is to go long at 1.0905 with the target at 1.1070 and stop-loss at 1.0835.
Significant technical levels:
Resistance: 1.0985 (high Aug 8), 1.1007 (high May 2), 1.1053 (high Apr 23)
Support: 1.0922 (10-dma), 1.0900 (low Aug 7), 1.0854 (200-dma)
Growth Aces' current trading positions:
AUD/USD: short at 0.9330, target 0.9210, stop-loss 0.9315
EUR/JPY: short at 136.70, target 135.50, stop-loss 137.25
EUR/GBP: long at 0.7950, target 0.8045, stop-loss 0.7905
We encourage you to subscribe to our daily fundamental macroeconomic analysis newsletter (http://growthaces.com) to read the full version of our analysis right away.
Thank you for reading.