ECONOMIC CALENDAR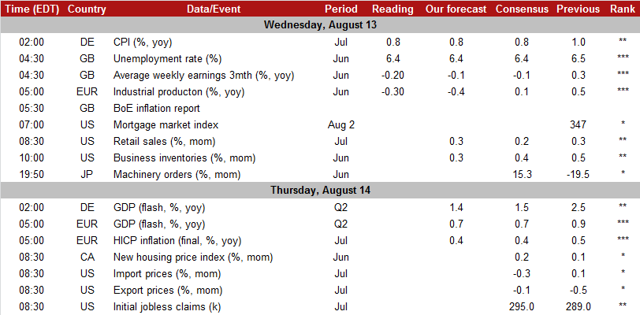 EUR/USD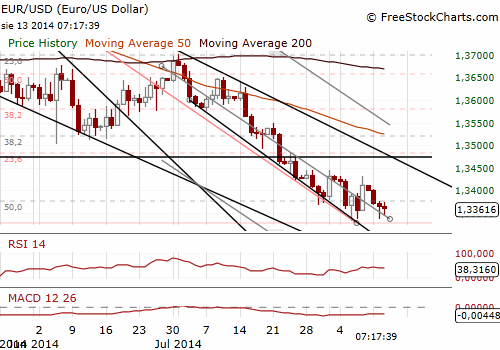 Euro zone industrial production contracted for a second month in a row in June. The industrial output fell by 0.3% mom after a drop by 1.1% mom in May vs. market expectations of a 0.3% rise. The monthly drop was due mainly to a 1.9% mom drop in production of non-durable consumer goods.
Eurostat will publish the second quarter economic growth flash estimate on Thursday. We expect GDP growth of 0.1% qoq vs. a 0.1% rise in the first quarter.
ECB policymaker Jens Weidmann is the opinion that it is up to each euro zone government to take the right steps internally for growth while monetary policy should not aim at weakening the euro to improve competitiveness. In his view recovery is weak but inflation and growth should gradually emerge.
The EUR/USD fell slightly after weaker-than-expected industrial production data. A strong support has formed between 1.3330/40. A break below that level targets the July 11, 2013 low at 1.3295. However, in our opinion no positions are justified from the risk/reward perspective.
Significant technical levels:
Resistance: 1.3386 (high Aug 12), 1.3410 (high Aug 11), 1.3433 (high Aug 7)
Support: 1.3336 (low Aug 12), 1.3333 (low Aug 6), 1.3318 (low Nov 8)
EUR/GBP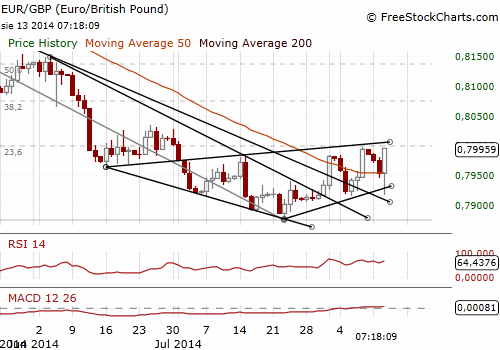 The unemployment rate fell as expected to 6.4% in the three months to June, its lowest level since the end of 2008 and down from 6.5% a month earlier. But average weekly earnings, including bonuses, fell by 0.2% yoy. That was a slightly bigger decline than a consensus forecast for a fall of 0.1%.
The data showed the number of people in employment rose by 167k in the three months through June. The number of people claiming unemployment benefit in the month of July fell by 33.6k compared with a revised 39.5k in June.
The Bank of England slashed its forecast for wage growth on Wednesday and said that how fast wages picked up would be key to determining the timing and pace of interest rate rises. The Bank of England sees wage growth of 1.25% in 2014 (as compared to 2.5% estimated in May), 3.25% in 2015 (as compared to 3.5% in May), and 4% in 2016 (as compared to 3.75% in May). The central bank also forecast a bigger fall in unemployment than it had in its last set of forecasts in May, but otherwise left its projections for strong growth and contained inflation little changed. The central bank forecasts GDP growth at 3.5% in 2014 (as compared to 3.4% in May), 3.0% in 2015 (as compared to 2.9% in May) and 2.6% in 2016 (as compared to 2.8% in May). The Bank of England said it expected inflation - currently 1.9% - to be around 1.8% in two years' time.
GDP projection of the BoE based on market interest rate expectations and GBP 375 purchased assets: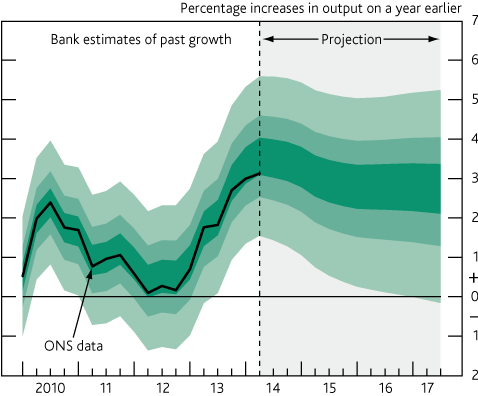 CPI projection of the BoE based on market interest rate expectations and GBP 375 purchased assets: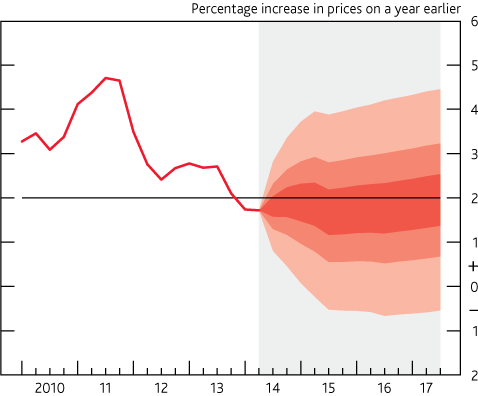 The governor of the central bank Mark Carney said: "We are not putting out a threshold, as you wouldn't expect us to have a single point threshold for some magic number of average weekly earnings - private sector, public sector, total economy - that would unlock the moment when we adjusted rates. We have to look at the prospects for wage growth." In our opinion a rate hike in February is the most likely scenario.
The GBP fell on Wednesday after a Bank of England report forecast subdued growth in wages in coming months. We remain bullish on the EUR/GBP and keep our long position at 0.7950 with the target at 0.8045.
Significant technical levels:
Resistance: 0.7997 (high Aug 8), 0.8007 (high Jul 1), 0.8027 (high Jun 30)
Support: 0.7921 (session low Aug 13), 0.7915 (low Jul 31), 0.7910 (low Jul 30)
EUR/JPY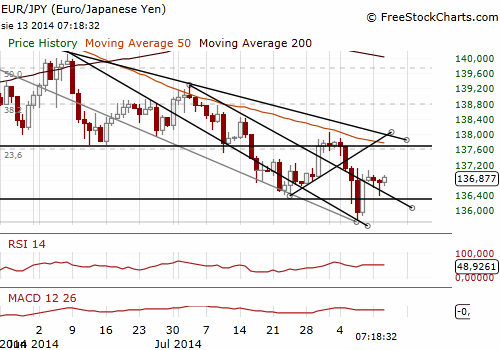 A sales tax hike last quarter drove Japan's economy into its biggest contraction since the March 2011 earthquake and tsunami. The GDP fell in the second quarter by 6.8% annualized vs. growth of 6.1% seen in January-March. The April 1 sales tax hike took a heavy toll on household spending.
The chart below shows that the biggest negative contribution to the GDP growth came from private consumption, while net exports and change in inventories contributed positively.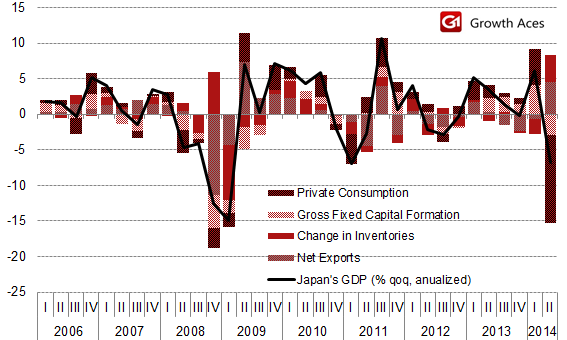 In the opinion of Economics Minister Akira Amari Japan's economy was likely to continue moderate recovery as effect of tax hike begins to wane. He signaled the government's readiness to compile an extra budget later this year should growth in the third-quarter stay weak. He expects the economy to make pretty big rebound in the July-September period and is the opinion that there is no need to prepare an extra stimulus now.
The BoJ released the minutes of the 14-15 July policy board meeting. At the July meeting the BOJ kept policy steady and slightly trimmed its economic growth forecast for the current fiscal year, reflecting soft exports and a bigger-than-expected slump in household spending after the April sales tax hike. In the opinion of board members Japan's exports is likely to increase moderately, mainly against the backdrop of the recovery in overseas economies. A few members noted that structural factors, such as the shift of Japanese firms' production sites to overseas, could continue to restrain an increase in exports. Members concurred that the underlying trend in prices had been unchanged even after the consumption tax hike. Some members said that the two factors determining the trend in prices (an improvement in the output gap and a rise in inflation expectations) were firmly taking hold and thus upward pressure on prices would increase further.
The BOJ' next step is likely to be additional monetary easing. The bank is focused mainly on inflation and the October review to the central bank's economic outlook would probably show inflation undershooting the projections.
The JPY showed limited reaction to the data initially but slipped in European trade. Recent short-term recovery attempts have failed to close above the tankan line at 136.90. We are still short on the EUR/JPY.
Significant technical levels:
Resistance: 137.05 (21-dma), 137.13 ( high Aug 7), 137.24 (high Aug 6)
Support: 136.37 (low Aug 12), 135.73 (2014 low Aug 8), 135.00 (psychological level)
Growth Aces' current trading positions:
AUD/USD: short at 0.9330, target 0.9210, stop-loss 0.9315
EUR/JPY: short at 136.70, target 135.50, stop-loss 137.25
EUR/GBP: long at 0.7950, target 0.8045, stop-loss 0.7905
We encourage you to subscribe to our daily fundamental macroeconomic analysis newsletter (http://growthaces.com) to read the full version of our analysis right away.
Thank you for reading.