ECONOMIC CALENDAR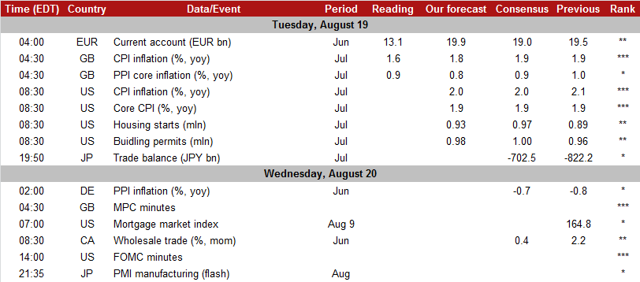 EUR/USD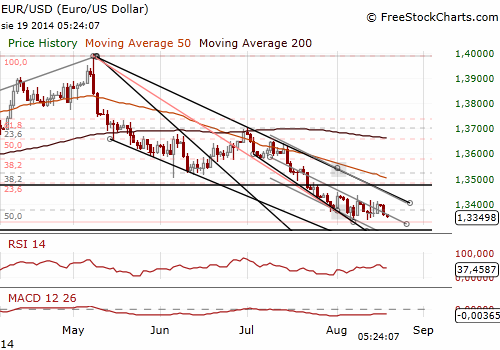 The NAHB/Wells Fargo Housing Market index rose to 55 in August from 53 in July. It was the third straight monthly gain. All three HMI components posted gains in August. The indices gauging current sales conditions and expectations for future sales each rose two points to 58 and 65, respectively. The index gauging traffic of prospective buyers increased three points to 42. NAHB Chief Economist David Crowe said: "Factors contributing to this rise include sustained job growth, historically low mortgage rates and affordable home prices, which are helping to unleash pent-up demand."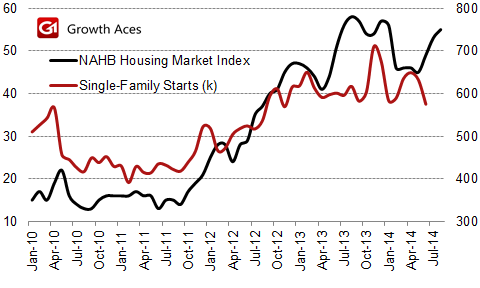 The USD steadied on Tuesday after Monday's appreciation on housing data. Yet the market is still showing no clear direction yet and traders are waiting for hints on Federal Reserve policy intentions. In our opinion Janet Yellen is unlikely to be hawkish in Jackson Hole.
In line with the trading idea from our yesterday's newsletter we went long on the EUR/USD at the level of 1.3360. The target of GrowthAces.com is 1.3430 and the stop-loss is at the level of 1.3325.
Significant technical analysis' levels:
Resistance: 1.3399 (high Aug 18), 1.3416 (high Aug 13), 1.3433 (high Aug 8)
Support: 1.3342 (low Aug 13), 1.3336 (low Aug 12), 1.333 (low Aug 6)
EUR/GBP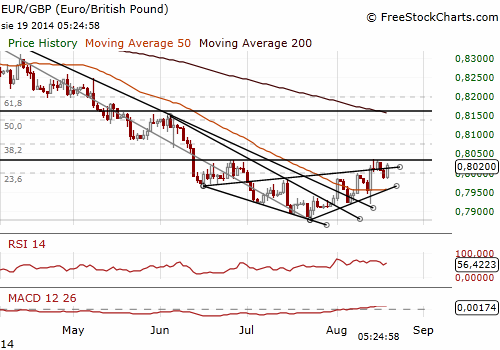 Consumer prices rose fell 0.3% mom and rose 1.6% yoy in July vs. median forecast of 1.9% and the reading of 1.9% in June. Falls in clothing prices provided the largest contribution to the fall in the rate. Other large downward effects came from the alcohol, financial services and food & non-alcoholic drinks product groups. The largest, partially offsetting, upward effect came from the transport group.
A fall in inflation rate reduces chance of 2014 rate rise. The EUR/GBP rose to 0.8025 after the release. The EUR/GBP reached its two-month high of 0.8037 last week after a Quarterly Inflation Report from the BoE that was perceived as dovish. At GrowthAces.com we are looking to go long on the EUR/GBP at 0.7990.
Significant technical analysis' levels:
Resistance: 0.8037 (high Aug 15), 0.8063 (high Jun 12), 0.8075 (38.2% of 0.8400-0.7874)
Support: 0.7983 (low Aug 19), 0.7981 (low Aug 13), 0.7954 (21-dma)
NZD/USD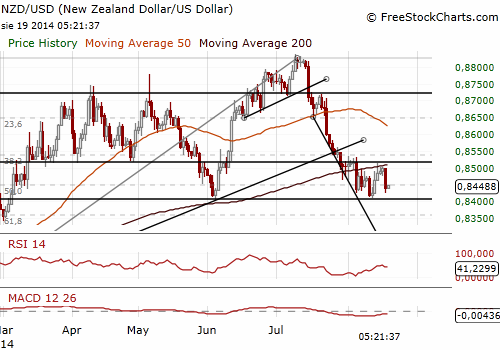 The Treasury cut the budget surplus forecast for each year through to 2018 by NZD 500 mn and said it expected the net debt to peak slightly higher this year at 26.8% of GDP from the budget's forecast of 26.4%. It also said it would take longer for the government to reduce its net debt level, with the target 20% of GDP now seen being reached a year later in 2021 from those in the budget. The official forecasts for economic growth were trimmed slightly to 3.8% for the year to March 2015 from 4% in the budget.
The quarterly survey of expectations done on behalf of the Reserve Bank of New Zealand showed business managers forecast annual inflation to average 1.96% over the coming year from 2.08% in the previous survey in May. Two-year inflation expectations were 2.23% from 2.36%.
The NZD depreciated on Tuesday after the government trimmed its forecast for growth and future budget surpluses. The NZD/USD was trading at 0.8435 on its local open. We used today's levels on the NZD/USD to go long at 0.8450. The target of GrowthAces.com is 0.8630 and stop-loss is at the level of 0.8370.
Significant technical analysis' levels:
Resistance: 0.8467 (200-dma), 0.8484 (high Aug 19), 0.8501 (high Aug 18)
Support: 0.8420 (low Aug 13), 0.8407 (low Aug 12), 0.8401 (low Jun 4)
GrowthAces.com trading positions:
EUR/USD: long at 1.3360, target 1.3430, stop-loss 1.3325
NZD/USD: long at 0.8450, target 0.8630, stop-loss 0.8370
USD/CAD: long at 1.0905, target 1.1070, stop-loss 1.0840
Thank you for reading.
GrowthAces.com is an independent macroeconomic research consultancy for traders. We offer you daily forex analysis with forex trading signals. The service covers forex forecasts and signals for following currencies: EUR, USD, GBP, JPY, CAD, CHF, AUD, NZD as well as emerging markets. Our subscribers should expect to receive: forex trading strategies, latest price changes, support and resistance levels, buy and sell forex signals and early heads-up about the potential fx trading opportunities. GrowthAces.com offers also daily macroeconomic fundamental analysis that enables you to see fundamental changes on forex market. We provide in-depth analysis of economic indicators resulting from knowledge, experience, advanced statistics and cutting-edge quantitative tools.
We encourage you to subscribe to our daily forex newsletter on http://growthaces.com to get daily analysis for forex traders. We intend that our consultancy should help you make better decisions. At GrowthAces.com we give our best to you - always greatest quality, usefulness and profitability.