ECONOMIC CALENDAR

USD/TRY: Disappointing Turkey's Q2 GDP data.
Turkey's economy grew 2.1% yoy in the second quarter vs. the median forecast of 2.8% yoy. The statistics institute revised its first quarter GDP growth figure to 4.7% yoy from an initial 4.3% yoy.
Household final consumption expenditure increased by 0.4% yoy vs. growth of 3.2% in the first quarter. Gross fixed capital formation decreased by 3.5% yoy vs. a decrease by 0.2% in the previous quarter. Exports of goods and services increased by 5.5% yoy and imports went down by 4.6% yoy. Contribution of net exports to real GDP growth amounted to 2.9 pp. vs. 2.6 pp. in the first quarter.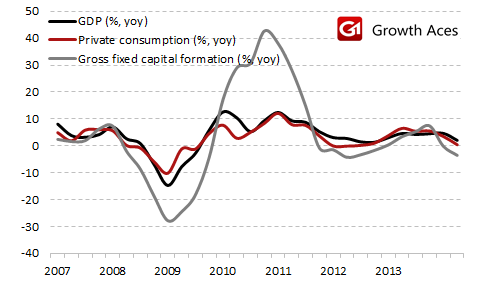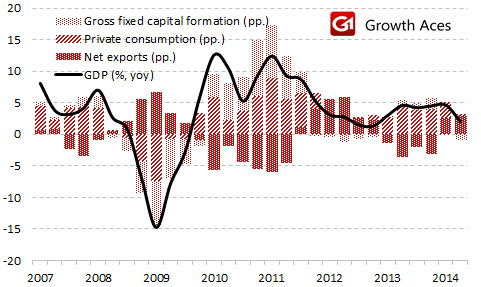 Finance Minister Mehmet Simsek is the opinion that Turkey risks missing its growth target of 4% this year after a slowdown in the second quarter on the back of economic weakness in European export markets and geopolitical tensions. He added that drought, which has hit agricultural output, as well as economic weakness in European export markets and wars in Ukraine and Iraq heightened the risk of growth remaining below the target.
Turkish Economy Minister Nihat Zeybekci said that too high interest rates had led domestic demand to negatively impact growth.
The figures are likely to increase political pressure on the central bank to cut interest rates. The central bank unexpectedly lowered its overnight lending rate at its last meeting on August 27, more as a signal to a government that it is supporting the economy.
Turkey's central bank will probably support TRY by restricting liquidity in the 1-week repo auctions. A shift towards more hawkish monetary policy is unlikely given economic slowdown. Important data on current account balance for July are scheduled for tomorrow. Turkish lira is under pressure of early US rate hike, as Turkey is a country with wide current account deficit and large external debt.
At GrowthAces.com we remain flat on the USD/TRY. The short-term outlook is bullish.
Significant technical analysis' levels:
Resistance: 2.2220 (high Mar 26), 2.2400 (high Mar 25), 2.2430 (high Mar 24)
Support: 2.1920 (session low Sep 10), 2.1670 (session low Sep 9), 2.1550 (low Sep 8)
GrowthAces.com is an independent macroeconomic research consultancy for traders. We offer you daily forex analysis with forex trading signals. The service covers forex forecasts and signals for following currencies: EUR, USD, GBP, JPY, CAD, CHF, AUD, NZD as well as emerging markets. Our subscribers should expect to receive: forex trading strategies, latest price changes, support and resistance levels, buy and sell forex signals and early heads-up about the potential fx trading opportunities. GrowthAces.com offers also daily macroeconomic fundamental analysis that enables you to see fundamental changes on forex market. We provide in-depth analysis of economic indicators resulting from knowledge, experience, advanced statistics and cutting-edge quantitative tools.
We encourage you to subscribe to our daily forex newsletter on http://growthaces.com to get daily analysis for forex traders. We intend that our consultancy should help you make better decisions. At GrowthAces.com we give our best to you - always greatest quality, usefulness and profitability.