GROWTHACES.COM Trading Positions:
USD/JPY: long at 104.90, target 108.00 (we have raised the target from 107.50 previously), stop-loss 106.50
GBP/USD: long at 1.6220, target 1.6400, stop-loss 1.6130
EUR/USD: long at 1.2920, target 1.3100, stop-loss 1.2830
ECONOMIC CALENDAR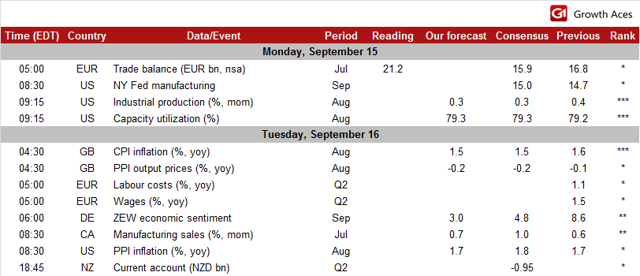 EUR/USD: More and more bullish signals.
(bullish outlook in the medium term)
The main event for the EUR/USD this week is the FOMC meeting on Wednesday. We expect further USD 10bn reduction in the pace of monthly asset purchases. Interest rates will be left unchanged. In conjunction with the meeting, the Fed will release an update of its economic forecasts, which will include projections for 2017. We expect the Fed to be less dovish in its forward guidance. In the opinion of GrowthAces.com the Fed is likely to drop the word "significant" in the sentence: "(…) a range of labor market indicators suggests that there remains significant underutilization of labor resources." We also think that the Fed could replace the word "considerable" in the guidance that the first rate hike will only come "a considerable time after the asset purchase program ends."
Some relief for the EUR/USD come from the Prime Minister Manuel Valls winning the confidence vote in France on Tuesday (September 16). A defeat could potentially lead to new elections. In our opinion it is unlikely that there will be a significant number of Socialists who are ready to bring down the government., especially knowing that in this case they would be reducing their chances of obtaining a seat in the new elections.
The seasonally adjusted trade surplus of the Euro zone narrowed again to USD 12.2 bn in July from USD 13.8 bn in June, due to a 0.2 monthly fall in export values and a 0.9% rise in import values. July's euro-zone figures suggest that net trade continued to contribute poorly to GDP growth at the start of the third quarter, after making a negligible contribution to GDP in the previous quarter. Exporters continue to face problems due to crisis in Ukraine and the sanctions on Russia.
The EUR/USD opened today's Asian session at 1.2965 and increased to a day's high at 1.2980. The EUR/USD will likely consolidate ahead of the FOMC decision on Wednesday. Bullish hammer on the weekly candles last week is a buy signal for the EUR/USD. We see double top on the charts at 1.2980 which is the nearest strong resistance level. The 21-dma at 1.3106 is pivotal to the currency bulls. GrowthAces.com went long on the EUR/USD at 1.2920.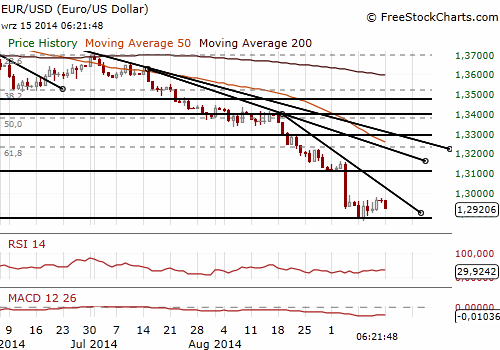 Significant technical analysis' levels:
Resistance: 1.2980 (high Sep 15), 1.2990 (high Sep 5), 1.3030 (recovery high Sep 4)
Support: 1.2859 (low Sep 9), 1.2788 (61.8% of 1.2042-1.3995), 1.2755 (low Jul 9, 2013)
GBP/USD: Scotland's independence vote is still too close to call.
(still long, expecting "No" vote on Thursday)
The Sunday Times released a poll conducted by the Panelbase company giving a small advantage to those favoring Scotland's remaining in the United Kingdom, 50.6%, compared to 49.4% for supporters of independence.
The broadest "No" advantage was in the Opinium poll for The Observer, the Sunday edition of the daily The Guardian, which gave 47% to the "Yes" vote and 53% to those wanting Scotland to remain in the U.K.
The survey shows a similar result to that released Saturday by Survation, which gives an 8-point advantage to the "No" option - 54% to 46%.
The survey carried out for the Sunday Telegraph by ICM, on the other hand, shows the same advantage for the "Yes" vote - 54% to 46% - according to a sample of 705 people.
The GBP/USD rallied to test the 38.2% of 1.6645-1.6052 at 1.6279 overnight but retreated. We keep our long position expecting "No" on Thursday.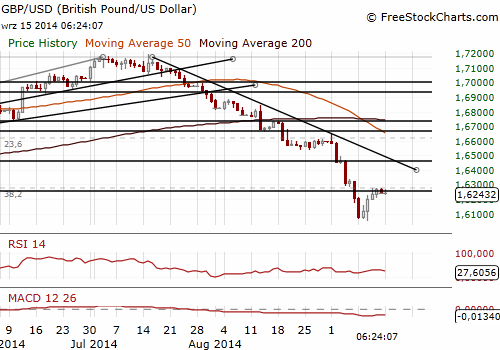 Significant technical analysis' levels:
Resistance: 1.6279 (38.2% of 1.6645-1.6052), 1.6340 (high Sep 5), 1.6358 (recovery high Sep 4)
Support: 1.6205 (low Sep 12), 1.6187 (low Sep 11), 1.6052 (low Sep 10)
GrowthAces.com is an independent macroeconomic research consultancy for traders. We offer you daily forex analysis with forex trading signals. The service covers forex forecasts and signals for following currencies: EUR, USD, GBP, JPY, CAD, CHF, AUD, NZD as well as emerging markets. Our subscribers should expect to receive: forex trading strategies, latest price changes, support and resistance levels, buy and sell forex signals and early heads-up about the potential fx trading opportunities. GrowthAces.com offers also daily macroeconomic fundamental analysis that enables you to see fundamental changes on forex market. We provide in-depth analysis of economic indicators resulting from knowledge, experience, advanced statistics and cutting-edge quantitative tools.
We encourage you to subscribe to our daily forex newsletter on http://growthaces.com to get daily analysis for forex traders. We intend that our consultancy should help you make better decisions. At GrowthAces.com we give our best to you - always greatest quality, usefulness and profitability.