GROWTHACES.COM Trading Positions:
GBP/USD:long at 1.6320, target 1.6540, stop-loss 1.6210
EUR/CHF: long at 1.2085, target 1.2160, stop-loss 1.2045
USD/JPY:long at 108.45, target 110.50, stop-loss 107.70
ECONOMIC CALENDAR

EUR/USD: ECB on Thursday, Non-Farm Payrolls on Friday
(EUR/USD is perceived as a "sell-on-rally" opportunity in the short term)
The US economy grew at a 4.6% annulized rate in the second quarter, in line with market expectations. The acceleration in GDP growth in the second quarter reflected upturns in exports and in private inventory investment.
The change in private business inventories added 1.42 pp. to Q2 GDP growth, down from 1.66 pp in the advance estimate. Real personal consumption expenditures increased 2.5% and added 1.75 pp to the growth rate. Fixed investment increased 19.1% and contributed 1.45 pp. to Q2 GDP growth, the most in 11 quarters.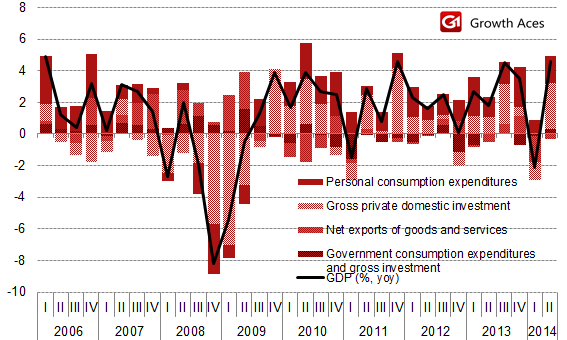 The ECB meeting on Thursday and US labor data on Friday are expected to be the main market movers next week and not just for the EUR/USD, but for the entire forex market.
Weekly calendar of macroeconomic releases contains also consumer confidence, the ISM and PMI surveys as well as advance Euro zone CPI numbers and German data (retail sales, labor market), probably overshadowed by the ECB meeting.
The ECB governor Mario Draghi is expected to give more details on the ABS purchases that will start in October. Moreover, there are some expectations that Draghi will explicitly talk the EUR further down, stepping up his FX rhetoric. In the opinion of GrowthAces.com the currency bears can be disappointed after the meeting. However, any attempt of the EUR/USD recovery can be swept by strong US Non-Farm Payrolls data on Friday.
The sentiment for the EUR/USD is still negative and still perceived as a 'sell-on-rally' opportunity in the short term. The EUR/USD closes the week far away from the level of 1.3000 and without the return to this level it is hard to talk about the recovery now. The nearest support levels are 1.2696 (low Sep 25) and 1.2661 (low Nov 3, 2012). Beyond we see 1.2502 (76.4% of 1.2041-1.3995) - possible next target for the currency bears.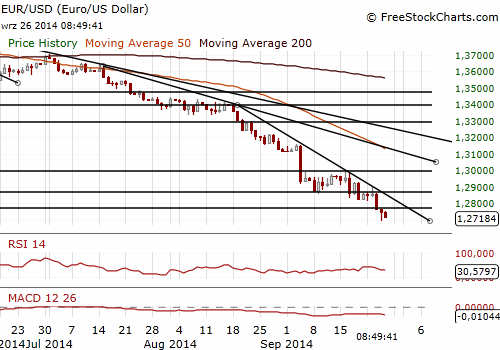 Significant technical analysis' levels:
Resistance: 1.2765 (hourly high Sep 25), 1.2783 (high Sep 25), 1.2816 (low Sep 22)
Support: 1.2696 (low Sep 25), 1.2661 (low, Nov 3, 2012), 1.2627 (Sep 7, 2012)
USD/JPY: Japan's inflation slows. BOJ under pressure. Eyes on tankan survey next week.
(GrowthAces.com maintains long position and the target at 101.50)
Core consumer prices, which include oil products but exclude fresh food, rose 3.1% yoy in August, less than the median estimate for a 3.2% yoy and following a 3.3% yoy rise in July.
The BOJ estimates that the sales tax rise, which was implemented in April, added 1.7 pp. to Japan's annual consumer inflation in April and 2.0 pp. from May onwards. Excluding the sales tax hike, annual core inflation slowed to 1.1% in August from 1.3% in July. The so-called core-core inflation index, which excludes food and energy prices and is similar to the core index used in the United States, rose 2.3% yoy in August.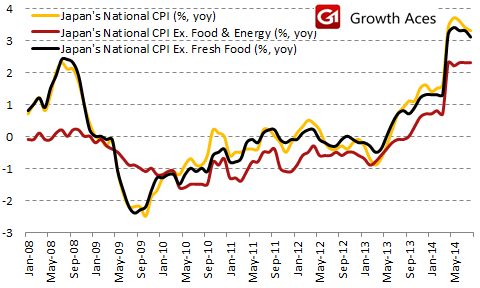 Lower CPI combined with recent weakness in consumer spending and exports is another sign that the Bank of Japan could eventually be forced to take additional easing steps to meet its 2% price goal sometime next fiscal year. BOJ officials say inflation will accelerate again due to a tight labour market and rising price expectations, however, this scenario is becoming unlikely. The BOJ will probably downgrade GDP forecasts at a subsequent meeting on October 31. Recent macroeconomic data could also force the government to compile a stimulus package to see the economy through a second sales tax hike scheduled for next year.
The tankan survey and will be the most important reading in the coming week (October 1). It is forecast to show manufacturers turned less optimistic in July-September. This will keep the JPY under pressure against the USD. Growth Aces maintain the long position on the USD/JPY and the target at 101.50. Unemployment rate and industrial production will be also released next week. However, the data could be market-neutral and overshadowed by tankan results.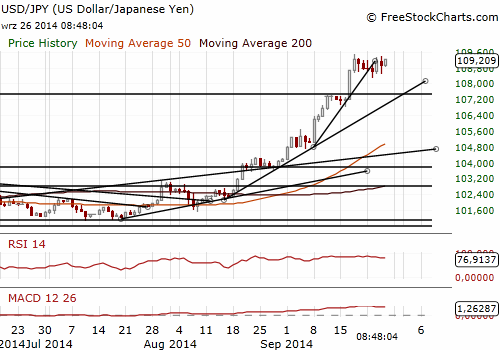 Significant technical analysis' levels:
Resistance: 109.37(high Sep 25), 109.46 (high Sep 18), 109.57 (high Aug 29, 2008)
Support: 108.47 (session low Sep 26), 108.25 (low Sep 23), 107.07 (low Sep 17)
GBP/USD: BOE's Carney bumped sterling higher, only for a while.
(USD too strong for the GBP/USD to break above recent peaks, but the EUR/GBP under pressure)
The Bank of England governor Mark Carney said that the bank is getting nearer to raising interest rates, but the exact date will depend on economic data. Carney said that when rate rises did come, he expected them to be gradual, and for rates to peak below pre-crisis levels. He added: "Demand in our major export markets remains muted. Public balance sheet repair is ongoing. And a highly indebted private sector is likely to be particularly sensitive to changes in interest rates." Even after these problems are past, slow global productivity growth and requirements for banks to hold more capital could cause central banks to keep rates comparatively low, he said.
The GBP is facing strong headwinds from USD strength now and a break much above past week's peaks over 1.6400 could be difficult. However, the EUR/GBP may remain under pressure.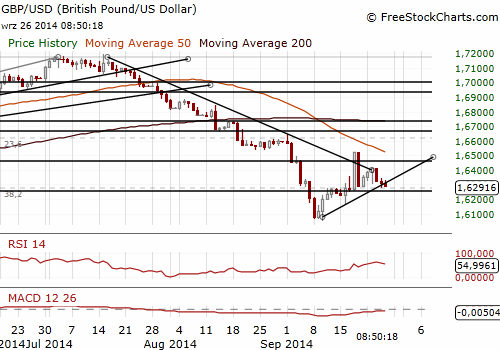 Significant technical analysis' levels:
Resistance: 1.6341 (high Sep 25), 1.6414 (high Sep 24), 1.6423 (30-dma)
Support: 1.6276 (low Sep 25), 1.6247 (low Sep 18), 1.6162 (low Sep 16)
GrowthAces.com is an independent macroeconomic research consultancy for traders. We offer you daily forex analysis with forex trading signals. The service covers forex forecasts and signals for following currencies: EUR, USD, GBP, JPY, CAD, CHF, AUD, NZD as well as emerging markets. Our subscribers should expect to receive: forex trading strategies, latest price changes, support and resistance levels, buy and sell forex signals and early heads-up about the potential fx trading opportunities. GrowthAces.com offers also daily macroeconomic fundamental analysis that enables you to see fundamental changes on forex market. We provide in-depth analysis of economic indicators resulting from knowledge, experience, advanced statistics and cutting-edge quantitative tools.
We encourage you to subscribe to our daily forex newsletter on http://growthaces.com to get daily analysis for forex traders. We intend that our consultancy should help you make better decisions. At GrowthAces.com we give our best to you - always greatest quality, usefulness and profitability.