GROWTHACES.COM Trading Positions
USD/CHF: long at 0.9590. target 0.9750, stop-loss 0.9450
USD/CAD: long at 1.1150, target 1.1290, stop-loss 1.1060
AUD/USD: short at 0.8800, target 0.8610, stop-loss 0.8915
NZD/USD: short at 0.7880, target 0.7500, stop-loss 0.8000
EUR/CHF: long at 1.2085, target 1.2160, stop-loss 1.2045
GBP/JPY: long at 173.80, target 177.50, stop-loss 172.55
We encourage you to visit our website and subscribe to our newsletter to receive trading positions summary for major pairs and crosses.
ECONOMIC CALENDAR

EUR/USD: Draghi has erased all the EUR gains.
ECB President Mario Draghi said the European Central Bank is ready to take additional monetary stimulus to fend off the threat of deflation in the Euro zone if needed. He reiterated that the ECB governing council is unanimous in its commitment to take additional unconventional measures to address the risks of a too prolonged period of low inflation. He added: "We are ready to alter the size and/or the composition of our unconventional interventions, and therefore of our balance sheet, as required."
Draghi sent a strong signal that the ECB is willing to launch large-scale government bond buying programs. He also underlined the urgency to raise potential output in the euro area through structural reforms.
European Central Bank policymaker Ewald Nowotny would not rule out a policy of quantitative easing. "This is one possible approach - but one has to discuss it in detail, of course." ECB Governing Council member Ardo Hansson said it is too early for the European Central Bank to consider further policy measures before its current stimulus steps have been fully implemented.
Stanley Fischer, vice chair at the Fed, signaled that he was comfortable with the recent strength of the USD. "We will do not intervene to affect the exchange rate."
The EUR/USD is back in the range from before the release of dovish Fed minute. Draghi's speech was supportive for GrowthAces.com trading positions on other USD pairs. We remain flat on the EUR/USD, but the outlook remains bearish.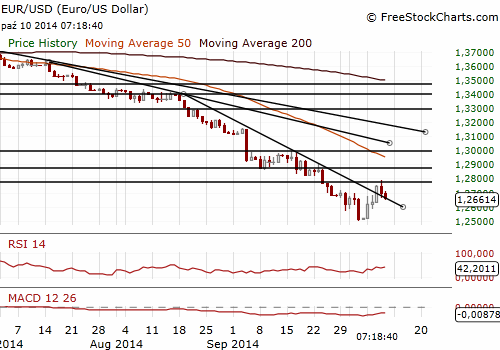 Significant technical analysis' levels:
Resistance: 1.2733 (hourly high Oct 9), 1.2760 (21-dma), 1.2791 (high Oct 9)
Support: 1.2636 (200-hma), 1.2623 (low Oct 8), 1.2583 (low Oct 7)
GBP/USD hurt by increasing UK election uncertainty
Britain's anti-EU UK Independence Party won its first elected seat in parliament on Friday by a landslide and came a close second in another vote, proving it poses a threat to the country's two main parties in a national election next year. UKIP, which wants a British EU withdrawal and strict curbs on immigration, was expected to do well in both votes. But the unexpectedly wide margin of its victory in the seaside town of Clacton and its strong performance in an election in northern England, which it almost won too, came as a surprise.
UK trade balance narrowed in August to GBP -9.1 bn (the smallest deficit since April) vs. July revised bn -10.4 GBP, as imports fell more sharply than exports.
Output in the construction industry fell 3.9% mom and 0.3% yoy in August. All new work decreased by 4.8% mom with the largest negative contribution coming from a 5.5% mom fall in private housing construction. Repair and maintenance fell 2.5% mom.
The GBP suffered from a recovery overnight for the USD and was hurt in part by the anti-EU UK Independence Party winning a seat in parliament for the first time. Some important macroeconomic releases are scheduled for next week - inflation rate on Tuesday (October 14) and employment report on Wednesday.
In our opinion the GBP/USD is likely to remain under pressure of the USD strength. However, the GBP may be relatively strong vs. other developed world currencies. We went long on the GBP/JPY at 173.80.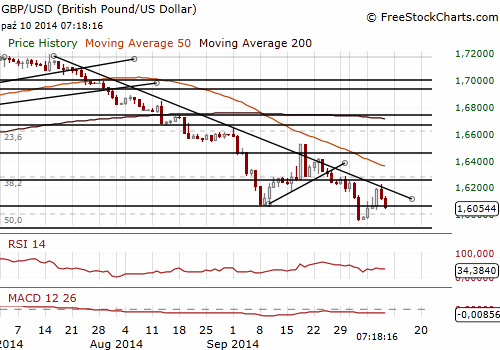 Significant technical analysis' levels:
Resistance: 1.6135 (hourly high Oct 10), 1.6226 (high Oct 9), 1.6234 (50% of 1.6525-1.5943)
Support: 1.6032 (low Oct 8), 1.6027 (low Oct 7), 1.5943 (low Oct 6)
GrowthAces.com is an independent macroeconomic research consultancy for traders. We offer you daily forex analysis with forex trading signals. The service covers forex forecasts and signals for following currencies: EUR, USD, GBP, JPY, CAD, CHF, AUD, NZD as well as emerging markets. Our subscribers should expect to receive: forex trading strategies, latest price changes, support and resistance levels, buy and sell forex signals and early heads-up about the potential fx trading opportunities. GrowthAces.com offers also daily macroeconomic fundamental analysis that enables you to see fundamental changes on forex market. We provide in-depth analysis of economic indicators resulting from knowledge, experience, advanced statistics and cutting-edge quantitative tools.
We encourage you to subscribe to our daily forex newsletter on http://growthaces.com to get daily analysis for forex traders. We intend that our consultancy should help you make better decisions. At GrowthAces.com we give our best to you - always greatest quality, usefulness and profitability.