GROWTHACES.COM Trading Positions
USD/CAD: long at 1.1280, target 1.1480, stop-loss 1.1200
EUR/CHF: long at 1.2085, target 1.2160, stop-loss 1.2045
GBP/JPY: long at 172.00, target 175.00, stop-loss 171.00
We encourage you to visit our website and subscribe to our newsletter to receive trading positions summary for major pairs and crosses.
EUR/USD weaker on hint the ECB is looking at buying corporate bonds
The EUR fell after Reuters informed that several sources said the European Central Bank was considering buying corporate bonds on the secondary market. The ECB may decide on the matter as soon as December with a view to starting purchases early next year.
The ECB began buying covered bonds on Monday, part of a private-sector asset-purchase programme that will also see it buy bundled loans known as asset-backed securities later this year.
Our short EUR/USD reached a stop-loss level, but we have taken a small profit. In our opinion fundamentals are EUR/USD negative and short positions are more justified. However, we will wait for higher levels.
Investors are focused now on tomorrow's U.S. CPI data. Given weak inflation data from other economies that have been released so far, investors will not be strongly surprised if September U.S. CPI will be slightly weaker as well. The potential disappointment in case of lower-than-expected reading after the data is likely to be limited.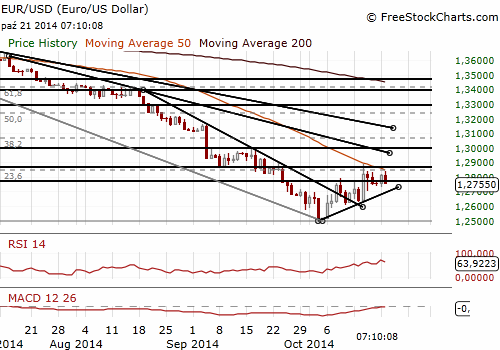 Significant technical analysis' levels:
Resistance: 1.2838 (session high Oct 21), 1.2845 (high Oct 16), 1.2887 (high Oct 15)
Support: 1.2744 (10-dma), 1.2731 (low Oct 20), 1.2712 (21-dma)
USD/JPY: Yen stronger despite political scandal
Three cabinet members - Defence Minister Akinori Eto, Agriculture Minister Koya Nishikawa and Health Minister Yasuhisa Shiozaki - have already publicly faced questions over alleged influence peddling, improper donations or problems in reporting on political funds. On Monday, Yuko Obuchi, quit as trade and industry minister after acknowledging doubts over whether her support groups misused political funds. Hours later, Midori Matsushima stepped down as justice minister over allegations, which she rejected, that she handed out paper "uchiwa" fans to voters, a violation of election law.
Japan's government cut its overall economic assessment for the second straight month. The government downgraded industrial production after it fell 1.9% in August. The government stood by its view that the economy can recover in the future because companies expect output to increase in September, they have robust capital expenditure plans and because the labour market remains tight.
Weak Japanese equities gave support to the JPY. The USD has lost ground in recent weeks on concerns about slowing global growth and shift in expectations of Fed's interest rates hikes. The USD/JPY fell to as low as 106.22 today but then recovered. Our long USD/JPY position reached the stop-loss level, but we have taken a profit (105.60-106.50). We went long on the GBP/JPY at 172.00, in line with our strategy. The target of GrowthAces.com is at 175.00 and stop-loss at 171.00.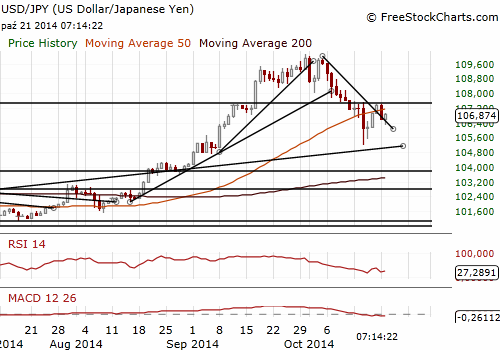 Significant technical analysis' levels:
Resistance: 107.00 (session high Oct 21), 107.39 (daily high Oct 20), 107.49 (high Oct 15)
Support: 106.14 (low Oct 17), 105.51 (low Oct 16), 105.20 (low Oct 15)
AUD/USD higher after China GDP
In minutes of its October 7 policy meeting, the Reserve Bank of Australia said the labour market remained subdued but had stabilised somewhat this year, adding it had based its assessment on a range of data given the volatility in the official labour force survey. The bank reiterated that the most prudent course was to maintain a period of stability in interest rates. The minutes revealed that Board members had noted a further pick up in lending to housing investors in recent months.
On the AUD, the central bank said it remained high by historical standards, particularly given the recent declines in key commodity prices. Member also noted a recent pick up in financial market volatility from very low levels, predominantly in currency markets.
Reserve Bank of Australia Deputy Governor Philip Lowe said that very low global interest rates are likely to persist for some time yet and investors, in their chase for yield, need to be wary of the risks in pushing asset prices too far ahead of economic fundamentals.
China's economic growth fell to a five-year low of 7.3% in the third quarter. That was slightly above the median forecast of 7.2% but slower than 7.5% in the second quarter. The data added to expectations that growth will come in below the official 2014 target of 7.5%, which would be the first miss since 1999.
The AUD/USD rose strongly after growth figures from China slightly exceeded market expectations. The rate broke above the level of 0.8800 and reached the stop-loss on our short position, but we have taken a small profit. We are looking to get long on the AUD crosses: AUD/JPY and AUD/NZD.
The release of Australian Q3 CPI data is scheduled for tomorrow (0:30 GMT). The median forecast is at 2.3% yoy, but our estimate is at 2.2% yoy. The data should not be AUD supportive.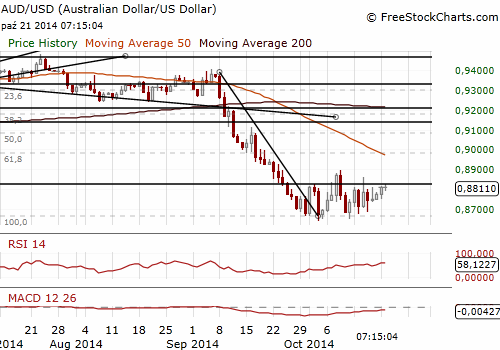 Significant technical analysis' levels:
Resistance: 0.8828 (session high Oct 21), 0.8830 (high Oct 16), 0.8860 (high Oct 15)
Support: 0.8765 (session low Oct 21), 0.8742 (low Oct 20), 0.8730 (low Oct 17)
GrowthAces.com is an independent macroeconomic research consultancy for traders. We offer you daily forex analysis with forex trading signals. The service covers forex forecasts and signals for following currencies: EUR, USD, GBP, JPY, CAD, CHF, AUD, NZD as well as emerging markets. Our subscribers should expect to receive: forex trading strategies, latest price changes, support and resistance levels, buy and sell forex signals and early heads-up about the potential fx trading opportunities. GrowthAces.com offers also daily macroeconomic fundamental analysis that enables you to see fundamental changes on forex market. We provide in-depth analysis of economic indicators resulting from knowledge, experience, advanced statistics and cutting-edge quantitative tools.
We encourage you to subscribe to our daily forex newsletter on http://growthaces.com to get daily analysis for forex traders. We intend that our consultancy should help you make better decisions. At GrowthAces.com we give our best to you - always greatest quality, usefulness and profitability.