GROWTHACES.COM Trading Positions
GBP/USD: long at 1.5970, target 1.6130, stop-loss 1.5920
EUR/CHF: long at 1.2085, target 1.2100, stop-loss 1.2045
We encourage you to visit our website and subscribe to our newsletter to receive trading positions summary for major pairs and crosses.
EUR/USD weaker ahead of ECB and non-farm payrolls data this week
(bearish outlook, looking to sell at 1.2550)
Final Euro zone Manufacturing PMI amounted to 50.6 in October, below the flash estimate of 50.7, but above September's 14-month low of 50.3. Four nations signalled expansion during October: Ireland, the Netherlands, Spain and Germany. The downturn in France accelerated and Italy fell back into contraction.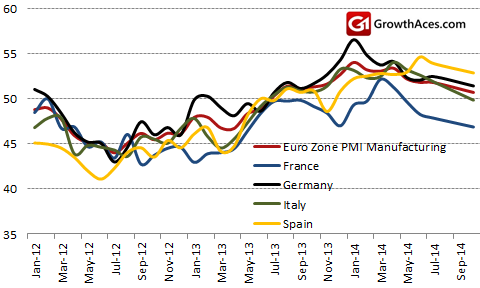 PMI index suggested manufacturing production rose for the sixteenth month running and at a slightly quicker pace than in September. The level of new orders at Euro zone manufacturers declined for the second successive month in October. It was mainly the result of weakness on domestic markets as new export orders posted a modest gain.
PMI showed that employment increased in October for the second month in a row. The outlook for employment also remained muted, however. Due to uncertain situation firms are likely to focus on cost-cutting and competitiveness, at the expense of employment and margins.
The EUR/USD broke below 1.2500 on Friday for 1.2485. The rate fell stronger in early Asia today. It reached another new 2-year low at 1.2439. The EUR/USD recovered to 1.2500 during European session. The bias remains down, the market awaits ECB on Thursday and non-farm payrolls data on Friday. GrowthAces.com is looking to get short at 1.2550.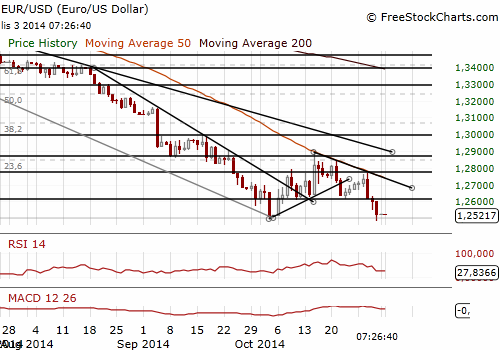 Significant technical analysis' levels:
Resistance: 1.2517 (session high Nov 3), 1.2545 (hourly high Oct 31), 1.2591 (hourly high Oct 31)
Support: 1.2448 (hourly low Nov 3), 1.2439 (low Nov 3), 1.2431 (low Aug 22, 2012)
AUD/USD fell following disappointing China's data
(bearish outlook)
China's PMI eased to 50.8 in October, a five-month low, from September's 51.1. The median forecast was at the level of 51.2. Weaker-than-expected manufacturing data in China highlighted Australian concerns of cooling growth in the country's key export market.
A survey by Australia and New Zealand Banking Group showed total job advertisements rose 0.2% to 137,284 per week on average in October. That was the highest average since February last year, a sign of gradual recovery in labour demand. The official employment figures for October are due on Thursday (GMT). We estimate a reading of 18k, slightly above the median forecast of 10k.
Australian approvals to build new homes in September fell by 11.0% mom seasonally adjusted vs. the median forecast pointing to a fall by 1.0% mom.
The TD Securities-Melbourne Institute's monthly measure of consumer prices which showed a small increase of 0.2% mom and 2.3% yoy in October. The gauge was still near the floor of the Reserve Bank of Australia's long term target band of 2-3%. The RBA meeting is scheduled for Tuesday GMT. The central bank is likely to reiterate that the AUD remains high by historical standards, but it is nothing new for traders. We do not expect any major changes in the RBA statement this week.
The AUD/USD dropped to 0.8709 today, closer to a four-year trough of 0.8642 set in October. The AUD is likely to depreciate further on the JPY weakness. The outlook is bearish. However, in our opinion, no positions are justified from the risk/reward perspective at the moment. GrowthAces.com is looking to get long on the AUD/NZD. We have placed our bid at 1.1180.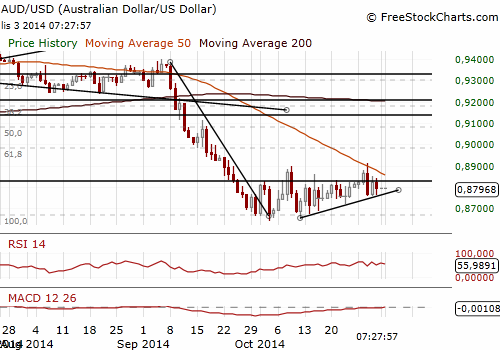 Significant technical analysis' levels:
Resistance: 0.8760 (session high Nov 3), 0.8850 (high Oct 31), 0.8911 (high Oct 29)
Support: 0.8709 (session low Nov 3), 0.8688 (low Oct 16), 0.8676 (low Oct 15)
GrowthAces.com is an independent macroeconomic research consultancy for traders. We offer you daily forex analysis with forex trading signals. The service covers forex forecasts and signals for following currencies: EUR, USD, GBP, JPY, CAD, CHF, AUD, NZD as well as emerging markets. Our subscribers should expect to receive: forex trading strategies, latest price changes, support and resistance levels, buy and sell forex signals and early heads-up about the potential fx trading opportunities. GrowthAces.com offers also daily macroeconomic fundamental analysis that enables you to see fundamental changes on forex market. We provide in-depth analysis of economic indicators resulting from knowledge, experience, advanced statistics and cutting-edge quantitative tools.
We encourage you to subscribe to our daily forex newsletter on http://growthaces.com to get daily analysis for forex traders. We intend that our consultancy should help you make better decisions. At GrowthAces.com we give our best to you - always greatest quality, usefulness and profitability.