GROWTHACES.COM Trading Positions
EUR/CHF: long 1.2025, target 1.2095, stop-loss 1.1995
EUR/GBP: short at 0.7850, target 0.7670, stop-loss 0.7920
AUD/NZD: long at 1.1220, target 1.1500, stop-loss 1.1080
We encourage you to visit our website and subscribe to our newsletter to receive trading positions summary for major pairs and crosses.
USD/JPY: The Next Target Will Be 117.95
(profit taken at 115.20, we've placed our bid at 115.00)
Prime Minister Shinzo Abe said that the Bank of Japan's aggressive monetary stimulus is aimed at pulling the economy out of years of deflation and not targeting currencies. He reiterated that a weak JPY is generally positive to exporters and firms operating overseas, but he would take steps as needed to respond to negative effects of the weak yen.
A government source said that Japanese Prime Minister Shinzo Abe is likely to delay a planned increase in the nation's sales tax, judging that the economic recovery remains too fragile. He is to decide after seeing GDP data on Monday (November 17) whether the economy is strong enough for the planned second stage of fiscal reform - raising the tax again to 10% next October. Some of Abe's advisers have called for him to delay the increase to April 2017.
Japan's consumer confidence deteriorated for a third straight month to 38.9 in October, down from 39.9 in September. It was the lowest reading since April.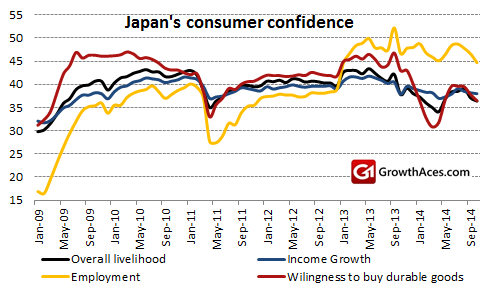 The service sector sentiment index fell to 44.0 in October from 47.4 in September, which was the lowest level in two years.
Japan's current account surplus stood in September at JPY 963 bn, against a median forecast for JPY 534.2 bn.
We have taken profit on our long USD/JPY position at 115.20. The USD/JPY continued to rise and broke above 116.00 today. In the opinion of GrowthAces.com the target of USD/JPY bulls is 117.95 - the October 2007 peak.We are looking to get long again. We've placed our bid at 115.00.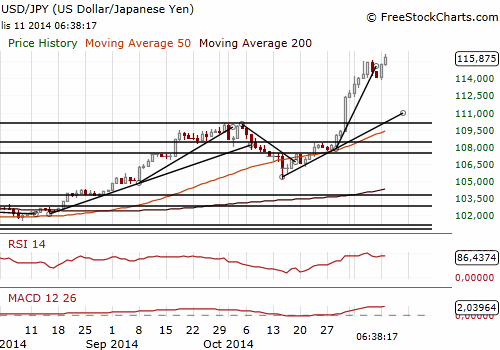 Significant technical analysis' levels:
Resistance: 116.11 (2014 high, Nov 11), 116.70 (high Oct 18, 2007), 117.20 (high Oct 17, 2007)
Support: 114.63 (session low Nov 11), 113.86 (low Nov 10), 113.42 (low Nov 5)
EUR/USD: Quiet Trading Due To Veteran's Day
(we've lowered our sell offer to 1.2470)
The trading is quiet today due to holiday in the USA.
Recent increase of the EUR/USD was capped ahead of the 10-dma. We see a strong resistance in the area of 1.2492-1.2509. At GrowthAces.com we have lowered our sell offer to 1.2470.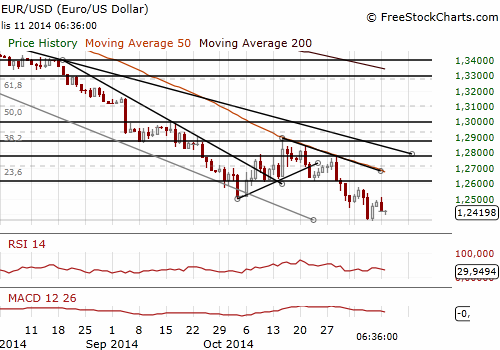 Significant technical analysis' levels:
Resistance: 1.2494 (10-dma), 1.2509 (high Nov 10), 1.2577 (high Nov 4)
Support: 1.2358 (low Nov 7), 1.2342 (low Aug 21, 2012), 1.2295 (low Aug 20, 2012)
GBP/USD: Waiting For Tomorrow's Inflation Report
(we've lowered our sell offer to 1.5910)
The GBP/USD is trading near a 14-month low. Investors are waiting for the Bank of England's inflation report and official wage data (both on Wednesday) that could bolster expectations that the first rate hike is unlikely to come before the second half of 2015.
Inflation report is expected to revise down near-term inflation forecasts on lower energy and food prices but with upward revisions to the British central bank's longer-term forecasts. Economic growth projections might also be revised lower due to slowdown in the Euro zone.
Let's remind that the GBP/USD suffered one of its biggest daily falls this year after the August inflation report, which pushed back interest rate hike expectations.
In the opinion of GrowthAces.com the outlook for the GBP/USD is bearish. We've lowered our sell offer to 1.5910. However, the GBP is still likely to be relatively strong against the other major currencies (EUR, JPY). We keep our short position on the EUR/GBP.
Significant technical analysis' levels:
Resistance: 1.5918 (high Nov 10), 1.6000 (psychological level), 1.6021 (high Nov 5)
Support: 1.5836 (hourly low Nov 11), 1.5791 (low Nov 7), 1.5776 (low Sep 13, 2013)
GrowthAces.com is an independent macroeconomic research consultancy for traders. We offer you daily forex analysis with forex trading signals. The service covers forex forecasts and signals for following currencies: EUR, USD, GBP, JPY, CAD, CHF, AUD, NZD as well as emerging markets. Our subscribers should expect to receive: forex trading strategies, latest price changes, support and resistance levels, buy and sell forex signals and early heads-up about the potential fx trading opportunities. GrowthAces.com offers also daily macroeconomic fundamental analysis that enables you to see fundamental changes on forex market. We provide in-depth analysis of economic indicators resulting from knowledge, experience, advanced statistics and cutting-edge quantitative tools.
We encourage you to subscribe to our daily forex newsletter on http://growthaces.com to get daily analysis for forex traders. We intend that our consultancy should help you make better decisions. At GrowthAces.com we give our best to you - always greatest quality, usefulness and profitability.