GROWTHACES.COM Trading Positions
EUR/USD: short at 1.2480, target 1.2330, stop-loss 1.2550
USD/JPY: long at 117.50, target 119.80, stop-loss 116.60
USD/CHF: long at 0.9560, target 0.9760, stop-loss 0.9610
EUR/CHF: long at 1.2025, target 1.2095, stop-loss 1.1995
EUR/GBP: short at 0.7990, target 0.7840, stop-loss 0.7980
We encourage you to visit our website http://growthaces.com and subscribe to our newsletter to receive trading positions summary for major pairs and crosses.
EUR/USD: Short At 1.2480. Target 1.2330.
(we got short, medium-term outlook still bearish)
The U.S. GDP grew at a much faster pace than initially estimated in the third quarter. The U.S. economy increased a solid 3.9% in the July-September period vs. an initial estimate of 3.5%.
Consumer spending grew at a 2.2% rate compared to an initial estimate of 1.8% growth. Business investment in equipment increased at a 10.7% rate vs. growth of 7.2% initially estimated.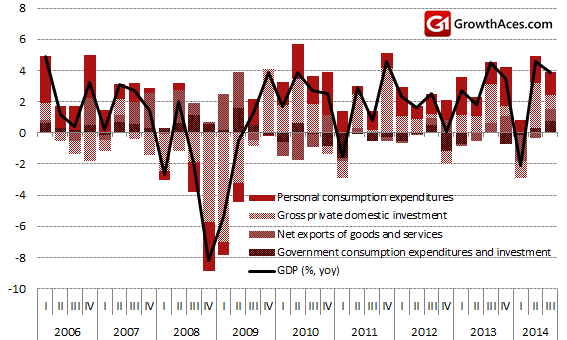 Separate U.S. data showed consumer confidence sliding to a five-month low. The Conference Board said that U.S. consumer confidence index fell in November 88.7 from a downwardly revised 94.1 the month before. The median forecast amounted to 96.0. The expectations index fell in November to 87.0 from October's revised 93.8, and the present situation index fell to 91.3 from a revised 94.4 in October. A fall in consumer confidence resulted mainly from lower assessment of the labor market.
U.S. single-family home prices showed a stronger-than-expected rise in September. The S&P/Case Shiller composite index of 20 metropolitan areas gained 4.9% yoy in September.
The European Central Bank Vice President Vitor Constancio said the central bank would be able to gauge in the first quarter of next year whether it needs to start buying sovereign bonds to stimulate the Euro zone economy. The ECB has already begun buying covered bonds and asset-backed securities.
A series of U.S. data is scheduled for release today ahead of Thursday's holiday, including the final November consumer sentiment and October new home sales. While Friday is not a holiday, U.S. trading activity is expected to be light.
The EUR/USD opened the Asia session at 1.2474 after rising during the US session yesterday after the release of worse-than-expected U.S. consumer confidence. The EUR is also getting some support from capital flowing into Euro zone stocks and bonds. In our opinion the recovery of the EUR is limited due to expectations on further ECB action. The ECB meeting scheduled for December 4 will be of key importance for the EUR/USD traders.
GrowthAces.com got short on the EUR/USD at 1.2480 and set the target at 1.2330. In our opinion in the medium-term the rate is likely to fall even lower.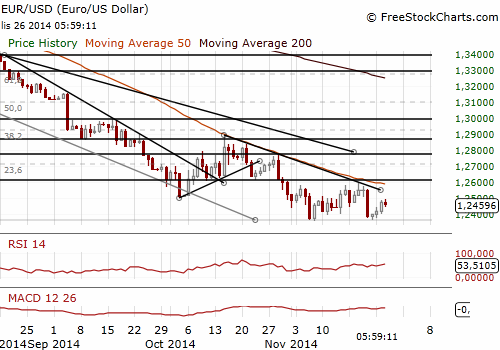 Significant technical analysis' levels:
Resistance: 1.2505 (low Nov 2), 1.2560 (30-dma), 1.2569 (high Nov 21)
Support: 1.2402 (low Nov 25), 1.2358 (low Nov 7), 1.2342 (low Aug 21, 2012)
GBP/USD Gains Ground
(sell at 1.5810)
As initially estimated Britain's GDP between July and September grew by 0.7% qoq and 3.0% yoy slowing from the second quarter's 0.9% qoq.
Consumer spending rose by 0.8% qoq, picking up a bit of speed from the second quarter. Business investment fell by 0.7% qoq in the third quarter, its first fall since the second quarter of last year and a sharp slowdown from the previous quarter's strong rate of 3.3%.
The Confederation of British Industry showed that British retail sales growth slowed slightly in November. The CBI said its monthly retail sales index fell slightly to 27 in November from 31 in October. British retail sales dipped in September, as warmer than usual weather discouraged shoppers from buying new autumn fashions. But retailers' expectations for December picked up to +38, their highest level since September.
The Bank of England's chief economist Andrew Haldane said official interest rates in Britain, after they start to rise, might end up sticking at 3%, below their level before the financial crisis.
The GBP/USD traded near 1.5700 in the Asian session but then rose near 1.5740 in the afternoon. Our outlook for the GBP/USD is still bearish. Our sell order is at 1.5810. However, we expect the GBP to remain relatively strong vs. other major currencies. We keep our short EUR/GBP position with the target at 0.7840.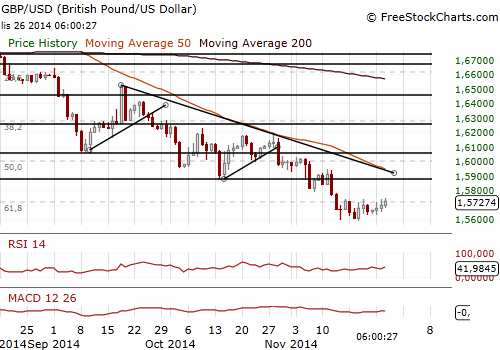 Significant technical analysis' levels:
Resistance: 1.5780 (high Nov 13), 1.5903 (21-dma), 1.5940 (high Nov 12)
Support: 1.5681 (10-dma), 1.5649 (low Nov 25), 1.5630 (low Nov 24)
GrowthAces.com is an independent macroeconomic research consultancy for traders. We offer you daily forex analysis with forex trading signals. The service covers forex forecasts and signals for following currencies: EUR, USD, GBP, JPY, CAD, CHF, AUD, NZD as well as emerging markets. Our subscribers should expect to receive: forex trading strategies, latest price changes, support and resistance levels, buy and sell forex signals and early heads-up about the potential fx trading opportunities. GrowthAces.com offers also daily macroeconomic fundamental analysis that enables you to see fundamental changes on forex market. We provide in-depth analysis of economic indicators resulting from knowledge, experience, advanced statistics and cutting-edge quantitative tools.
We encourage you to subscribe to our daily forex newsletter on http://growthaces.com to get daily analysis for forex traders. We intend that our consultancy should help you make better decisions. At GrowthAces.com we give our best to you - always greatest quality, usefulness and profitability.