EPA, Eicosapentaenoic Acid, has been shown to reduce the progression of carotid intima-media thickness (NASDAQ:CIMT) in Type 2 Diabetics.
"Patients with type-2 diabetes mellitus have greater carotid intima media thickness and they are at risk for generalized atherosclerosis."
Simply put, the thicker the CIMT, the more difficult it is for your heart to pump blood throughout your body. Here is a company designed to help you measure arterial stiffness, just for a nice summation of what it means: www.pulsecor.com/arterial-stiffness.html
"Arterial stiffness is a general term for the elasticity (or compliance) of the arteries. The hardening or stiffening of the arteries is called arteriosclerosis. The stiffness of arteries influences how hard the heart has to work to pump blood through the body."
Here are some images showing how CIMT is measured and what it represents, from www.lipidsonline.org/slides/slide01.cfm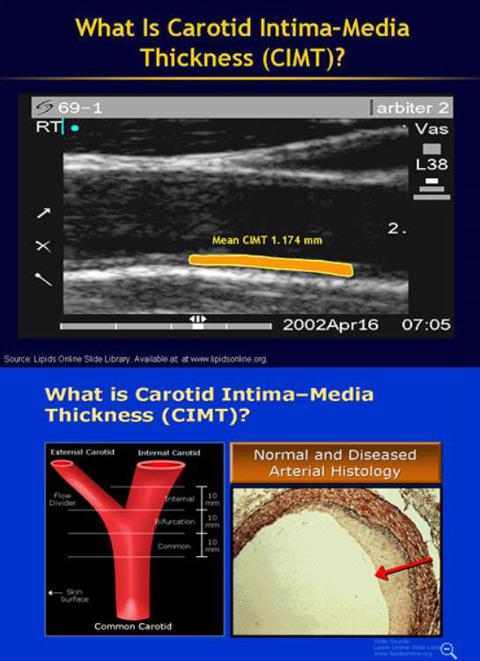 In Atherosclerosis Volume 191, Issue 1, Pages 162-167, March 2007, here www.atherosclerosis-journal.com/article/S0021-9150%2806%2900132-8/abstract, researchers from the Department of Medicine, Metabolism and Endocrinology, Juntendo University School of Medicine in Tokyo present their findings that "Eicosapentaenoic Acid reduces the progression of carotid intima-media thickness in patients with type 2 diabetes."
With a total of 60 patients, 30 were given only 1.8 grams EPA for roughly 2 years (Vascepa dose is 4 grams) and 30 were in the control group.
"the mean IMT and max IMT of the EPA treated group showed a significant annual decrease compared with that of the control group (mean IMT, −0.029±0.112mm versus 0.016±0.109mm, respectively, P=0.029;)

(max IMT, −0.084±0.113mm versus −0.005±0.108mm, respectively, P=0.0008).

The baPWV was also improved significantly in the EPA treated group compared with the control group (−22.1±127.9cm/s versus 62.3±223cm/s, respectively, P=0.021)."
EPA at 1.8 grams reduced the mean and max IMT on an annual basis. Patients, (diabetic or not) who take Vascepa should see even better results if dose is a factor.
Disclosure: I am long AMRN.