Timing is everything when it comes to investing. This is why "playing the growth of the middle class consumer in Brazil" is likely to prove a major conceptual blunder by fund managers selling the idea of emerging market 'decoupling' to unsuspecting retail investors - even as the tide turns on the emerging markets growth story. No country has benefited more from China's economic growth and unparalleled demand for resources than Brazil. But it is its American-style consumer debt bubble that makes it one of the most leveraged bets on emerging market growth.
Convinced that the good times were here to stay, Brazilians embraced consumer finance as soaring commodity exports made China its largest trading partner. But success seems to have gone to everyone's heads, and they are now learning the hard way about borrowing more than you can afford, just as the fair wind from China becomes a major headwind.
Growing Latin American prosperity is a great long-run investment theme, but favoring a bank like Brazil's Banco Bradesco (NYSE:BBD), as emerging markets specialist Aberdeen Asset Management (NYSEMKT:LAQ) is, seems rather obtuse when the whole banking sector is having to up its provisions against bad loans as financially overstretched Brazilians struggle to repay debt. Betting on companies like Vale (NYSE:VALE), the world's largest iron ore producer, also seems to be badly timed. Vale may be a marginally lower cost producer than some regional competitors, but that is not going to make the blindest bit of difference if commodity prices slump on the back of hard landing in China, its biggest customer.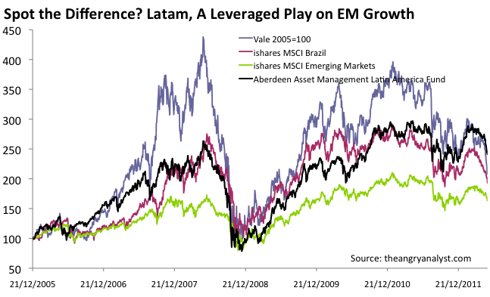 What makes Vale a truly risky investment - besides the threat of resource-nationalism, and China's refusal to allow its new fleet of Valemax mega bulk carriers to dock at Chinese ports because they threaten Chinese shipping - is that it is simply a more volatile version of the main Latin American and emerging market indices, whose constituent companies tend to move as one, depending on the whims of Western investors.
Hot money flows and the risk-on/risk-off phenomenon have been making a mockery of value investing for some years now. What is the point of comparing the standard valuation metrics of Brazilian banks to Chilean banks, and indeed to the rest of the banks in global emerging markets, if all their valuations have been stretched by money flowing into emerging market assets via ETFs?
As many of the emerging markets that ETFs are indexed to are too small to absorb the money that has poured into them in the last three years, so indiscriminate buying has forced up the value of bad companies as well as good ones - in addition to commodity prices. By exacerbating swings in markets with already pronounced boom bust cycles, the reckoning will be all the worse when this process goes into reverse. A collapse in global emerging market stocks now looks very likely.
Indeed, when Brazil hiked interest rates in 2010/2011 to control the boom, such was the inflow of money that its currency became so hugely overvalued that the government was forced to adopt capital controls and reserve requirements. But this has brought the economy to a halt: the Brazilian government has cut its growth estimate for 2012 from 4.5% to 3.8%, and private sector economists expect growth of 3%. So if Chinese growth flatlines, Brazil faces recession.
The withdrawal of capital from Brazil is already accelerating: investors made net withdrawals of $2.4 billion dollars from Brazilian investments during the period May 1 through May 11, compared to $939 million during the entire calendar month of April. Time will tell if this turns into a stampede for the exit, and if investors in Brazilian consumer ETFs (NYSEARCA:BRAQ) regret their investment.
Disclosure: I have no positions in any stocks mentioned, and no plans to initiate any positions within the next 72 hours.