Following on from my recent article in which I used key fundamental factors to screen for stocks, I decided to adjust my screening criteria to focus more on activity in the past two years versus three years applied previously. My thinking here was that this might identify up-and-coming stocks for market-beating ideas. I applied screening criteria as indicated further below and came up with the following list of 19 stocks using Morningstar's Premium Stock Screener: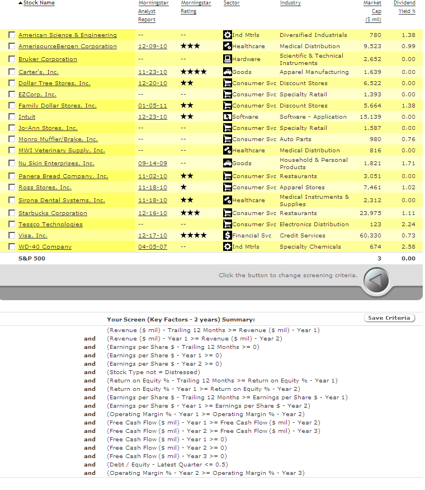 So 8 new stocks were added to the list of 11 stocks identified previously, of which 1 is rated a buy by Morningstar, namely Carter's (NYSE:CRI). Doing further research, I came across the following article by MagicDiligence that provides useful information concerning CRI. But what really raised my interest was this article by Morningstar that identified CRI as a top 4 takeover candidate, with the top 2 already having been acquired.  Once again, the stock price of CRI has corrected somewhat in the past few days so I felt comfortable in purchasing shares.
As always, please do your own due-diligence.
Disclosure:
I am long
CRI
.
Additional disclosure:
Positions could change at any time.