What's obvious; is obviously wrong.
By Rich Kambak
Any investment must go through a rigorous analysis to determine unsystematic risk before committing to investment. To illustrate this, we drew upon the reliability of Macroaxis Personalize Wealth Optimization portfolio services for correlative inputs to build our risk aversion SWOT1 model. Macroaxis uses Modern Portfolio Theory (MPT) and the Markowitz Efficient Frontier Set; integrating traditional indicators based on statistical, fundamental and technical parameters.
To see if SWOT can overcome its limitations and offer more scope to the significance of portfolio risk against performance analysis, we benchmarked an already existing portfolio, publicly traded on the Motif Investing brokerage internet platform.
Motif Investing's Chinese Solar motif, their most popular thematic investment has a purported 142% yearly return on investment since it's inception in 2012. For more details click on this link: Motif Investing - Chinese Solar.
Motif Investing promotes, "Trade Ideas, Not Stocks". This approach tends to lead investors to a particular quasi-logical path, based on predetermined cognitive notions and beliefs when compared to the impartial complexity of portfolio asset allocation and proactive financial management (rebalancing asset allocation).
Chinese Solar is comprised of the following securities: CSIQ, JKS, TSL, SOL, HSOL, JASO, YGE, DQ.2 These are ADRs that fit into a "growth" strategy or more commonly known as the pure play factor 3 within the Motif Universe.
Valuation is based on Motif's proprietary weighted index that claims to "…[help] investors gain a more pure exposure to the underlying investment theme." Though it is stated that only Chinese solar assets were selected, CSIQ (Canadian Solar, Inc.) clearly is not based in China, thus it is the "anomaly" factor in this portfolio.
Motif Investing uses a generic construction process for three investment strategy models that incorporates - fundamentally - the same conceptual inputs as Modern Hypothesis Theory; with a few tweaks of their own, such the "Weighted Motif Universe" and/or the proprietary Motif Optimization Engine. Typically, the Markowitz Efficient Frontier is comparable.
Certainly, "ideas" equates to "assumptions" - the starting point for any investment trade - yet there is more involved in understanding the weighted percentages that each asset in a basket of securities carries; ultimately avoiding A "zero sum game" outcome.
Lastly, we have four questions to answer for validation of Motif Investing's claim of a 142% yearly return on investment for the Chinese Solar motif:
Does Chinese Solar truly have a 142% yearly return?
Is Chinese Solar pure play strategy profitable?
Is the "Weighted Motif Universe" accurate?
Is Motif Investing's model robust?4
Our SWOT methodology could be argued as purely "subjective" however, collectively, the inputs are homogenous , so our deductive research and resulting empirical data is baseline to the norm in professional portfolio management.
MACROAXIS SWOT MODULE INPUTS
Strength:
Alpha, Jensen Alpha, Risk Adjusted Performance, Treynor Ratio, Sortino Ratio, Efficiency (Sharpe Ratio)
Weaknesses:
Beta, Expected Shortfall, Market Risk Adjusted Performance, Value At Risk, Skewness, Kurtosis, Market Performance
Opportunities:
Expected Return, Information Ratio, Potential Upside, Efficiency, Profit Margin
Threats:
Risk (Volatility), After Hype Volatility, S&P Volatility Correlation, Maximum Drawdown, Downside Variance
GATHERING OUR DATA
Chinese Solar stocks pay no dividends. They are considered to be "growth stocks" rather than "value stocks" which are less risky. Benchmarked to the S&P 500, Chinese Solar is 3.85 times more volatile.
1 YEAR MARKET EFFICIENCY - TECHNICAL ANALYSIS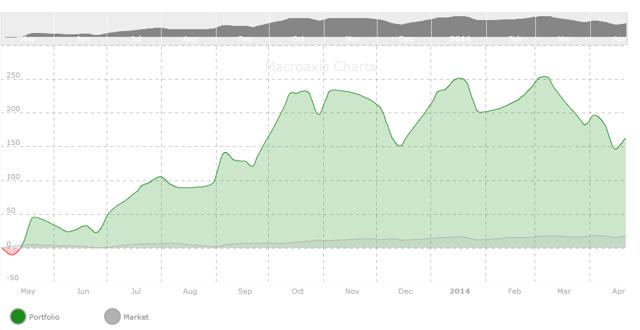 This graph shows Chinese Solar (green shade) out performing the market (gray shade) year to date. The table below confirms this charts analysis.
Chinese Solar depicts a stellar performance given the Potential Upside compared to Value At Risk (VaR). We simulated investing in Chinese Solar since its inception on January 1, 2012, replicating the same asset allocation percentages. To date, our total investment payoff would have been $550.89 or 134.84% based on an approximate $1000 cost basis. We took a drawdown this week at -$48.49 or -4.81%. Extrapolating the portfolio's performance factors since inception, Chinese Solar (considering the current assets were constant without rebalancing) earnings were approximately $19.67 per month , not including inflation and the risk-free rate.
3 MONTHS MARKET EFFICIENCY - TECHNICAL ANALYSIS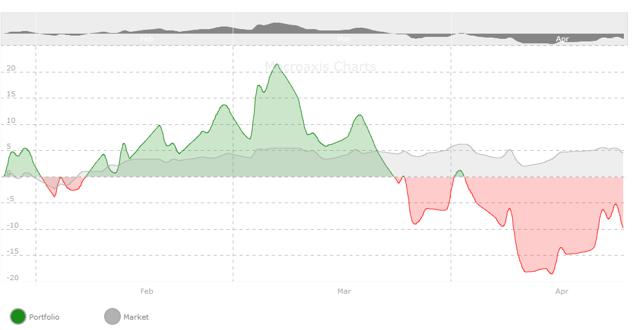 Now look what happened in the last three months to Chinese Solar. Over a 90-day period Chinese Solar suffered a -3.81%. It clearly illustrates the volatility of a "pure play" strategy investment and how profits can be negated. If you look at the peak (green shaded area), reaching +20% profitability in March, going into April the mean reversion mirrors (red shaded area) the profitability to a -20% while the S&P 500 (gray shaded area) remained stable in comparison. Thus profits were negated by the middle of April.
3 MONTH MARKET EFFICIENCY MATRIX
In a 90-day time horizon, the Potential Upside is collectively out-weighed by the Value At Risk. For one year, the portfolio has a diversification score of <1.
SWOT - CHINESE SOLAR




Comparatively, the past year performance was more favorable then going forward with a 90-day time horizon. Noteworthy is Market Performance, dropping from 7 to 1 and the Kurtosis being negative.
OPTIMIZATION- REBALANCING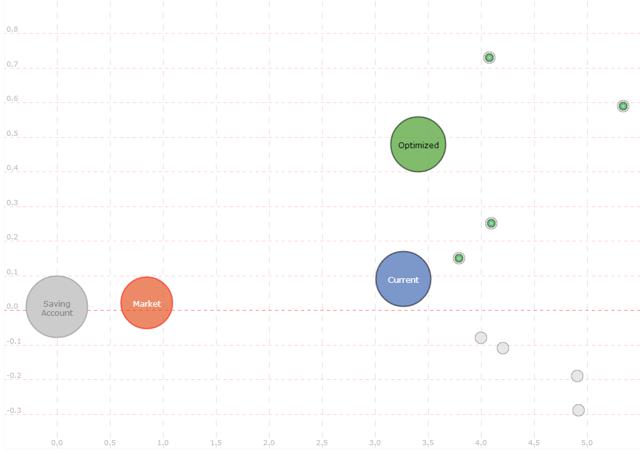 OPTIMIZED ALLOCATION - REBALANCING
| | | | |
| --- | --- | --- | --- |
| Asset | Amount | ALLOCATION | ACTION |
| CSIQ | $0.00 | 0% | SELL ALL |
| TSL | $0.00 | 0% | SELL ALL |
| JASO | $331.76 | 33.00% | BUY 19 More Shares |
| JKS | $352.88 | 35.00% | BUY 7.42 More Shares |
| YGE | $0.00 | 0% | SELL ALL |
| HSOL | $160.83 | 16.00% | BUY 30.0 More Shares |
| SOL | $0.00 | 0% | SELL ALL |
| DQ | $160.99 | 16.01% | BUY 2.08 More Shares |

Validation:
Comparatively, our calculations are compared to Motif Investing's weighted index percentages for 1 Year and 1 Month, respectively. This validates the optimization of the Chinese Solar portfolio's asset rebalance.
JASO, DQ, JKS, and HSOL (showing a downturn for the past month) will be more profitable as shown below in this graph.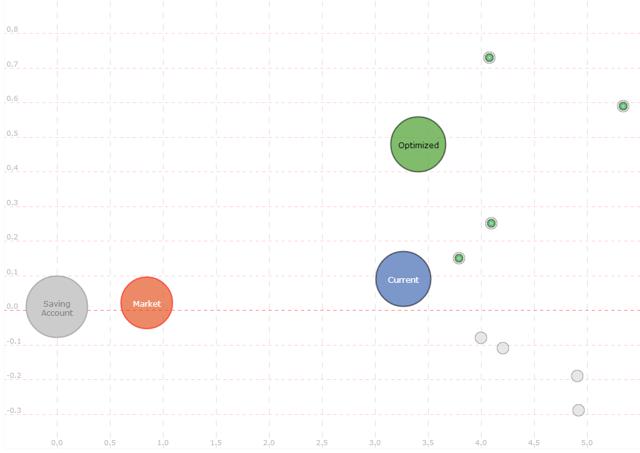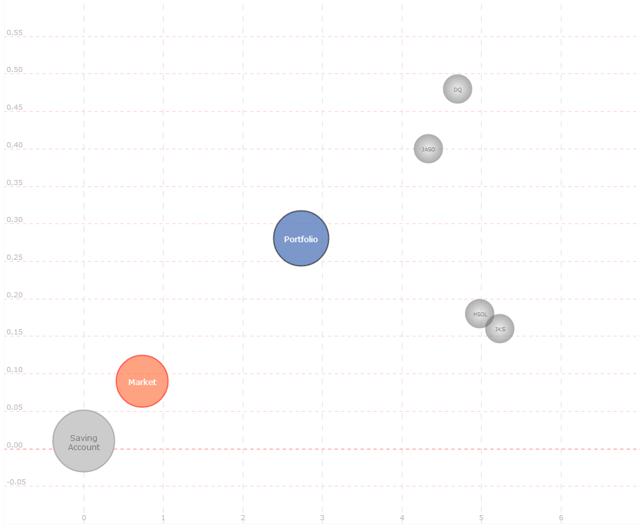 So returning to our questions, we can surmise that:
1) Chinese Solar's yearly return is highly variable, given that Chinese Solar's portfolio is built upon growth stocks which present more risk over return when there is uncertainty with market performance. As we demonstrated, profits can be negated very quickly in just three months, making investing a zero sum game.
2) The "pure play" strategy is not optimal and can be very misleading in this presentation. Motif Investing did not "optimize" Chinese Solar, which we demonstrated with a obvious visual impact on the selection and asset allocation of the portfolio through statistical comparisons. SWOT proved to be a viable tool when testing one's assumptions for portfolio wealth building.
3) We question the accuracy of Motif Investing's "Weighted Motif Universe" and feel moreover that it is skewed and misleading. Motif Investing does not present more analytical indicators which would provide greater insight and impartial judgment in building robust portfolios - moving away from the "Trade Ideas, Not Stocks" adage as a higher potential for losses.
4) Motif Investing, after scrutinizing Chinese Solar through our SWOT analysis using Macroaxis' analytics, proves that there is an issue with asset diversification that sets limits one's risk aversion.
Finally, we could take this one step further in adding equities that are more diversified, but we decided to leave that up to you. It is a valuable learning exercise that one must conquer to be more proficient in portfolio management. With financial investing, one must learn to earn.
We encourage you to share your insights, feedback, and alternative portfolios that are more diversified and robust in the same context.
For immediate update access to the current Chinese Solar motif and our Chinese Solar optimized motif gains or losses click on the links below.
For further insight to Chinese Solar, you can read Mr. Kambak's analysis at the beginning of 2014 here that included more equities in the portfolio.
Disclaimer: The expressed views and assets mentioned in this article are strictly presented for educational purposes. The author and/or assigns make no recommendations for trading and cannot be held liable for any third party investment transactions. The referenced resources cited are public access information. Macroaxis provided advanced permission for their graphs to be used.
About Rich Kambak Google+ Twitter
Email: grtsmarket@gmail.com
http://www.macroaxis.com/invest/rich-kambak
Disclosure: I have no positions in any stocks mentioned, and no plans to initiate any positions within the next 72 hours.