I read an article from Fortune, and found out that from 2007 to 2008, Fortune 500 companies actually grey top line revenue 0.8% to a total of 10.7 trillion, while profit fall 84.7% to 98.9 billion.
I was really surprised that top line revenue actually grew.   Since consumption represents 70% of GDP, let's simply take a look at retail sales chart.  Seriously, top line revenue for retail sales from peak to trough has only been corrected at about 12%.  (See Chart)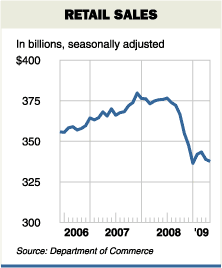 The recession that we are experiencing has to hit the consumers harder before we bottomed.  It just doesn't make sense that consumers can lead us out of the way after experieicng just 2 to 3 quarter of consumption contraction.  To me, it's just doesn't make sense.  Especially in the US, we have to deleverage and reach a consumption level that can be sustainable.  I really think that top line revenue across the board in all retail sales combined should be corrected atleast closer to 20%.  Therefore, the chart on the left will sooner or later trend lower.
Clearly, recent rally in the market shows that we are not ready for such corrections, because the market has already priced in a "bottom" in consumption contraction.  When top line revenue corrected another 10% to 15% across the board, it will really surprise many companies and many of them will not be ready for it.  This will be one big reason for our next leg down and surpassed any "Green shoot" optimism. 
Year 2008, market impacts the economy.  Year 2009 economy impacts the market.  I expect we will see some dramatic action in remainder of this year.