Summary
Vringo has a world class team and proven business execution.
Vringo is on the brink of monetizing numerous patents with numerous companies. The potential revenue may dwarf the possible Google income.
The potential for an enormous increase in the capitol valuation of Vringo is quite possible.
On April 28, 2014, Vringo, Inc. (VRNG), announced a shareholders update that has reinvigorated investor interest for Vringo, and for good reason. Since VRNG released their April 28th shareholder update the stock price has risen roughly $0.25 or 6.6% and has renewed many reasons why this stock could potentially climb much higher in the near future.
VRNG was formerly involved in the development of mobile technologies and now boasts an impressive and seemingly lucrative warchest of intellectual property ("IP"), business contracts, and ongoing licensing discussions.
General Background and Team:
By way of a brief background, Vringo previously developed phone software, ringtone technology, mobile apps, and content distribution technology. However, these former business models were jettisoned via a remunerative agreement with Infomedia Services allowing VRNG to focus on more lucrative activities while gaining a 8.25% stake in a rapidly growing tech company. Vringo has strategically positioned itself to get the 'best bang for the buck' and through an exceptional business pivot has transformed itself into a technology development, licensing, and enforcement firm.
Through this radical change Vringo now has over 500 patents, including numerous standard-essential patents and has also brought on a of highly experienced IP licensing and monetization team consisting of Donald E. Stout, David L. Cohen, and Dickstein Shapiro. Vringo's team is nothing less than impressive By digging through Vringo's website one can begin to see the accomplishments of Vringo's battle tested litigation team and the countless victories already under their belts. Image from Vringo's investor presentations.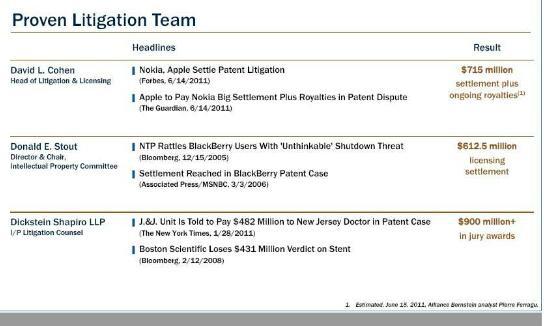 Present Accomplishments:
As some may or may not be aware during the past two years Vringo has already accomplished some pretty impressive feats. These feats include but are not limited to the following particulars:
Vringo sued Google (NASDAQ:GOOG) for Google's infringement of patents that cover technology used in AdSense and Adwords. A guilty verdict was given and Google, as well as other co-defendants, were ordered to pay Vringo royalties. Despite the huge victory Google appealed.
Vringo reached a settlement with Microsoft (NASDAQ:MSFT) with regards to advertising patents.
Vringo has successfully argued in the United States Patent and Trademark Office for the validity of the asserted patents. The United States Patent and Trademark Office agreed with Vringo.
Vringo acquired 8.25% of Infomedia Services, a UK based mobile software company with rapidly increasing revenues.
Vringo reached a confidential settlement with ADT Corp (NYSE:ADT) with regards to alleged infringement of monitoring patents held by Vringo.
Vringo has initiated suit against Tyco International Ltd (TYC) with regards to alleged infringement of monitoring patents held by Vringo.
Vringo has initiated suit against global electronics supplier ZTE Corporation (ZTE) in India, Europe, and Australia.
Vringo has initiated suit against Nuage Techsol for unlicensed sale of ASUS and ZTE equipment.
Vringo has obtained an injunction against IndiaMart.com banning them from selling unlicensed ZTE Corporation equipment.
Potential Rewards:
Thus far, although patent litigation, licensing, and enforcement has proven time and time again to be a rather unpredictable and volatile business - through the use of rough estimates most investors can begin to value the potential of Vringo's business model and growing business.
As a disclosure, for the purposes of calculating these potential and incoming revenue I have chosen to employ very simple calculations as well as a brief explanation.
Google Case
Earlier this year Google was ordered to pay a 6.5% running royalty rate. This royalty rate when applied to Google's estimated revenue would result in total payments of $1,227,456,699 dollars to Vringo.
Furthermore, although many investors have already discounted a possibility of a laches reversal when combined with a jury award correction, interest, and supplemental damages there is approximately $463,210,245 dollars which Google is likely to be required to pay Vringo.
The calculation and numbers used here can be seen at this Google Spreadsheet. The revenue numbers are based on both evidence at the trial and publicly available financials.
ADT Settlement
As previously mentioned, Vringo settled with ADT with undisclosed terms. General estimates, using ADT's revenue breakdown and industry standard licensing agreements would put the potential revenue paid to Vringo at 2,000,000 to 3,000,000 a quarter if this is a monetary settlement.
For the purposes of calculating 'capital valuation' I have estimated considered the total payments from ADT to be roughly $40,000,000 over the life of the patents.
MSFT Settlement
The Microsoft settlement is a little ambiguous, however, the gist of the settlement is that Microsoft has to pay 5% of whatever Google pays. Via a general estimate of Google paying $1,000,000,000 Vringo would then obtain roughly $50,000,000.
ZTE Case and Potential Settlement
Vringo's assertion of patents against ZTE are also very complex. With pending litigation within at least three jurisdiction of India, Europe, and Australia I can only imagine that there are a lot of details, discovery, and due diligence needed to be done before enough evidence surfaces to begin honing in on the exact amount of potential revenue.
However, Vringo asserted a term sheet against ZTE which asked for $2.50 per phone. Unfortunately, due the complexity and confidentiality of ZTE's global business it is hard to know exactly how many phone are being made.
Many people have estimated anywhere between 20-50 million ZTE phones are being made each year that infringe of Vringo's patents which would result in a net income of anywhere between 50 million to 150 million each year. These are impressive numbers that I believe will become comparable with the Google case. Currently, Vringo is asserting 11 patents against ZTE, the latest of which expires in 2027.
Using another conservative estimate of 10 years of licensing at 50 million per year would net Vringo 500 million.
Quick and Dirty Capital Valuation:
By using the above revenue numbers and excusing the possibility of additional revenues, more patent cases, or additional settlements the net capital value that would be added to Vringo would be roughly $2,290,000,000 or about 2.3 billion.
Considering Vringo's current market capitalization of $343.19 million such an increase in capitol assets would increase Vringo's inherent value by nearly 7 times. The corresponding price per share should beroughly $29.
Disclosure, Further Discussion, and Other Reading
For the purposes of good order and disclosure, I feel it would be helpful for all to provide more background on my introduction to Vringo, the history, where I have gotten my info, my current stance, and most importantly additional viewpoints and thoughts.
I've been following Vringo for nearly two years. Like many others it has been a bumpy ride.
During the time I've been following Vringo I've gotten a lot of my info from PACER, EDGAR, The USPTP Public Pair, and more recently international court website for India and Australia.
I'm currently long on Vringo.
Additional Reading and Due Diligence
As any investor should know, due diligence is key and while I do not pretend to know everything the following links are helpful for reaching a fully informed opinion that aligns with each individuals goals and risk tolerance.
Disclosure: I am long VRNG. I wrote this article myself, and it expresses my own opinions. I am not receiving compensation for it (other than from Seeking Alpha). I have no business relationship with any company whose stock is mentioned in this article.
Disclosure: I am long VRNG.