Response Genetics (RGDX) is trading at 2.70 up .55 or 25.58%. Response signed a deal with GlaxoSmithKline Plc (GSK.L) this morning, giving Glaxo the rights to their technology to assess certain gene mutations in tumor samples. This generated a significant response and sent Response Genetics' shares soaring, rising as much as 51% in the morning.

 
Micro Imaging Technology, Inc. (
OTCPK:MMTC
) is currently trading at .0570 up .0150 or 35.71%. On Monday, the company received a 36-month term equity commitment of up to $5million from Dutchess Capital. Today, it has announced that it was recently featured in an editorial published by U.S. Equity News that covers the history of bacteria. Michael Brennan, Chief Executive Officer, states that their breakthrough laser-based microbial identification technology could effectively save millions in bacterial analysis and healthcare costs, and, furthermore, the production of accurate results occurs in a fraction of the time.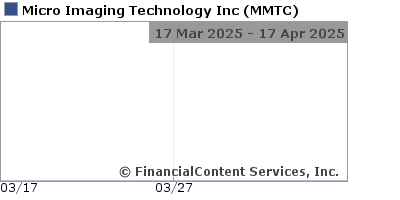 Global Earth Energy, Inc. (GLER.OB) is currently trading at .0225, up .0095 or 73.08%. A Plan and Agreement of Triangular Merger was executed and closed today. The Surviving Corporation's name shall be changed to RCI Solar, Inc. and will continue to be a wholly-owned subsidiary of Global Earth. RCI Solar believes their clients may achieve energy savings from 50% to 70% for gas and/or electrical services following their one simple installation.  
Disclosure:
"No positions"