Ever-Glory International Group, Inc. (AMEX: EVK) $47M (MarketCap) is currently trading at $3.44 a share, up $.55 or 20% intraday.
On Tuesday May 11th, The Company announced diluted earnings per share for the first quarter 2010 jumped to $.11, up from $.04 in the same period in 2009. Sales generated from the Company's wholesale business increased 7.8% to $19.4 million, compared to $18 million in the first quarter of 2009. Looking forward into the second quarter, The Company issued guidance of $23 million to $26 million in gross revenue. Based in Nanjing, China, Ever-Glory is a leading apparel supply chain manager and retailer in China.
Today's volume is up 530% at 48K shares, compared to a daily average of 9K shares.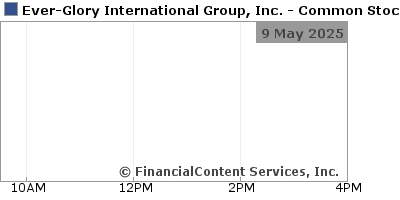 Cannabis Medical Solutions, Inc. (OTCBB: CMSI) $11M (MarketCap) is currently trading at $.58 a share, up $.29 or 100% intraday.
That's right! Leisure marijuana use and possession has come closer and closer to legitimacy with the March 24th, 2010 announcement that California will be putting the Regulate, Control, and Tax Cannabis Act on this year's ballot for citizens to vote and give control to local governments to sell and tax pot to adults over 21. The Company provides online and wireless merchant payment solutions worldwide. It offers a spectrum of transaction processing solutions using traditional, Internet point-of-sale, e-commerce, and mobile (wireless) terminals in conjunction with industry alliance partners for medical marijuana dispensary businesses. It seems that with every month that passes, The Company lands new merchant contracts with medical marijuana dispensaries in states that support the program. Last week, an exclusive agreement was announced between The Company and Specialized Payment Solutions, Inc. to provide merchant, banking, and ATM services to up to thirty (30) medical marijuana dispensaries in Colorado.
As if that news wasn't impressive enough, Cannabis Medical Solutions released news on May 12th, 2010 that the board approved a plan to increase the number of shares available to the company and a stock dividend of nine (9) shares for every one share owned by stockholders on record as of May 14th, 2010. The dividend will be distributed starting June 1st, 2010.
Today's trading volume is up 215% at 1.1M shares, compared to a daily average of 51K shares.
PureSafe Water Systems, Inc. (OTCBB: PSWS) $48M (MarketCap) is currently trading at $.18 a share, up $.10 or 125% intraday.
PureSafe Water Systems Inc., a development stage company, engages in the design, development, manufacture, and marketing of water purification systems in the United States and internationally. Leslie J. Kessler, Chairman and CEO of PureSafe Water Systems, Inc., announced today that the company will introduce the production unit of its First Response Water System to shareholders as well as the public on June 2, 2010 in conjunction with the 2010 Long Island/New York City Emergency Management Conference titled "Emergency Management 2010: Meeting the Challenge." The product The Company will be introducing can deliver up to 30,000 gallons per day of fresh, EPA-compliant water from "any source at any time" within 30 minutes of reaching, by land or by helicopter, an affected natural or man-made disaster scenes and can provide clean potable water for up to 45,000 people a day.
Today's trading volume is up 156% at 874K shares, compared to a daily average of 561K shares.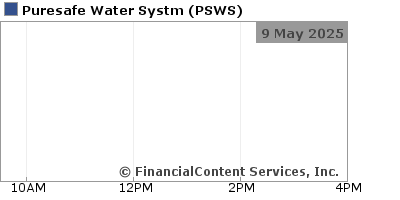 Disclosure:
no positions