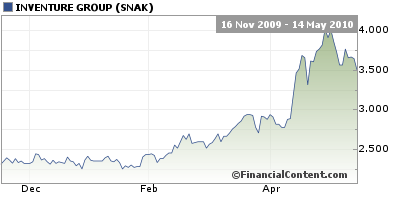 The Inventure Group, Inc. (NASDAQ:
SNAK
) announced it has received commitments from major national grocery and mass merchandise retailers for its licensed make-at-home Jamba(NYSE:
TM
) All Natural Smoothies. Since the Company announced the agreement with Jamba Juice Company (Nasdaq:
JMBA
), to bring a variety of their legendary smoothies to home freezers, Inventure reported it has received commitments from most retailers within its targeted test markets. Two of these retailers plan to stock the product nationally. As a result, Inventure expects the smoothie line to be distributed in more than 5,000 new stores by the end of the second quarter of 2010.
Inventure has already started shipping to some of these new retail customers and will leverage earnings from this launch to optimize the next phase of the rollout in the third quarter of 2010. The initial launch will be supported by strong, integrated trade and consumer programs.
"The $2.5 billion smoothie category is strong and growing," said Terry McDaniel, CEO of The Inventure Group. "We now have a product that allows grocery, mass merchants and specialty retailers to capture their share of this growing category. In collaboration with the Jamba team, we've been able to offer an affordable, great-tasting solution from the number one brand of fruit smoothies in the country, and we're seeing significant interest as a result. We are delighted to have a partnership with one of America's leading lifestyle brands."
Jamba(
TM
) All Natural Smoothies are a result of a licensing agreement with Jamba Juice Company announced in late 2009. The product is available in three of the leading smoothie retailer's most popular flavors, including Razzmatazz®, Mango-a-go-go® and Strawberries Wild®. The make at-home line of smoothies contain real fruit, non-fat yogurt and the Company's signature antioxidant boost, which delivers 100% Daily value of Vitamin C.
Disclosure:
no positions