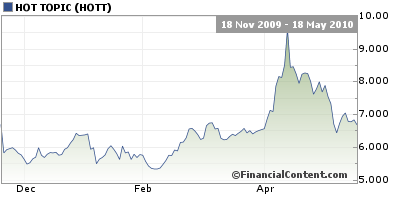 Hot Topic released on May 1st this press release detailing the sales results for its fiscal month of April, the combined March/April "Spring Break" period, and its first fiscal quarter ended May 1, 2010. Today the company is expected to release full earnings for the first quarter 2010 followed by an earnings call we will attend.
April sales were $42.5M, down 10.1% from the prior year.
Total sales for the Spring Break period was $108.4M, down 8.0% from the prior year.
First quarter sales are expected to be $162.6M, down 7.1% from the prior year.
The company narrowed its first fiscal quarter guidance to a net loss of $0.03 to $0.04 per share, as compared to earnings per share of $0.03 last year. Previously the company's guidance was a net loss in the range of $0.02 to $0.05 per share. West Palm Beach --  
Disclosure:
no positions