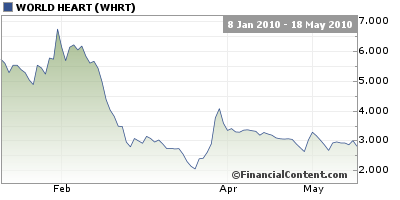 World Heart's mechanical circulatory support devices assist the failing heart to pump blood. These pumps are also called VADs (Ventricular Assist Devices). WorldHeart's VADs are used to support the left ventricle, which takes oxygenated blood from the lungs and pumps it to and through the tissues and organs. As a result of this heavy and constant demand, the left ventricle does most of the pumping work and therefore fails more often. Long-term support of the left ventricle alone is estimates to serve more than 80% of eligible patients. In this application, these devices are called LVADs (Left Ventricular Assist Devices).
Salt Lake City, Utah, WorldHeart's most promising device and product line is the innovative, implantable next-generation heart assist pumps such as the hockey-puck size Levacor(NYSE:
TM
) VAD rotary pump for adults who suffer from late-stage heart failure. Designed to provide long-term and full circulatory support, the Levacor VAD is powered by a unique, proprietary, magnetic levitation technology. A U.S. clinical trial to assess the Levacor VAD as a bridge-to-transplant was started in January 2010. Here's a quick history lesson. Baxter had originally developed Novacor, the technology that eventually became Levacor after The Company spun off its operations in 2008 and WorldHeart swooped in to acquire it. Novacor ran its life cycle and in 2008, sales were discontinued. The field experience and expertise gained by clinical use and commercial sale of the Novacor in North America, Europe and Japan has been applied to the development of WorldHeart's upcoming product lines that will be rolled out going forward, which include Levacor.
WorldHeart's President and Chief Exectutive Officer, Mr. J. Alex Martin and I spoke on the importance of key management and their knowledge, experience, and resources being brought to WorldHeart's table to achieve Levacor commercialization and a profit for the company. Mr. Martin himself has a decorated resume, having most recently served at Edwards Lifesciences where he was President of the North American Region and Corporate Vice President since 2004, and before that a vice president at Johnson and Johnson. Mr. Martin says he's surrounded by talented professionals who he depends on tremendously to carry WorldHeart towards its goals, and for a man whose experienced such impressive professional success, he spoke of his board, stocked full of Stanford grads and other medical elitists, so admirably I got a sense he felt he was lucky to be with WorldHeart today.
Mr. Martin spoke on the growth of the company going forward. Right now, The Company is focused on bringing its existing product offerings to mass markets. Research and development costs have been in check because the cost of testing these products has been mostly covered by revenues WorldHeart is permitted to collect during the long, rigorous clinic trials set forth by the FDA. Mr. Martin sees The Company as an early shareholder of a $5 billion dollar market, and the goals are to bring Levator to commercialization, create profits for the company, refine the existing product line (perhaps spin-off some new ones based on the underlying technology) and of course, save the lives of millions of people, young and old, around the world suffering from chronic heart failure than can't afford the risks and costs of transplants.
Financially, Mr. Martin cited a going concern for working capital. The break-even analysis shows up to $50 million more dollars may be needed to introduce Levacor to the mass market, and The Company is currently spending around $1 million a month. Capital requirements may be needed in the near-term to support day-to-day operations.
Most importantly, Mr. Martin and I spoke on the improvements WorldHeart has been bringing to their patients lives. In one recent case, a 44 year-old man had experienced excruciating pain, simply from walking up and down stairs and other basic physical movements. After the Levacor treatment, that same patient was back on his motorcycle only weeks later. In addition to dramatic physical and emotional improvements in patients,  the product also carries economic benefits as well; a patient who is not treated with The Company's device could be in a hospital for weeks, draining Medicaid and Medicare and subsequently tax payer dollars. With Levacor, that same patient could be treated and back up their feet working at a job and earnings tax dollars rather than spending them.
WorldHeart is driving technology that addresses heart failure patient issues by offering a product that saves and extends lives, reduces stroke risks and rates, and can be reimbursed by government medical subsidiary programs. This technology has been in development for over 35 years and has just most recently made the most viable progress. "This market is so large" says Mr. Martin, "that competition is positive because one company can never serve the need of an entire community".
First Quarter Financial Highlights Released Monday, May 17th, 2010:


WorldHeart reported a net loss for the three months ended March 31, 2010 of ($9.7M), or ($0.68) per basic and diluted share, compared to a ($3.7M) net loss, or ($0.28) per basic and diluted share for the same period in 2009, due primarily to a one-time, non-cash loss on liquidation of foreign entity of $6.3M as a result of WorldHeart's change of jurisdiction of incorporation from the federal jurisdiction of Canada to the state of Delaware in the United States.


Revenues were $556,000 for the three months ended March 31, 2010, as compared to $5,000 for the three months ended March 31, 2009. The increase in revenue from 2009 to 2010 is the result of initiating the Levacor(TM) VAD Bridge-to-Transplant (NYSE:BTT) clinical study in January 2010.


"With almost $10 million in cash, we are well positioned to execute our BTT clinical study in 2010. We anticipate enrolling our initial ten clinical centers by the end of September 2010 and look forward to continuing to enroll patients in the BTT clinical study," added Mr. Martin.


Disclosure:
no positions