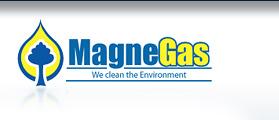 MagneGas Corporation focuses on recycling liquid waste into useable byproducts, including a hydrogen based fuel named MagneGas. The company intends to provide services in cleaning and converting contaminated liquid waste and today announced that they will be moving forward with a partnership that will provide $2 million dollars in investments for The Company.
MagneGas Corporation, a producer of a metal working fuel and natural gas alternative made from liquid waste, announced today that Beijing-based DDI Industry International ("DDI") has exercised its option to proceed with Phase II of the MagneGas China initiative and has submitted an agreement to formalize the partnership and trigger formational next steps. In Phase I, DDI signed a Purchase Agreement for a 200kw Refinery at a price of $1.9 million and paid $950,000 to the Company as down-payment. In Phase II, DDI would acquire the exclusive MagneGas(NYSE:
TM
) Technology and manufacturing rights for the Greater China market. As compensation DDI would directly invest $2 million in The Company. DDI would create a new China-based Joint Venture company ("MagneGas China") to house and administer the rights; DDI would seek to take this Joint Venture company public in the Asian market in the future. DDI would grant to MagneGas 20% of MagneGas China, giving the Company and its investors a significant and perpetual share of China market operations. MagneGas CEO Dr. Ruggero Santilli or his assignee would receive a full voting seat on the MagneGas China Board of Directors. Read more from the press release on our The Companies WMM profile site
here.
"We have found in DDI a partner not only of substantial resources, but one equally passionate about the MagneGas(
TM
) Technology and its potential benefits to both the environment and the fiscal bottom line," stated MagneGas President Richard Connelly. "Negotiations on specific terms are underway, and we are both pleased and encouraged by the progress we have mutually made in the last week. We look forward to reaching a final agreement favorable to both parties and their constituents -- and to MagneGas investors in particular." Details on the investment have yet to be released as the two companies have up to 60 days to iron out the deal and release the updates that are to follow. Looking at MagneGas' financial statements for the first quarter 2010 ending March 31st, 2010 showed cash on hand of $552 thousand dollars and total assets of $2.0M. An investment of $2 million in The Company by DDI could increase their market cap by almost 20%, a big jump for a small alternative energy firm.
The announcement comes on the heels of MagneGas' management confirming they are ready to test their oil-recycling technology. "At this writing MagneGas Corporation is solely interested in collaborating specifically, for the use of our technology to recycle the oil spill in the Gulf of Mexico" said Dr. Ruggero Maria Santilli, chairman and chief executive officer. The Company is currently tapping BP and Halliburton to raise the cash necessary to pay for the costs of testing their proprietary product Plasma Arc Flow, designed to clean and recycle liquid waste, on only one barrel of recovered oil form the recent spill. Citing the disaster as having significant social and national issues associated with it beyond MagneGas's obligation, Dr. Santilli says it would be unethical to expect The Company to pay for the costs of testing. For readers who may consider this to be an effort worth funding,
click here
to donate to the New Energy Economy Works Initative, a group raising money to cover testing expenses association with MagneGas' testing.
MagneGas presented on the topic of waste management on May 6, 2010 at the 18th session of the United Nations (NYSE:
UN
) Commission on Sustainable Development (NYSEARCA:
CSD
). The 53 member states of the CSD were on hand, including China, Pakistan, France, Argentina, Brazil and Israel, as were other major groups including Business & Industry, Farming, Children & Youth, Women and Indigenous Peoples. The company introduced their technologies as an innovative process to convert liquid waste to a green fuel solution. A PDF file of the presentation can be found
here.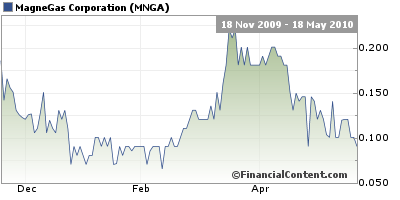 Disclosure:
LONG MNGA