Competitive Technology's business description says " CTT provides distribution, patent and technology transfer, sales and licensing services focused on the needs of its customers and matching those requirements with commercially viable product or technology solutions. CTT is a global leader in identifying, developing and commercializing innovative products and technologies in life, electronic, nano, and physical sciences developed by universities, companies and inventors." However it is clear that the company's focus is on their most promising and most marketable technology--the Calmare Pain Therapy system-- which has successfully treated thousands of patients suffering from chronic pain. The system, which already had the CE Mark certification in Europe, received U.S. FDA marketing clearance last year and is just beginning to see significant growth in units sales, with an order of 100 units announced by one of their European distributors. And the
The company recently showcased its Calmare(NYSE:
R
) Pain Therapy Treatment at a symposium for medical professionals in Boston, Mass.,on May 17, 2010. Several noted physicians/researchers described to the audience of physicians the success they have had among patients suffering from chronic pain associated with cancer and various types of neuropathic conditions. Patients that had tried the standard painkillers that were not effective on them found relief with CTT's medical instrument. The Calmare Pain Therapy incorporates the "Scrambler Theory" described in simple terms as a "scrambled signal that is interpreted by the brain as "non-pain," and very importantly, as "self." Once the scrambled signal arrives, the patient immediately feels pain relief". He's also stated that the cost of Calmare "is minimal compared to alternatives and in comparison to the costs already incurred by many patients: A one-hour treatment session is $150 (less than a session at most spas)." Additionally, the company's non-invasive and non-narcotic pain relief therapy was used in a clinical study conducted at the Massey Center at the University of Virgina that will be presented at the upcoming American Society of Clinical Oncology (
OTC:ASCO
) on June 8. This debut to the medical world in the US (long-awaited by shareholders) will be followed this Summer with two peer-reviewed articles in the Journal of Pain and the Journal of Pain and Symptom Management.
CTT's recent 10-Q's show a company just beginning to realize revenues.  Judging by past CTT's filings, the Calmare units are reasonably priced for medical practices (roughly $50k to $60K), providing an ethical and economic incentive for many physicians to offer an alternative pain relief therapy. As with any new medical technology, it is difficult to assess how broadly CTT's technology will be adopted. But according to the American Pain Foundation, 76.5 million Americans, or about 26% of all adults, live with chronic, persistent pain. And the annual cost in painkiller prescriptions, doctor visits, alternative therapies and accounting for lost income and less than optimal productivity some project this to be  $100 Billion per year. Any new therapy that can help reduce these costs is a therapy that sholud be on our radar list.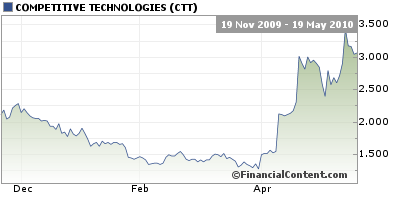 Disclosure:
no positions