Amico Games offers a portfolio of diversified gaming content including some of the most popular massive multi-player online role-playing games (MMORPGs) and advanced casual online games in China. Sure, online gaming has been gaining steam over the last few years as technology expands into new regions and kids and young adults, a strong user demographic, look for interactivity and accessibility in online entertainment. It's worth noting these are loyal, passionate users; while it may sound silly to you or I, laying out dollars each month in subscription fees to play socially connected MMORPG's month after month is as casual for the users as taking a shower. The games work across both JAVA(NYSE:
TM
) and WAP (wireless application protocol) platforms over 3G and 2.5G mobile telecommunication network in China, giving the users a vibrant and attractive experience they can share with thousands of other users across the world.
The Company's products are a small mix of MMORPG centering on a mix of cartooned themes that include traditional Chinese paladin stories, mythology, and ancient dynasties. According to a press release sent out on May 17th, 2010, as of April 30, 2010 the total registered users of all its mobile game products increased from 23,876,906 for the month ended March 2010 to 25,006,233 in April of 2010, based on records. With one game, "Miracle Journey to the West" capturing 11.1% share of China's multiplayer WAP game market, these numbers make Amico the market leader of networked WAP gaming in terms of registered users. This particular game contributes 74% of total registered users to the company's product profile.
According to Clay Mahaffey, CFA President of Venture Research LLC, an independent provider of research on micro cap companies, "AMCG is a leading developer of online games used by millions of mobile phone owners in China. They have one of the leading MMORPGs in China. These games are growing over 50%/yr as new, faster 3G mobile phones are rolled out."
According to Reuters, China spent more than $880M (6B yuan) expanding its 3G telecom network in the first quarter of 2010, with just under a third of the money going to its home-grown TD-SCDMA standard while the three biggest China telecom operators spent about $21 billion building their 3G networks in just 2009. Mobile subscribers in China increased by 18.6M in the first two months of 2010, pushing the national total to $765.97M, according to statistics released by the Ministry of Industry and Information Technology (MIIT) on April 1, 2010.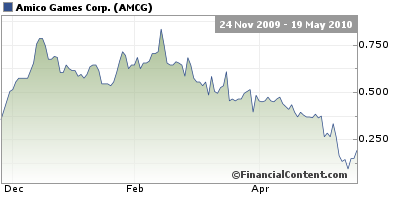 Disclosure:
no positions