How easy and convenient it would be to verbally ask a question into the microphone of your cell and immediately return accurate and specific search results. If Mobilebits has anything to do with it, you'll soon be able to.
In press released last month, Walter Kostiuk, MobileBits founder touched on a product The Company is developing to do just that. Designed specifically to meet the needs of mobile consumers, the MobileBits(NYSE:
TM
) application will simplify access to a world of content and enhance performance by delivering answers, not links, to search queries that would be driven by targeted advertising. "MobileBits leverages millions of dollars in technology search assets and many years of know-how to capitalize on this valuable marketplace and deliver an easy-to-use solution that returns answers with accurately matched advertisements" said My. Kostuik. Mobilebits plan to roll the application out this year, available initially in English. Later, The Company plans for the product to support any internet browser in multiple languages.
All this recent progress is not to necessarily say The Company won't have challenges inevitably lying ahead. Among the most prominent: cutthroat competition from big caps like Apple, Google, and Microsoft. Mobilebits has leveraged an edge that could put them into a position to dominate by focusing on simplified delivery of the content with accurate answers and precise advertisement connections rather than embedded links. The Company has sunk nearly $100 million into their technology over the last 20 years.
Is the future of mobile wireless in speeding up the decades-old quest for intelligent Web searches-or "answer engines"-that can quickly find the precise information users need? Mobilebits thinks so, and many investors are confident they're right.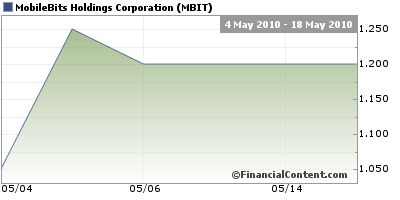 Disclosure:
no positions
Disclosure:
no positions