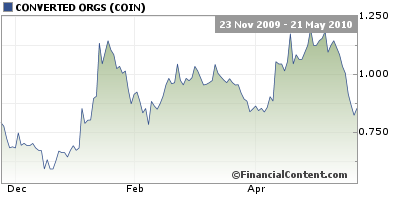 Converted Organics, a manufacturer of all-natural fertilizer and soil amendment products combining disease suppression and nutrition characteristics from food waste and other
raw
materials
, announced 80% sales growth for the first quarter of 2010. The company sells and distributes its products in agribusiness, turf management, and retail markets that include Home Depot and Whole Foods locations. Increased retail penetration was robust for the first quarter; the
company's
product
line presence expanded from 18 Whole Foods locations in 2009 to 84 during the first quarter of 2010.
The company also formed Converted Organics of Mississippi in 2010, a wholly owned subsidiary, to acquire and manufacture a new line of poultry litter-based fertilizer product. The sales force that has been hired to push the product along with the company's existing product portfolio has been outsourced. The subsidiary was opened in March 2010 and for the first quarter of 2010 contributed approximately $117,000 in revenue for the company.
Lastly, it's important to note Converted Organics completed a registered direct offering of 2.4M shares and 1.2M warrants exercisable at $1.06 per share in April 2010. During the call, I asked Edward J. Gildea, president of Converted Organics, to clarify who the purchaser of the shares we're and to what use the proceeds, totaling approximately $2.5M, would be used for.
Mr. Gildea advised that the purchaser was in fact Iroquois Capital of New York, a hedge fund with approximately $300M under management that typically invests in early-stage ventures that demonstrate opportunity in oil, gas, or leading edge technology. The funds will be used for "general corporate use" said Mr. Gildea, which increased year-over-year by only 50% (recall that revenues increased by 80% during the same year.) Looking forward into the near-term, the company anticipated continued top-line growth and increased production capacity at existing facilities. The long-term growth strategy was outlined as heavily dependable on strategic partnerships and technology, with a consistent focus on industry and product-related acquisitions.
First Quarter 2010
Financial
Highlights
Include:
Revenues increased 80% year-over-year to $0.9M from $0.5M for the first quarter of 2009.Sales from the Company's Gonzales, California facility increased 120% year-over-year, from $0.27M to $0.6M. The Company achieved operating margin on this incremental revenue of 75%, in line with management's objective of maintaining fixed costs while growing revenue.
Net loss for the first quarter of 2010 was ($6.4M), or $(0.17) compared with ($3.9M), or $(0.49) per share for 2009. The net loss for the period was attributable to increased non-cash compensation expense related to the issuance of
stock
options
and restricted shares granted to consultants, as well as increased marketing costs.
Read more:
http://www.articlesbase.com/day-trading-articles/converted-organics-nasdaq-coin-32m-marketcap-q1-new-biz-dev-2442928.html#ixzz0orahZ5Uq
Under Creative Commons License:
Attribution
Disclosure:
no positions
Disclosure:
no positions