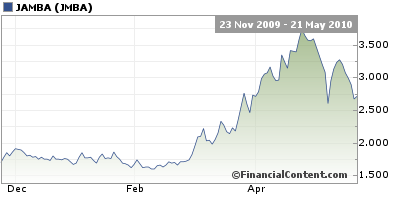 Jamba, Inc. is a holding company and through its wholly-owned subsidiary, Jamba Juice Company, owns and franchises JAMBA JUICE(NYSE:
R
) stores. Founded in 1990, Jamba Juice is a leading restaurant retailer of better-for-you food and beverage offerings. Jamba Juice had 739 locations consisting of 478 company-owned and operated stores and 261 franchise stores as of December 29, 2009.
Today, Jamba Juice Company has joined forces with Inventure Foods, Inc. (NASDAQ:
SNAK
) to offer convenient, make-at-home varieties of 3 of the company's legendary smoothies. These Jamba All Natural Smoothies arrive in grocery stores this week with a suggested retail price of $2.99 to $3.29 per unit. Inventure Foods, Inc. is a marketer and manufacturer of Intensely Different specialty brands in indulgent and better-for-you food categories under a variety of company owned or licensed brand names. Steve Sklar, Senior Vice President of Marketing at Inventure Foods, stated "We worked diligently with the Jamba Juice team to make sure our at-home varieties offered the same consistency and great taste customers have come to expect at a Jamba Juice store." These Jamba All Natural Smoothies are easy and quick to make, with simple instructions to just add apple juice and blend for less than 60 seconds to make it.
Susan Shields, Chief Marketing Officer of Jamba Juice Company, commented "To deliver on our brand promise, we've put an extraordinary amount of effort into the development of the Jamba All Natural Smoothies and we are confident that our current Jamba fans will love them. In addition, we expect to introduce the Jamba brand to a whole new set of fans in areas of the country where we don't currently have stores."
Disclosure:
no positions