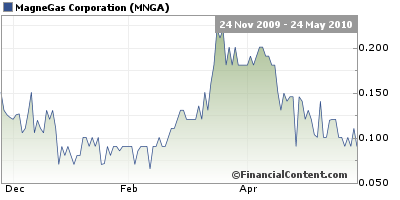 MagneGas Corporation (OTCBB: MNGA) has initiated the shipment of its first international sale of MagneGas(NYSE:
TM
) in the history of the corporation, describing it as a milestone in their operations. It had previously received payment for 294 cylinders of the fuel from United Arab Emirates (NASDAQ:
UAE
)- based United Gas Company (UNIGAS), and has today fulfilled this obligation. MagneGas is enthusiastic about this sale because it creates a marketable track record for all future business development. UNIGAS has secured the rights to be the distributor of MagneGas(
TM
) for the region, and has expressed a long-term interest in purchasing equipment from the Company and producing fuel locally.
This shipment and developing relationship with UNIGAS has enabled the introduction of MagneGas to the fabricaiton-rich Middle Eastern market. MagneGas' early exposure will be maximized by UNIGAS' intention to immediately market the fuel to its existing hihg-volume acetylene and propane clients in the UAE. Thisfuel performs as effectively as acetylene, but is less expensive and burns dramatically cleaner. Therefore, the first step of UNIGAS is to target select shipyards whose combined annual acetylene purchase volume exceeds 65,000 cylinders.
Disclosure:
Long MNGA