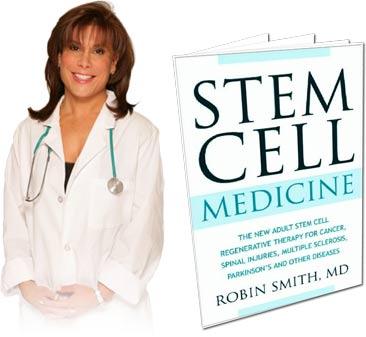 NeoStem, Inc. (AMEX: NBS) is an international biopharmaceutical company with operations in the US and China. It focuses its operations in helping individuals to collect and store their own adult stem cells for their personal use in times of future medical need. The company is also the licensee of various stem cell technologies, including a worldwide exclusive license to VSEL technology which uses very small embyonic-like stem cells, shown to have serveral physical characteristics that are generally found in embryonic stem cells, and is pursuing the licensing of other technologies for therapeutic use. The company's first quarter revenues rose 24% over the same period last year to approximately $15.8 million. Continued growth would put them at over 80m in revenues for 2010.
"For over 40 years, physicians have been using adult stem cells to treat various blood cancers, but only recently has the promise of using adult stem cells to treat a significant number of other diseases begun to be realized. There are tremendous clinical and economic advantages to autologous stem cell transplantation (receiving your own stem cells) as there are no issues with immune rejection. Engraftment with your own stem cells is faster, safer and much less costly than receiving someone else's stem cells (allogeneic)," said Dr. Robin L. Smith, Chairman and CEO of NeoStem. "Providing critical support to drive research and therapy efforts, this commitment is a milestone for the field of regenerative medicine," added Dr. Smith.  
On May 19th, NBS announced that the Vatican's Pontifical Council for Culture announced a joint 5 year initiative between the companies and their charitable organizations to expand research and raise awareness of adult stem cell therapies. The Vatican has endorsed NBS's method of extraction and storage of self-dervied adult stem cells as well as the growing number of NBs's proprietary treatments for these cells in the orthopedic, cardiovascular, and cosmetic areas. The weight of the Vatican's political, financial, and promotional backing of such technologies makes NBS the leading stem cell play. The Vatican has backed the science and has stayed within its mandate of sustaining life, as NBS has solved society's ethical dilemma of using non-autologus embryonic stem cells.
NBS has also signed an agreement with AQUA, a large investment fund, to enable NBS to draw down at its own discretion up to $20 million at a slight discount to market without warrants as an equity investment. NBS will begin to be marketed this year in China, and this investment will provide the funding needed for expansion of its fast growing Chinese pharma company and to market these proprietary stem cell treatments. NeoStem's majority-controlled Chinese pharmaceutical operation, Suzhou Erye, manufactures and distributes generic antibiotics in China.
The company is scheduled to give updates on May 25th at a press conference at the NASDAQ market site and sources tell us that several major news outlets and newspapers have already begun to confirm their attendance at the event. In addition, the Catholic church may also be planning their own press events around this major news.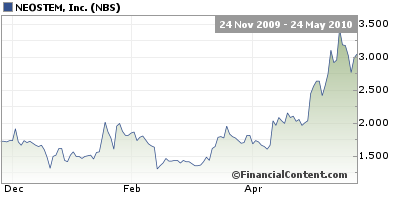 Disclosure:
no positions