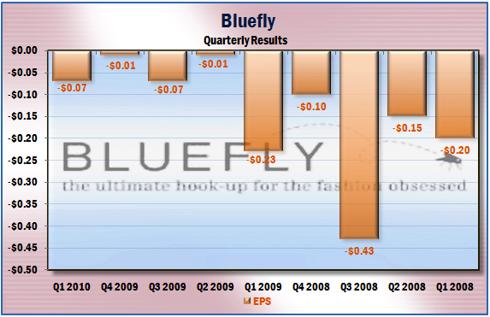 Bluefly, Inc. (NASDAQ:
BFLY
) is an online retailer that sells high-end clothes at discount. The company has struggled to achieve profitability since its founding in 1997. It has experienced 9 consecutively quarterly losses, and the stock has tumbled 39% a year since 2007, but has rebounded from its March 2009 low; although shares have still dropped 24% this year. They have consistenly tried to increase operations and brand recognition through celebrity installments of its online community of Closet Confessions. The last, 5th installement occurred on May 6th, with Nicky Hilton giving a tour of her closet. With all of these promotions, Bluefly still seems to significantly struggle with brand recognition, competing with well-established online retailers such as Amazon and EBay.
Rho, The Soros Parties, The Maverick Funds, and Prenctice each own a large amount of Bluefly's stock, and therefore can exert significant influence over the management and policies of the company. As of April 30, 2010, these companies combined owned a total of 88% of Bluefly's common stock, with Rho being the leader at 36% ownership. Quantitive hedge fund Renaissance Technologies also owns a piece of Bluefly. It cut its position 13% during the first quarter to 10,130 shares, equivalent to .04% of the float. Though this position appears marginal, Renaissance is the 15th largest shareholder beacuse of the concentrated bets of hedge funds and insiders. Bluefly Chief Executive Melissa Payner-Gregor and Chief Financial Officer Kara Jenny are the 5th and 7th largest shareholders, respectively. In view of their large percentage of ownership, they each have the ability to exert significant influence over management and policies, such as the election of directors, the appointment of new management, and the approval of any other action requiring the approval of the stockholder. This may not be ideal for small investors, who assume to face these types of issues with an investment.
Another factor to note is that in both 2009 and 2008, Bluefly purchased approximately 31% of inventory from one supplier. Seeing that they do not have long term contracts with any of their vendors, their availability of merchandise is at risk. Inventory can become either insufficient or in excess with new fashion trends, which would force them to create higher markdowns. Bluefly's business is highly sensitive to changes in fashion trends, which can definitely have a tendency to unexpectedly and rapidly change.
Although the company has and continues to face many challenges, the recent invesment from Rho Ventures in February exhibits a confidence in the company. Rho ventures focuses exclusively on disruptive-growth companies,defined as companies that steal market share from established peers. Bluefly could become such a retailer becuase its online focus translates to lower relative costs than those of brick-and-mortar competitors. However, name recognition is still a critical hindrance to growth. I am a 21 year old college student, which seems to be their primary customer base, and have never visited their website until this morning. The website is definitely very appealing, but without increased advertisement and brand recognition, the customer base will continue to remain stagnant.
Disclosure:
no positions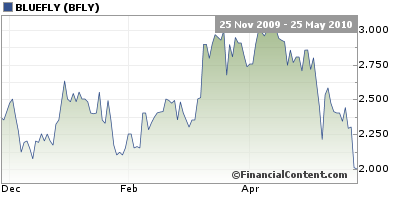 Disclosure:
no positions