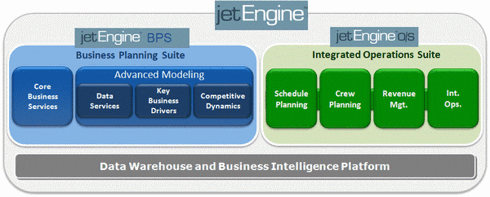 Airlines operate in a very dynamic and constantly changing environment, influenced by external and internal factors. Due to the complexity of the scheduling problem, airline systems providers initially broke down the planning process into smaller, easier to solve sub-problems. Under the current sequential approach, airlines follow four major steps to create a schedule, including generating the marketing schedule, creating the fleet schedule, producing the crew schedule, and then constructing the maintenance schedule. This process can take several months, and the resulting schedule often doesn't account effectively for the latest market and economic conditions. In order to better meet the planning needs of airlines, AISystems has re-invented the schedule planning approach.
AISystems, Inc. (OTCBB:
ASYI
) is a technology company that has developed a proprietary business platform for the commercial airline industry called jetEngine(NYSE:
TM
), representing a fundamental paradigm and technology shift in airline resource planning. This is comprised of systems and mathematical algorithms capable of generating significant improvements in strategic business planning capabilities, resource scheduling, revenue management and integrated operations. AISystems' unique approach is the holistic integration of the marketing, fleet, crew, and maintenance schedules which enables airlines to adapt rapidly to changes in their environment, seize market opportunities faster than the competition, and react effectively to competitor actions.
Due to the scope and significance of the intellectual property underpinning its jetEngine(
TM
) platform, the company believes it can solve the most challenging business planning and scheduling problems facing the commercial airline industry. This platform is comprised of two suites of products that focus on enhancing the business planning and operational areas of an airline:
Stephen Johnston, President & CEO of AISystems commented, "The jetEngine(
TM
) Business Planning Suite ('jetEngine BPS') can be deployed quickly, cost effectively, with little disruption to an airline's existing systems and the intuitive user interface makes for very quick training. Given the massive disruptions that can occur in airline scheduling, as evidenced most recently by the multi-day closure of European airspace due to the volcanic ash cloud, we believe that jetEngine BPS fills a critical need in the marketplace. It will help an airline to respond more effectively to both major and minor disruptions in its schedule, allowing an airline to plan more effectively in the drive for sustained profitability."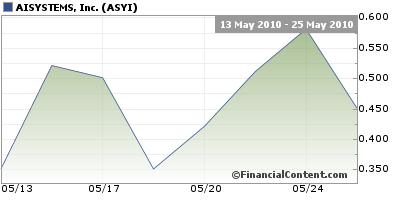 Disclosure:
no positions